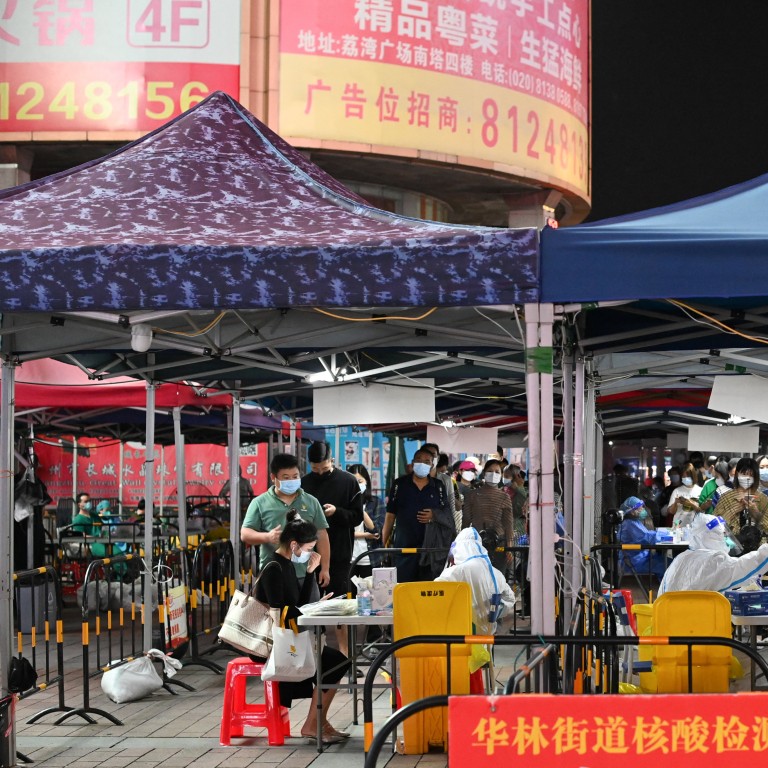 China's zero-Covid policy adding to fiscal debt woes as lab suspends testing services
Xuchang Boao Runkang Medical Laboratory initially suspended coronavirus testing services in Xuchang, Henan province, having earlier complained about high costs
Some cities in western and central China have already asked residents to start paying for testing, with an individual test priced at around 15 yuan (US$2)
A temporary suspension of coronavirus testing services in a central Chinese city has increased concerns over local government financing amid China's zero-Covid policy.
The government-appointed Xuchang Boao Runkang Medical Laboratory said on Tuesday that it would stop accepting samples in Xuchang, Henan province, from Friday having earlier complained about the high cost of test kits, consumable materials and labour as well as slow payments from the local authority.
"The pressure to sustain business operations is too big. We'll assume Covid-19 tests once [government] funding is available," said the widely circulated statement, which was withdrawn a day later after local media reported the funding issue had been addressed.
Xuchang, a city with a population of 4 million, is around a one hour drive away from the provincial capital Zhengzhou and
Foxconn's largest iPhone factory,
which has been under lockdown due to a surge in the number of coronavirus cases.
Like most Chinese cities, Xuchang has been relying on transfer payments from central or provincial governments to fill its fiscal gap after its revenue rose by 8.3 per cent from a year earlier to 18.9 billion yuan (US$2.6 billion) in 2021, while its expenditure fell by 1 per cent to 36 billion yuan, government data showed.
Beijing has rolled out a series of measures, including tax cuts and
infrastructure spending,
in a bid to cushion the blow facing the economy and to boost investor confidence.
The zero-Covid strategy is seen to be the main driver behind China's success in dealing with the initial coronavirus outbreak in early 2020, but the resulting lockdowns and mass testing have recently weighed heavily on the economy.
Beijing recently played down speculation that it was set to end its zero-Covid strategy, with Goldman Sachs expecting a relaxation from the second quarter of next year. Japanese investment bank Nomura expects Beijing will stick with essential parts of the strategy until at least March.
Land sales contributed 8.7 trillion yuan (US$1.2 trillion) to local authorities across China last year, making up 42 per cent of their revenue, excluding funding from the central government.
In the first nine months of the year, China reported a total fiscal deficit of 7.1 trillion yuan, three times more than the figure last year.
Local authorities have paid billions of yuan for testing, according to figures from quarterly financial statements, with Beijing halting the use of the national medical insurance fund to pay for mass testing from May.
The Chinese-listed Dian Diagnostics is owed 10.8 billion yuan (US$1.5 billion) for services provided as of the end of September, up from 6.29 billion yuan at the end of 2021, according to its third-quarter financial statement.
Local and regional governments are likely to resort to incremental debt funding, including issuing more special purpose bonds, to tackle a widening funding gap, Fitch Ratings said on Thursday.
Some cities in western and central China have already asked residents to start paying for testing, with an individual test priced at around 15 yuan (US$2).