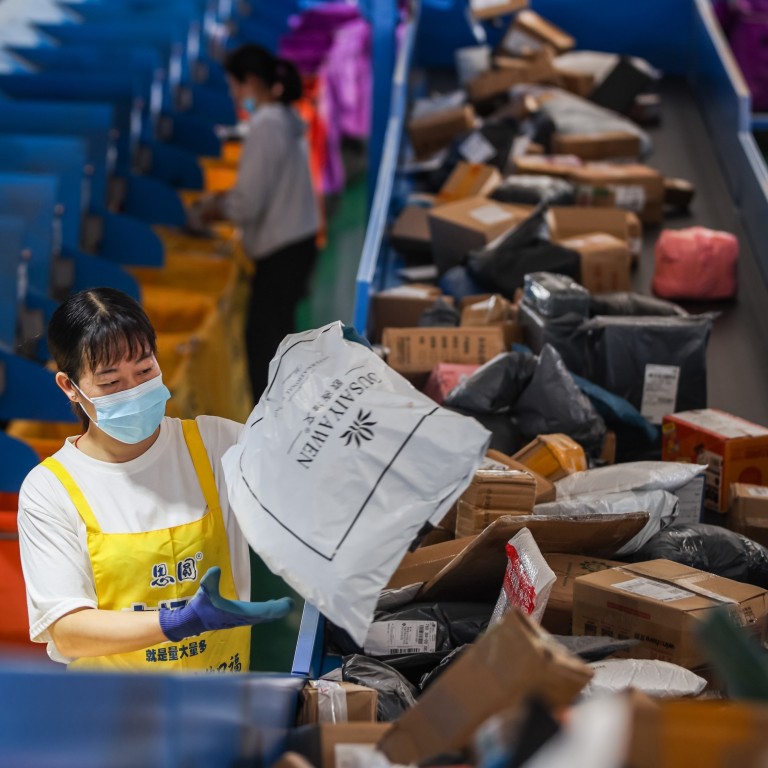 Taiwan ramps up Singles' Day sales while questions hover over Chinese spending as economy slows
While less than pre-pandemic years, 2022 Singles' Day sales in Taiwan look better than last year, say analysts and some e-commerce sites
Nearly 40 per cent of mainland Chinese respondents say their budgets for this year's online shopping festival are down 30 per cent, a new survey shows
Singles' Day sales in Taiwan show signs of increasing this year as Covid-19 mobility rules are relaxed and wages hold up, but the enthusiasm may begin fading next year amid multiple headwinds, analysts say.
By contrast, consumers in the mainland say they are minding their budgets during this year's
Singles' Day
, which begins on November 11 each year, and is described by some as the world's biggest shopping bonanza.
Real wages in Taiwan have eased this year but still allow consumers to keep up with inflation amid all the discounts, said Liang Kuo-yuan, the retired founder of the Yuanta-Polaris Research Institute, a Taipei-based think tank. Wages fell 0.7 per cent in the first nine months of 2022 to an average US$1,299 per month. Inflation was 2.7 per cent in October and 2.8 per cent in September.
"If real wages cannot substantially keep up with inflation, that would be less viable," Liang said.
More people are hitting the streets this year than last to take advantage of discounts at malls, shops and restaurants, Taipei residents say. Unlike counterparts in mainland China, retailers depend in large part on offline sales to make money on Singles' Day, Liang said.
Despite cross-Strait tensions, Singles' Day has been a notable event in Taiwan for about a decade.
Taiwanese firms, from giant e-commerce companies such as PChome 24h and MoMo, to physical department stores and even insurance companies have dangled discounts this year to capture consumers who are no longer stuck at home during the pandemic. Shoppers can take advantage of some promotions for six or seven weeks.
Fewer people were seen shopping in 2020 as the service sector took a beating in year one of the pandemic. November 2020 retail sales came to just NT$942 billion (US$132.64 billion), Ministry of Economic Affairs data showed.
In November last year, Taiwan was coming off midyear mandatory business closures and other Covid-19 controls. Official data shows that November retail sales totalled NT$1.79 trillion with particular gains in food and automotive sales.
While less than pre-pandemic years, Singles' Day this year is looking better than last, said Woods Chen, the head of macroeconomics for Taipei-based Yuanta Securities. Sellers are advertising discounts more actively this year than before, he said.
PChome 24h, one of Taiwan's biggest e-commerce sites, said it had received 25 per cent more business this Thursday following a pre-holiday promotion compared to November 10 last year. The Shopee e-commerce platform in Taiwan anticipated attracting five times more people to its websites on Friday compared to normal days.
E-commerce packaging firm PackAge Plus expects its Singles' Day business to grow 1.5 times this year over 2021, CEO Allen Yeh said. But his 3-year-old company expects Singles' Day e-commerce growth to start easing off in the years ahead as consumers get used to online shopping – a habit formed early in the pandemic.
"Things are cooling down this year," he said. "Everyone's offering discounts, but the degree of enthusiasm has gone down."
Chinese e-commerce company Alibaba, the owner of the South China Morning Post, started Singles' Day 13 years ago in mainland China. November 11, called "singles" because the date represents four ones standing together, became so popular among consumers that it has been compared to the Black Friday shopping spree in the United States.
Alibaba and e-commerce peer JD reported a combined Singles' Day sales record of US$139 billion last year in the mainland.
But nearly 40 per cent of more than 2,300 respondents surveyed by China Newsweek recently said their
Singles' Day budgets had been cut
by 30 per cent over last year, while only 15 per cent said they planned to spend more.
Chinese consumers have still splashed out on bargains this year, despite limited spending overall because of strict Covid-19 controls.
After Taiwan picked up Singles' Day, participation increased every year through 2019, China's official Xinhua News Agency reported. Analysts believe that pandemic-year sales totals have missed that of 2019.
Some consumers in Taiwan have grown "fatigued" with Singles' Day promotions, said Hu Jin-li, a professor at the Institute of Business and Management of National Yang Ming Chiao Tung University in Taipei.
"There are many promotions and price discounts on different platforms on usual days," Hu said. "Online shopping has become a daily activity, such that people go online shopping frequently and do not have to wait for November 11."
The shopping day's connection to mainland China may dampen enthusiasm in Taiwan as well because of "political and military tensions across the Strait", Hu added.
The risk of recession could further deter spending this month, said Heron Lim, an economist with Moody's Analytics. Taiwan, as an
export-reliant economy
, feels the pinch when major world markets enter recession.
"With the impending Lunar New Year shopping season, consumers may be saving their firepower for better spending nearer to the Lunar New Year," Lim said. New Year on the lunar calendar begins in January 2023.