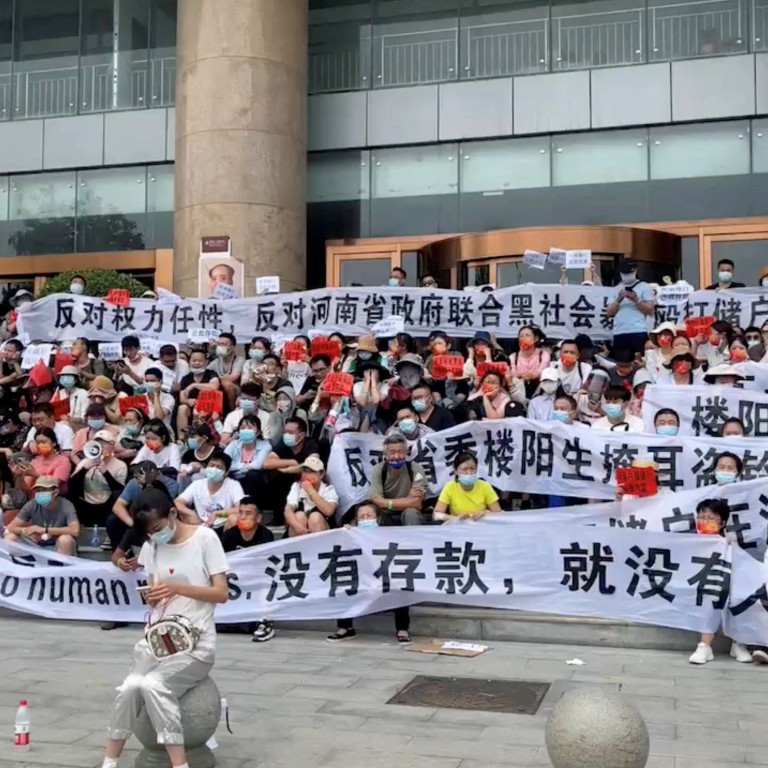 Explainer

|
4 weaknesses in China's economy, from local government finances to poor regulation
Vice-Premier Liu He and central bank governor Yi Gang are among the outgoing senior officials that have reflected on major risks facing the economy
Concerns range from the worrying state of local government finances to inadequate regulation of the financial system, including some small banks
Deteriorating local government finances, weak banks and inadequate regulation are among the main risks facing China's economy, according to senior officials and regulators who have recently published candid assessments following the agenda-setting 20th party congress.
Vice-Premier
Liu He
, central bank governor Yi Gang, Minister of Finance Liu Kun and banking and insurance regulator chairman Guo Shuqing have all reflected on the dangers facing the state-dominated financial system, though they have not outlined specific improvements.
None of the officials have made it onto the list of the Central Committee of the Chinese Communist Party – the party's top decision-making body – unveiled at the 20th party congress, a sign that they may step down from their roles next year. Their views carry weight nonetheless and come amid growing concern about Beijing's policy direction.
1. Economic volatility
While China's third quarter gross domestic product (GDP) growth surprised markets by
hitting 3.9 per cent
year on year, compared to 0.4 per cent in the second quarter, the economy slowed again in October due to tightened coronavirus controls and slowing external demand, said Macquarie Group on Sunday.
Liu He, the top economic adviser to President Xi Jinping, has said China's economy is facing "triple pressure" from shrinking demand, a supply shock, and weakening expectations.
But he has also stressed China would not engage in "flood-like" stimulus, and that the policy focus should be on avoiding economic volatility while aiming for "reasonable" growth.
"Risk factors in some areas are rising, ageing is accelerating, traditional advantages such as costs of labour are weakening, resource and environmental constraints are tightening, and scientific and technological innovation capabilities are not strong enough," Liu said.
"It is urgent to make efforts from both sides of supply and demand."
Improving governance capabilities and taking steps to prevent risks are among the priorities for dealing with growing dangers facing the economy, Liu said.
Both fiscal and monetary policies must be implemented in a timely manner, he said, and action must be taken when market expectations are unstable.
2. Local government finances
Weakening
local government finances
have been a growing concern as China's zero-Covid policy has ramped up fiscal costs, while the slump in the property market has put a dent in local governments' revenue.
General budgetary revenue at local governments fell by 6.6 per cent from January to September this year compared to the same period last year, according to China Merchant Securities.
But expenses over January to September grew 6.2 per cent this year compared to the same period last year.
Local government debt is also expected to reach a record high after Beijing pushed for more
infrastructure spending
this year to shore up the economy.
The ministry of finance has since tightened its supervision of local government financing vehicles (LGFVs), the go-to platform for provincial authorities to raise money without including it on their official balance sheets, raising concerns about "hidden debt".
There is no official figure on the size of local governments' hidden debt, although some experts have put it to over 40 trillion yuan (US$5.52 trillion).
Finance minster Liu Kun, who has been in the post since 2018, said that Beijing would press on with its supervision of "hidden debt" risk, but he has acknowledged there are still deficiencies in budget control and the use of financial resources at the central government.
"[We need to] strengthen local guidance and incentives, and gradually withdraw from areas where market mechanisms can effectively regulate," Liu said, referring to transferring central government funds.
He said special transfers from the central government would target the regions that are financially weak, including in central and western China, border zones and areas that are responsible for national defence security, food security and energy security.
3. Inadequate regulation
Banking and insurance regulator Guo, who has worked in the field since 2001, has highlighted various risks in the state-dominated financial system that could be triggered by pandemic uncertainty or global recession.
He said that China's banks and capital markets are not yet able to fully support the economy, weak circulation of funds and the disconnect between supply and demand are hurdles to high quality development.
"China's development has entered a period of coexisting strategic opportunities, risks and challenges, " Guo said, adding these could lead to highly probable or unforeseen challenges.
Guo said there are still deficiencies in regulating China's tech companies, as well as financial institutions. Since the end of 2020, Beijing has introduced stricter regulation of its domestic technology sector in a bid to rein in the power of some of its biggest companies.
"How to ensure fair competition, encourage technological innovation, and at the same time prevent disorderly expansion is the arduous task we face," he said.
"Data security, antitrust and the robust operation of financial infrastructure have become new concerns. The gap between the technology used by regulators and the industry is apparent."
Meanwhile, a series of scandals that took place at China's small banks have also raised alarm bells.
In July, bank runs at several rural lenders in Henan province led to protests by savers who had their deposits frozen for more than four months.
Guo did not outline any specific cases but said poor transparency of shareholding structure at financial institutions and weak corporate governance are signs of "gradual weakening of the Party's leadership" in the financial sector.
As a result, it is necessary to strengthen the leadership of local party committees in financial institutions, Guo said.
"The construction of the financial system, legal environment and credit system has a long way to go," he said. "Financial supervision resources are still in short supply in general, high-quality supervision talents are relatively scarce, and the standard of grass-roots supervision is very weak. In some key aspects of financial governance, there is insufficient legal authority to do so."
4. State bailouts
Financial institutions and shareholders must be held accountable and should be able to "rescue" themselves during times of difficulty, according to People's Bank of China governor Yi.
There have been several large bailouts over the past few years, including the Chinese state-owned asset manager China Huarong Asset Management, raising questions about how far Beijing will go to save its state firms, many of which are saddled with debts.
Huarong, which expanded its business beyond its original purpose through aggressively raising overseas debt and stepping into securities trading, commercial lending and leasing business, received a state bail out in 2021 to avoid defaulting on billions of dollars of offshore debt held by international investors.
Huarong's previous chairman, Lai Xiaomin was given a death sentence after pleading guilty to bribery and embezzlement, and was
executed last year
.
Yi said a state bailout should be considered with high caution to prevent moral hazard, and state interference should be minimised.
"Financial institutions should establish a market-oriented capital replenishment mechanism, make provisions in accordance with regulatory rules, increase efforts to dispose of non-performing assets, and shape a healthy balance sheet," Yi said, without referring to any specific company.
"[We must] improve the incentive and restraint mechanism, respect the right of financial institutions to operate independently, and reduce administrative interference in the business activities of financial institutions."