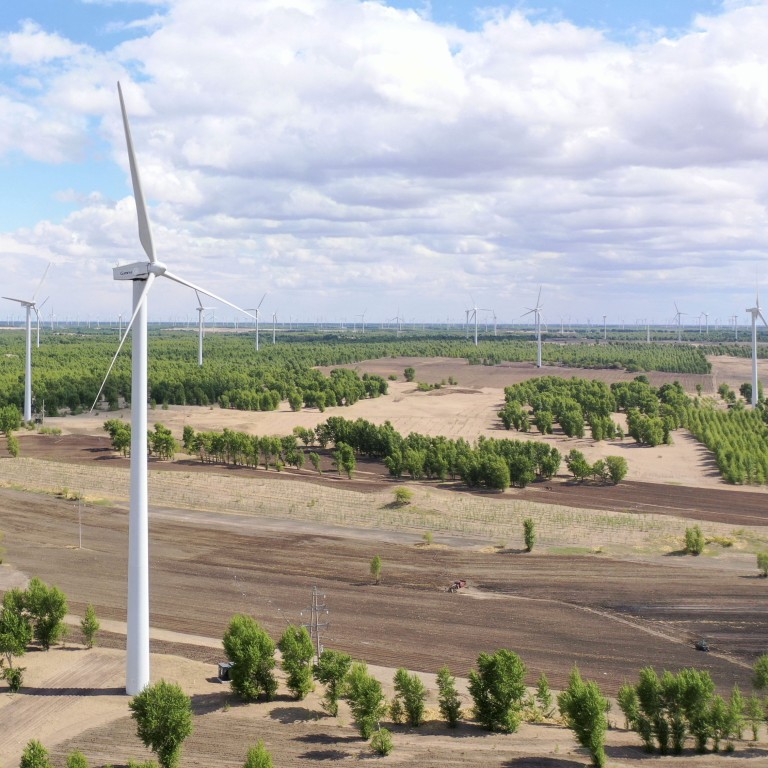 Can green transition help China's northeast shake off its 'rust belt' moniker with a new clean-energy engine?
Although Liaoning, Jilin and Heilongjiang provinces remain dependent on coal and steel industries, renewable energy is expected to produce more economic opportunities moving forward
But critics question if green-energy build-up will be enough for the region to counter ingrained economic issues that have hindered past efforts at revitalisation.
The birthplace of Chinese industrialisation, in a region that the late chairman Mao Zedong affectionately dubbed China's "eldest son" during its planned-economy era, is now widely known as its "rust belt", battered by decades of economic stagnation.
Despite repeated vows of revitalisation, the three northeast provinces of Liaoning, Jilin and Heilongjiang continue to be hampered by population decline and a dependency on inefficient state-owned companies that revolve around sunset industries such as coal and steel.
In their latest attempt to reverse the trend, the region's provincial authorities are betting on a new economic opportunity for rejuvenation: renewable energy.
As Beijing races to reach net-zero emissions by 2060, some analysts say that recently announced clean-energy projects across the northeast could finally provide it with the opportunity to shed its pejorative "rust belt" moniker and become a key player in the country's green transition.
However, many obstacles remain in the way of such institutional reform, and some pundits assert that it will take more than just a green build-up to uproot deeply ingrained energy policies that have "held back" economic and social progress.
In September, authorities in Liaoning province – the northeast's most populous and largest economy – announced a huge green-energy buildout, with nuclear, wind, solar, and hydrogen energy power stations.
Set for completion in 2030, the 600-billion-yuan (US$83 billion) undertaking is expected to produce a collective 60 gigawatts (GW) in power-generating capacity – roughly equivalent to the total generating capacity of a medium-sized country such as Vietnam or Egypt.
In a statement following the announcement, Beijing-based consulting firm Trivium China called the roll-out "one of the first meaningfully coordinated provincewide buildouts of the new energy era, [which should] become a model for its neighbours".
Cosimo Ries, an energy analyst at Trivium, told the Post that the buildout could provide high-quality jobs and investment opportunities that Liaoning sorely lacks, while creating tangential opportunities in renewable-technology manufacturing, energy exporting, and other decarbonisation efforts.
"Just having such cheap and abundant renewable-energy resources will make [Liaoning] attractive to investors looking to decarbonise their manufacturing facilities who may not be able to access green energy along the coast and down south," he said.
The other rust-belt provinces are also betting on clean-energy buildups.
Heilongjiang authorities launched a low-carbon economic-development programme in January: by 2025, the province's non-fossil energy installations will account for more than 50 per cent of the total installed capacity, and the clean-heating rate will increase to 80 per cent.
And in Jilin, authorities are banking heavily on the production of clean hydrogen fuel from renewable energy sources.
Earlier this year, they released a hydrogen-energy road map to 2035, including a relatively short-term goal of becoming a national supplier of hydrogen fuel by 2025. The province hopes to draw energy largely from its solar and wind stations, which currently have a combined capacity of 12GW.
There are also plans to establish a "Harbin-Changchun-Dalian" hydrogen energy corridor that will stretch across all three provinces and further incentivise them to embrace a clean-energy transformation as polluting industries are phased out and renewable power becomes more essential.
Unlike coal, green energy will continue to produce economic opportunities in the medium to long term, Ries said.
"China's decarbonisation task is so colossal, and renewable energy still makes up a relatively small share of all power consumption [in the country], so the room for it to grow is immense," he said.
According to the National Bureau of Statistics, coal consumption accounted for 56 per cent of all energy consumption in 2021, while clean-energy consumption – natural gas, hydropower, nuclear power, wind power and solar power – accounted for 25.5 per cent of energy consumption.
Future growth engines are essential for the northeast region that has long failed to shed its dependence on heavily polluting industries. Since the 1990s, central and provincial authorities have announced several plans to spur economic growth and innovation.
However, despite these attempts, the region has seen its share of China's overall gross domestic product (GDP) fall from around 11 per cent in 1990 to just 5 per cent in 2021. All three provinces also lag behind the national average in terms of GDP per capita.
And this past summer, President Xi Jinping
used Liaoning province as a backdrop
in a renewed push for "common prosperity" to be the motivating force in the nation's economic development.
Liang Qidong, vice-president of the Liaoning Academy of Social Sciences, a government think tank, said the provincial governments need to seize the green-energy opportunities.
He touted the northeast's advantages in clean-energy development, noting that it's a coastal region rich in natural resources, with plenty of opportunities to expand wind-power generation. And he highlighted that the provinces are home to some of the country's leading research universities, on top of the region's already established "strong industrial atmosphere".
"I am quite optimistic about the development of new energy in the northeast," he said.
But many challenges, both old and new, could prevent the northeast from truly benefiting from the buildout.
Most pressing among these is the need for further power-market reform to improve the interprovincial trading system, said Ries with Trivium.
"Interprovincial trading is still pretty problematic at the moment," he said. "Whether this power can actually be effectively sold to provinces where it's most needed is a major issue."
China's current power markets are heavily regulated, with central planning in generation and consumption, price-setting out of line with supply and demand, and bilateral provincial energy contracts that are more suitable for traditional sources of energy such as coal.
This set-up has been partially blamed for causing the energy crises that have gripped the country in recent years, as well as for encouraging the continued use of polluting fuel-derived energy sources over renewable alternatives.
"The lack of liberalised power market[s] constrains the effectiveness of the carbon market in driving the green transition," said Qin Yan, lead carbon analyst at data provider Refinitiv. "This has led to a situation where the power sector has held back economic and social progress."
However, Beijing has signalled it recognises the importance of market reform in the sector. In 2021, it began relinquishing control of prices following that year's devastating energy crisis. And earlier this year, the National Development and Reform Commission announced plans to
establish a primary national energy market
by 2025 to work alongside existing provincial markets.
For their part, the northeast provinces have also recognised that it will be an uphill battle. In their hydrogen road map, Jilin authorities admitted that there were many shortcomings yet to be addressed.
"The core technology and key materials are still in the research period, and [the technology's] maturity level is very low," the report said, noting the need for further improvements in market mechanisms and energy regulations.
Meanwhile, others doubt that launching an ambitious green-energy build-up will be enough for the region to counter long-standing economic issues that have hindered past efforts at revitalisation.
Houze Song, a fellow with the MacroPolo think tank at the Chicago-based Paulson Institute, was particularly pessimistic that green energy could reverse the region's fortunes.
"I see little likelihood of a northeast rebound. If anything, it is more likely to get worse," he said. "As China's population will soon peak, coastal cities are now more actively competing for talent, which will exacerbate [the northeast's] brain drain."
Indeed, the past decade has seen millions of residents leave the northeast for other, more prosperous regions. According to the most recent census figures, between 2010 and 2020 the three provinces lost a combined tenth of their population, with some cities seeing drops by as much as 30 per cent.
Furthermore, the region's reputation for being "uninvestable" – owing largely to the dominance of state-owned enterprises and a historic tendency of the government to intervene in the market on their behalf – is scaring away desperately needed private capital, others said.
"Making a plan is easy," said Yifan Zhang, an economics professor at the Chinese University of Hong Kong. "The root of the economic problems with [the northeast region] is institutional reforms. That's the hard part."
He said more needs to be done to increase transparency in government decision-making, crack down on corruption, and better enforce contract and property rights.
Allan von Mehren, chief analyst and a China economist for Danske Bank, agreed that businesses need to feel there is an even playing field between the private sector and state-owned enterprises.
He suggested the region's governments provide tax incentives to private enterprises and investors to offset market uncertainties while enticing young people to stay in the northeast.
"This green build-up cannot solve the problems alone. It is just one piece of a bigger puzzle," he said.