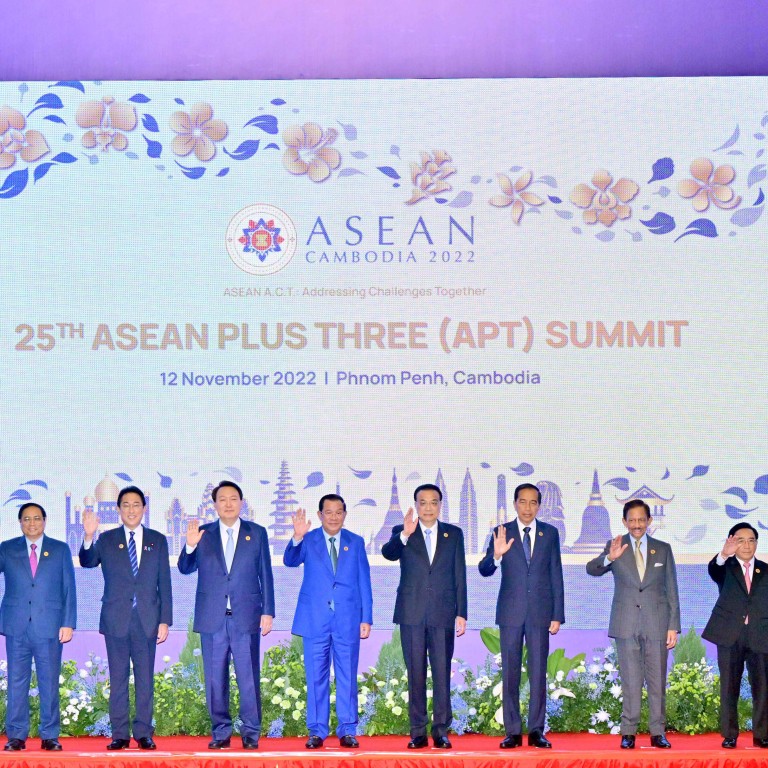 China 'reversed' economic slide with timely policy moves, Premier Li Keqiang tells IMF chief
World needs macroeconomic policy synergy to stave off recession, Premier Li Keqiang tells International Monetary Fund (IMF) managing director Kristalina Georgieva
Concerns are growing over the knock-on economic effect of China's strict zero-Covid policy stance, especially for the Asia-Pacific
Chinese Premier Li Keqiang called for stronger global policy coordination to stabilise the world economy and stave off recession, as he met International Monetary Fund (IMF) managing director Kristalina Georgieva in Cambodia on Saturday.
"Countries should strengthen cooperation and macroeconomic policy coordination, to create synergy to maintain the stability of the world economy and prevent recession," Li said as the pair met in Cambodian capital Phnom Penh, on the sidelines of East Asia cooperation talks held concurrently with the annual Association of Southeast Asian Nations (Asean) summit.
The global economy and finance were highly integrated, and no country could be immune in the face of multiple challenges, Li told Georgieva, according to state news agency Xinhua.
"This is also conducive to maintaining world peace and stability," Li said.
The IMF has forecast a marked slowdown in global growth – from 6 per cent in 2021 to 3.2 per cent in 2022 and 2.7 per cent in 2023. It was the "weakest growth profile" since 2001, bar the global financial crisis and the acute phase of the coronavirus pandemic, the IMF said in its World Economic Outlook report last month.
The three largest economies, the United States, China, and the euro area, will continue to stall, the report said, warning that the worst was yet to come and – for many people – 2023 would "feel like a recession".
With key economic indicators declining significantly earlier this year, China was quick to put in place a policy package to stabilise the economy and implement follow-up measures, Li said as he briefed Georgieva on the situation in his country.
The moves were able to "reverse the downward trend in time", with the economy showing a steady upwards trend at present, he added.
Li's comments came amid growing concerns over the wider impact of China's strict zero-Covid policy, which mandates lockdowns lasting weeks or months, mass screening, stringent border controls and quarantine.
Analysts widely expect China to miss its "around 5.5 per cent" economic growth target this year.
The IMF forecast a 3.2 per cent growth rate for China in 2022, its second-lowest level since 1977, reflecting the impact of the zero-Covid lockdowns on mobility and the crisis in the real estate sector.
"China will continue to promote the full implementation of policy package measures for stabilising the economy … to keep major economic indicators within an appropriate range and strive for better results throughout the year," Li said.
He also said China would continue to take part in the Group of 20 (G20) Debt Service Suspension Initiative, launched in late 2020 to help 73 poorer countries at risk of default amid the pandemic.
Li said he hoped the IMF would continue to play an active role in improving the international mechanism for sovereign debt coordination, to help countries address the complex situations facing the global economy.