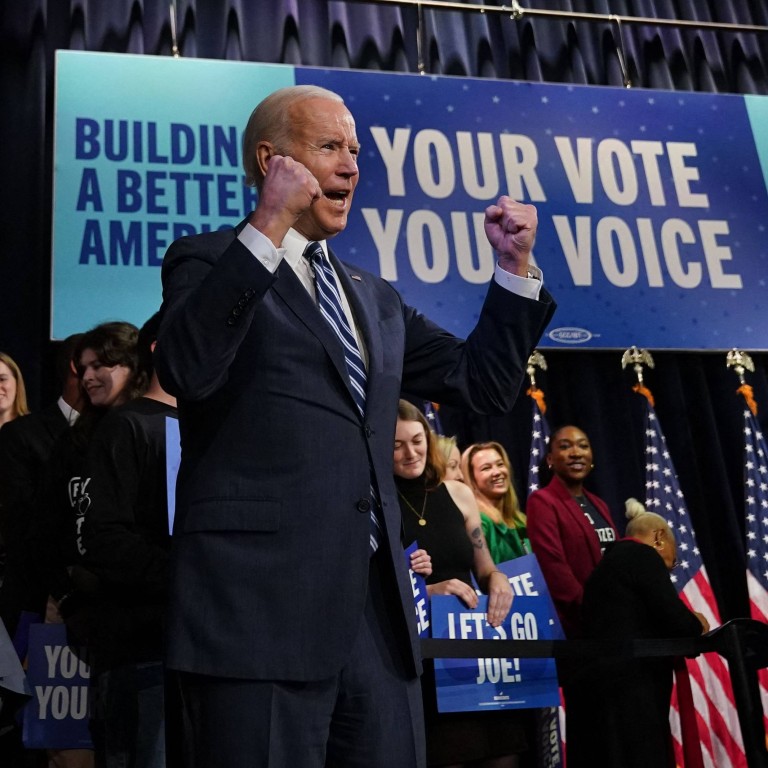 Global Impact: What do the US midterms mean for Joe Biden's already shaky anti-China partnerships?
Global Impact is a fortnightly curated newsletter featuring a news topic originating in China with a significant macro impact for our newsreaders around the world
In this edition, we look at the alliances and partnerships US President Joe Biden has been building over the last two years, largely aimed at dealing with threats from China
Political events in China and America have given rise to new power dynamics, with the 20th Communist Party congress solidifying the policies of President Xi Jinping, and a
midterm election
further muddying the already chaotic political waters in the United States.
The austere choreography of Beijing's twice-a-decade leadership reshuffle contrasted with the
bruising political campaigns
of the US midterms, which have yet to reveal how much power Republicans will have starting in January and what that will mean for President Joe Biden's
China policy
or
Indo-Pacific Strategy
.
While the world more or less knows what to expect from Beijing, those with a stake in the success or failure of Biden's effort to build a strategic environment
"that makes it tough for China"
will be watching closely for indications that the new US political landscape will undermine it.
With an already shaky hold on some of the partners that he's courting, Biden faces a weaker position in terms of congressional support, and it remains to be seen whether that will further undermine his alliance building.
60 second catch-up
Deep Dives
US' largest lithium mine faces roadblocks despite push to reduce China reliance
Nevada site is a priority for US goal of reducing reliance on foreign sources, including China, of the mineral used in electric vehicle batteries and other devices
But resistance from Native American tribes and environmental watchdogs, as well as uncertainties of nascent technology, threaten delays
In northwestern Nevada, near the state's border with Oregon and deep beneath a sprawling sagebrush desert, lies one of the largest known deposits of lithium in the US – buried treasure in the 21st century hunt for clean energy.
An essential component in manufacturing rechargeable batteries used in laptops, mobile phones and electric vehicles (EVs), the rare earth mineral is critical to the global shift from fossil fuels.
Biden says Xi meeting at G20 summit would discuss US-China 'red lines'
On Taiwan, American leader declines to comment on whether he would confirm to his counterpart defending self-ruled island if Beijing attacked
Biden suggests he could also discuss China's growing nuclear arsenal as well as 'fair trade' issues
"Look, I'm not willing to make any fundamental concessions," Biden said during a post-election press conference at the White House, when asked if he would tell Xi whether the US would defend the self-ruled island from a Chinese attack.
US security strategy calls China 'most consequential geopolitical challenge'
American cooperation with Nato, G7 and 'like-minded democracies' to form core of post-Cold War strategy, says top Biden adviser
Guidance declares competition between democracies and autocracies a priority along with transnational challenges
US, EU meet to forge trade and tech alliance to reduce dependence on China
Trade and Technology Council is an effort to counter China's often disruptive global footprint through multinational partnership, a goal of President Joe Biden
The talks are being held over two days in Pittsburgh, Pennsylvania
Late on Wednesday in a former steel factory in Pittsburgh, Pennsylvania, the European Union and United States unveiled an alliance to sharpen their modern arsenals for tackling China on trade and technology.
The agreement, however, was reached only after some last-minute haggling and a diplomatic stand-off involving France and the US.
Foreign manufacturers hope US modifies stance on EVs and hi-tech components after midterms
US President Joe Biden signed legislation to incentivise domestic production and reduce supply chain threats, especially from China
But allies including South Korea, Japan and EU as well as affected industries have said the regulations violate international trade laws and are seeking corrections
When US President Joe Biden signed his signature green-energy legislation into law in August, it was already drawing fire for the protectionist cover it gave domestic manufacturers of electric vehicles and components like semiconductors and lithium-ion batteries.
Now, global EV manufacturers say they hope for at least some form of relief from the law's restrictive provisions – either administrative exemption or legislative amendments – once the US midterm elections are done next week.
US-led Indo-Pacific Economic Framework touts 'success', but few details given
Convergence of 14 countries grouped to counter China yields pledges for closer trade and investment ties
Target areas include avoiding supply-chain disruptions and spurring investment in clean energy
Global Impact is a fortnightly curated newsletter featuring a news topic originating in China with a significant macro impact for our newsreaders around the world.