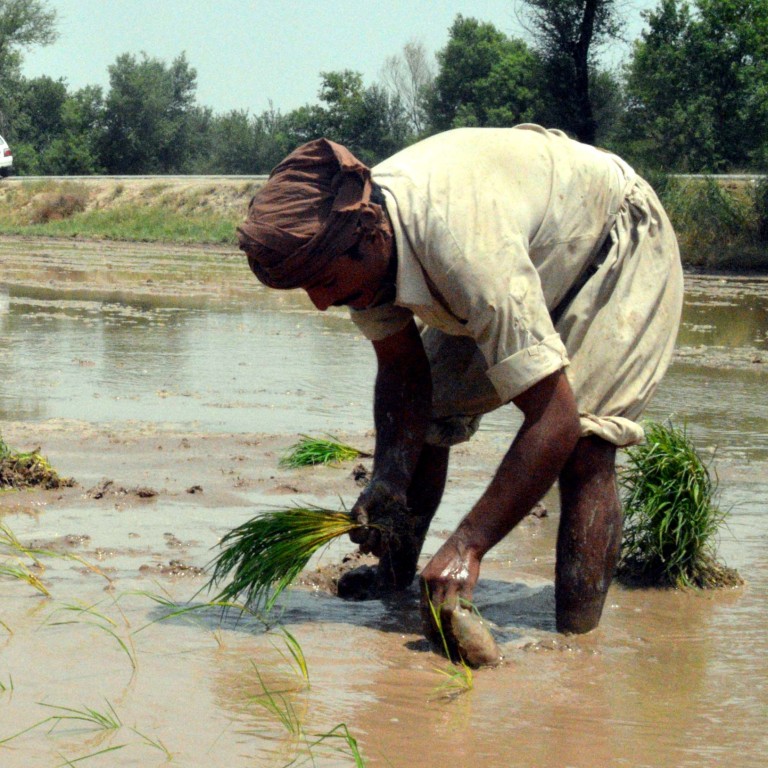 China-Pakistan trade deficit in focus after prime minister's visit to Beijing
Exporting more agricultural goods to China is on the table, but structural barriers and a lack of technological advancements in rural Pakistan are holding back the industry
New land routes in the China-Pakistan Economic Corridor could make it easier for the world's largest importer of agricultural commodities to get more rice and other staple goods
Pakistani Prime Minister Shehbaz Sharif's first official visit to China has put renewed emphasis on Pakistan's desire to increase its agricultural exports to China and tackle a ballooning trade deficit with its strategic partner.
As the
China-Pakistan Economic Corridor
(CPEC) enters its second phase, agricultural cooperation between the two partners has been gaining momentum over the past few years, after both countries established a joint working group on agriculture in 2018.
After
Sharif's visit
earlier this month, Beijing vowed support for "expanding [Pakistan's] exports to China", adding that it "welcomed quality goods, including food and agricultural products, from Pakistan to enter the Chinese market", in a statement by the Ministry of Foreign Affairs.
With 62.5 per cent of Pakistan's population living in rural areas, agriculture is the backbone of the country's economy, contributing to 75 per cent of its exports.
China is Pakistan's second-largest export destination, with an 11 per cent share of Pakistan's total exports in 2021, worth US$28.9 billion. Yet, Pakistan's share of China's total agricultural imports was only 0.79 per cent in 2021, a decline from 1 per cent in 2018.
"This happened despite Pakistan's higher exports to China," said Tariq Ali, a professor with the School of Economics and Management at Jiangxi Agricultural University. "This means that China increased its global imports of agricultural commodities at a higher pace than it did for Pakistan."
The potential for exports into China – the world's largest importer of agricultural commodities – remains underutilised due to structural barriers, according to experts. However, with increased bilateral cooperation and the utilisation of land routes under CPEC, they say that could change.
"The farmers in Pakistan are hard-working, toiling in fields in high temperatures, but we have a lack of access to modern technologies and the latest research and development. That is the hindrance," said
Zamir Ahmed Awan
, a sinologist at the Centre for China and Globalisation in Pakistan.
Under the second phase of the CPEC, China has begun increasing agricultural collaboration with Pakistan. This has involved strengthening and upgrading relevant infrastructure; increasing technology exchange in fields such as crop-seed production and poultry breeding; and providing education and research to farmers and agriculture universities.
Pointing to these developments, Awan added: "In the last couple of years, there has been a visible increase in Pakistani agricultural products in China, but the potential is still huge."
Pakistani media have reported that the value of agricultural exports to China is expected to reach a record high of US$1 billion this year.
Pakistan currently enjoys zero duties on more than 1,000 goods sold to China, after free-trade agreements between the neighbours took effect in 2007 and 2020.
Islamabad is working to increase Pakistan's agricultural exports to China, said Syed Waseem-ul-Hassan, food-security commissioner with Pakistan's Ministry of National Food Security and Research.
"We have [memorandums of understanding] and protocols that have either been signed or are under processing for the export of various agricultural commodities from Pakistan, including rice, fruits such as mangoes and citrus and vegetables such as potatoes and onions," he added.
While the value of Pakistan's exports to China during the year's first nine months saw a year-on-year increase of 2 per cent, to US$2.57 billion, its trade deficit with China reached US$15 billion, owing to about US$17 billion worth of goods going the other way, according to Chinese customs data.
"If you look at how agriculture in Pakistan is organised, most of it is informal and in small farms," said Ali Salman, executive director at the Policy Research Institute of Market Economy in Pakistan. "Although it means we are able to produce good quality, we are not able to meet the growing demand of the Chinese market. The economies of scale are lacking."
In one such agricultural project between China and Pakistan that addressed this, chillies were cultivated in six model farms spanning a combined 300 acres (121 hectares). In May, they began to yield an estimated 700 tonnes of dried chillies, which would be exported to China.
Another barrier is that, due to the informal nature of agriculture in Pakistan, farmers do not have knowledge of quality standards or packaging standards that can extend the shelf life of certain products, Salman added.
Pakistan lacks transport and cold-storage facilities, and this hinders its export of perishable commodities. Due to this, post-harvest losses in fruits and vegetables can account for 30-40 per cent of the production, according to a 2019 report by the Asian Development Bank.
These problems, in addition to a lack of disease-control measures, also mean that "Pakistan exports raw animals to China and comparatively less processed meat", Salman said.
Awan added that China is helping Pakistan establish disease-control measures for livestock, as well as build and upgrade existing testing laboratories.
Pakistan's exports would also benefit from the direct land links built under CPEC, as these would shorten transport distance and reduce costs, said Ali from Jiangxi Agricultural University.
"Rice, a bulky commodity, meat and fresh vegetables and fruits, which have a shorter shelf life, would readily be transported to China through the land connections," he said.
However, merely increasing the volume of exports would not be enough to tackle the trade deficit, said Salman, noting that Pakistan would need to focus on value-added exports.
Cotton yarn and apparel are the main value-added exports of Pakistan to China. However, cotton production in Pakistan has continued to decline, not only due to recent floods that destroyed vast swathes of the crop, but also because more farmers are shifting to sugar cane, Salman said.
"If we rely on just agriculture, the trade deficit with China will continue to increase," he added.