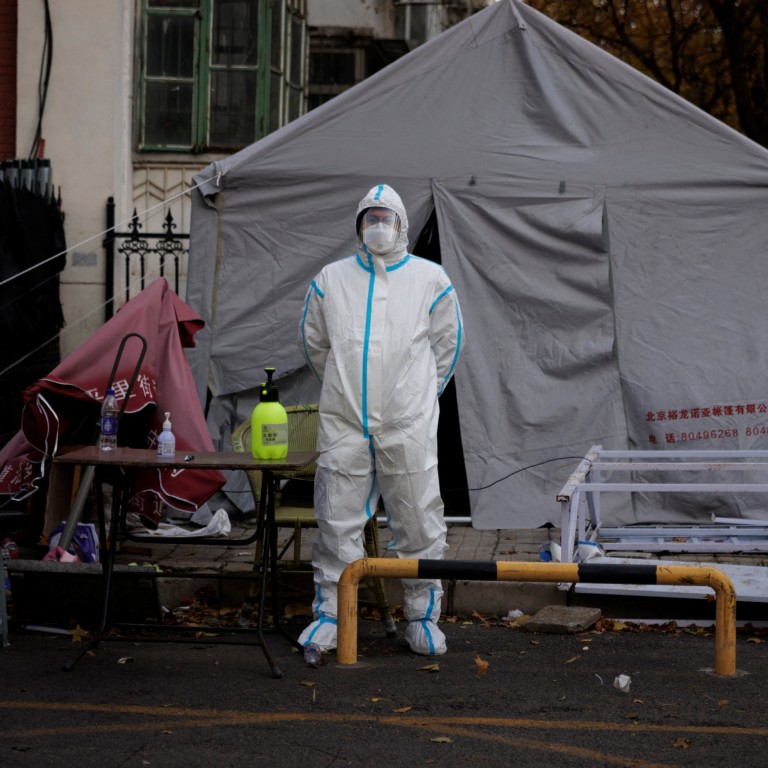 China's economic woes seen persisting despite 'turning point in macro policies'
A market rally that started on Friday continued on Monday, with the yuan seeing its strongest close against the US dollar since September 20
But investors remain wary in the face of coronavirus restrictions and disruptions, believing the zero-Covid policy has become 'a test of pragmatism for Beijing', economist says
Despite Beijing's fresh signals that it will ease both coronavirus controls and curbs on the property sector – two of the biggest economic drags for China in the past year – analysts say that the economy's sluggishness may extend well into 2023.
A 16-point plan to support the property sector, along with 20 measures to ease some of the country's stringent coronavirus rules – including
slashing quarantine times
for close contacts and overseas arrivals – have been unveiled since late last week.
The 20 coronavirus measures, announced by the State Council on Friday, triggered a market rally that continued on Monday after
news of the 16-point plan
– jointly formed by the central bank and the China Banking and Insurance Regulatory Commission – came out over the weekend.
The yuan has also been regaining a bit of ground that it recently lost to the US dollar, finishing the domestic session on Monday at 7.0378 to the dollar – the yuan's strongest such close since September 20.
"Last week was a major turning point in macro policies in China," said Zhang Zhiwei, chief economist at Pinpoint Asset Management, adding that the announcements "help reduce policy uncertainty in the market".
But the real impact on the nation's economic recovery is unlikely to be seen for months – perhaps even a few quarters – given the weakening external and internal demand, coupled with little official indication of when the zero-Covid policy may be reversed, according to analysts.
The basic principles of the latest support measures in the property sector – which include addressing developers' liquidity crisis and loosening down-payment requirements for homebuyers – are not new, according to Shan Hui, chief China economist at Goldman Sachs.
"With property sales deteriorating and developer credit spreads widening again, data-dependent policymakers may want to stabilise the market by introducing another round of easing measures," she said in a note on Monday. "That said, on the back of the 20 Covid measures, the 16 property measures may generate notable market reactions without dramatically changing the current economic fundamentals."
Real estate has been the major engine of China's economic growth for the past two decades, and it is the single largest component of household wealth in the country, with land sales being the most important source of income for local governments.
But Chinese developers have been struggling since last year, following Beijing's regulatory crackdown as part of its deleveraging efforts and moves to contain soaring property prices. Many developers have since experienced a liquidity crisis, threatening the stability of the financial system.
The 16-point policy package is "the most crucial pivot" since China significantly tightened financing of the property sector, and the plan signifies Beijing's resolve in reversing most of the financial curbs, according to Nomura economists led by Lu Ting.
"However, the property market has yet to show signs of recovery," they said in a note on Monday. "First, the official narrative is still that housing is for living and not for speculating, and Beijing continues to explore which housing model it will eventually settle upon. Second, Beijing's zero-Covid strategy, despite some recent fine-tuning, will continue to weigh on the property sector."
China officially logged more than 16,000 new coronavirus infections on Sunday, with many major cities – including Guangzhou and Beijing – witnessing a surge in cases, leading to more restrictions and neighbourhood lockdowns.
Friday's State Council announcement specified that mass testing should only be conducted in key spots where cases have been detected, and local-level authorities followed suit on Monday by slashing free tests for the public. But there have been concerns that some local governments may opt to further tighten restrictions.
In Chongqing, a municipality with more than 32 million people, some "medium-risk" areas were reclassified as "high-risk" on Saturday after the new measures reduced the risk-category levels to just two: low-risk and high-risk.
In Beijing, where local cases jumped from dozens to hundreds in the past few days, residents on Monday lamented the closure of free testing facilities on the streets, especially as a large number of venues – from restaurants to office buildings – have started requiring patrons to present a negative coronavirus test taken within 24 hours.
Shan from Goldman Sachs said the current round of outbreaks suggests that there are more downside risks to the near-term growth outlook, given China's adherence to its zero-Covid policy.
"While asset markets may want to look through the 'now', real activity cannot jump to the 'later' right away," she said.
While the new measures do point to an eventual reopening, the question remains of how to strike a balance between staving off severe coronavirus outbreaks and not implementing excessive curbs, according to Larry Hu, chief China economist at Macquarie Group.
And for now, he said, investors are taking positive news with a grain of salt, after a few false dawns earlier this year.
"Any change in zero-Covid, or a lack of it, is atop everyone's mind. While the sell-side consensus is for a de facto reopening in the second quarter of 2023, many investors are not convinced," Hu said in a note on Monday.
"For them, the timing of a reopening has gone way beyond a question of public health and become a test of pragmatism for Beijing."