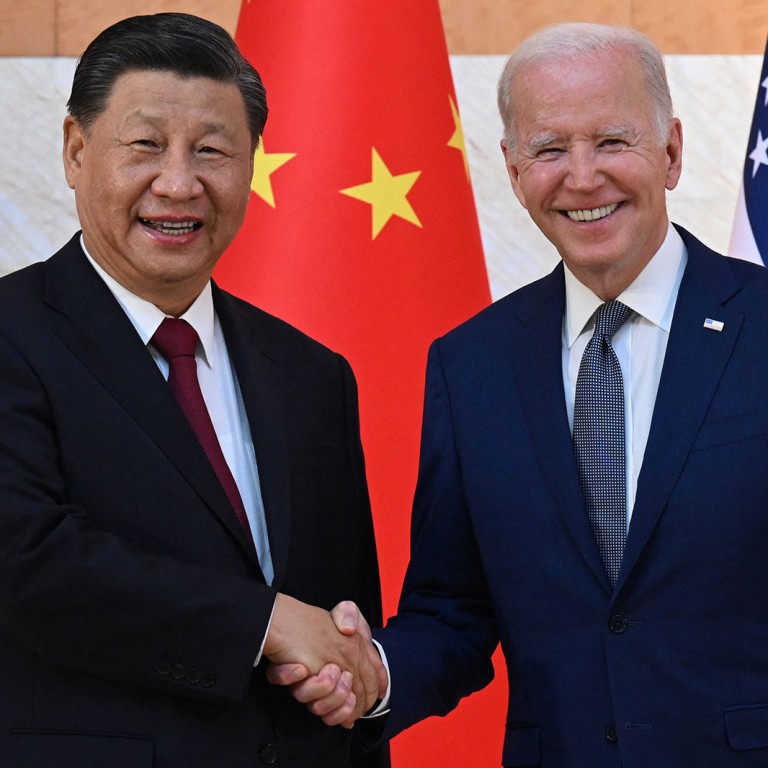 US trade chief says Xi-Biden meeting shows ability to manage 'complex' trade relationship, but no let up on pressure
US Trade Representative Katherine Tai says she is optimistic about the ability of both countries to manage 'complex' trade relationship
Tai says key takeaway from Xi Jinping's meeting with Joe Biden is that leaders have asked senior officials to continue communicating
China's non-market economic policies continue to affect the US economy and Washington will not let up pressure on Beijing to address outstanding concerns, America's top trade official said on Tuesday, making no indication that tariffs will be removed.
United States Trade Representative Katherine Tai said Washington is engaging with Beijing and she was "optimistic about the capability to manage an important and complex relationship with respect to tariffs".
"I think that is part and parcel with the non-economic practice and concerns and we will continue to work on those issues," she told the Bloomberg New Economy Forum in Singapore.
The US has long accused China of unfair trading practices, including intellectual property theft, forced technology transfer and lack of market access for American companies. China contends that the US is attempting to curb its rise as a global economic superpower.
Tai's comments came after President Xi Jinping and US counterpart Joe Biden met on the Indonesian island Bali on Monday ahead of the Group of 20 summit.
During their three hour conversation, Biden said the US will continue to compete vigorously with China, including by aligning efforts with its allies and encouraging more investment at home.
But the two countries must work together on transnational issues such as climate change, global food security, as well as macroeconomic policies and trade, according to statements disclosed after the meeting.
"One of the most important takeaways is that the two leaders have tasked their senior officials to continue to communicate and we're looking forward to building on the open and candid conversations that we have been having with their counterparts in Beijing," Tai said.
China accounts for 18 per cent of total US imports, down from 22 per cent at the onset of the trade war in 2018, according to a Peterson Institute for International Economics report.
Tai said considerable challenges remain that prevent easing tariffs, including an investigation into Chinese intellectual property rights abuses and forced technology transfer practices that American stakeholders have experienced in doing business with China.
In her interview, Tai also addressed progress on the
Indo-Pacific Economic Framework
(IPEF) – which is seen as part of Washington's bid to counter China's influence in the region – as US senior officials are set to gather for the first in-person negotiating round in Australia in December.
The IPEF was launched by Biden in May and brings together 14 Asia-Pacific founding nations with the aim of enhancing trade and investment ties.
Tai said that next year the deal will continue to serve as a "a 21st century framework for 21st century challenges that include very disrupted supply chains and a global economy that is really searching for the opportunity to rebuild confidence, demonstrate sustainability, resilience and inclusion".
"Key to our vision across the four pillars is to be able to deliver timely results, and that is what 2023 will be all about," she said.