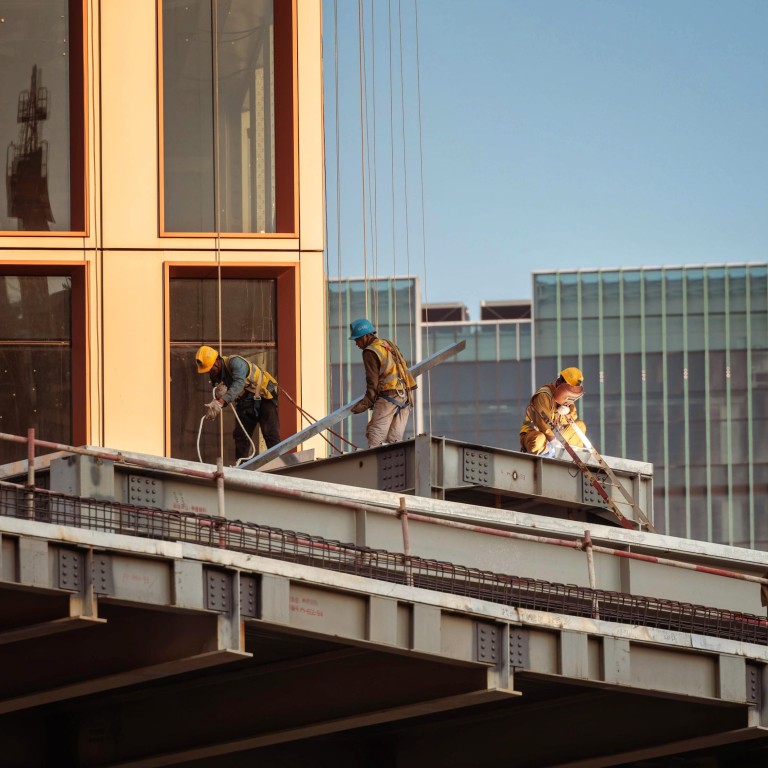 China meets with US firms including ExxonMobil, Boeing and Cargill as it seeks to restore market confidence
China's top economic planning agency met with US multinationals including ExxonMobil, Boeing, Cargill and Emerson Electric this week
The discussions signal Beijing is prioritising economic growth and is eager to restore market confidence after the 20th party congress, experts say
Meetings between China's top economic planning agency and US multinationals show Beijing is prioritising economic growth and is eager to woo foreign investors and restore market confidence following the 20th party congress, an economist says.
On Wednesday, the National Development and Reform Commission (NDRC) met with a delegation of US business representatives led by Craig Allen, president of the US-China Business Council.
The discussions revolved around economic and trade cooperation between the two nations, further opening up by China, and the country's macroeconomic outlook, among other issues, the NDRC said in a statement.
Representatives from US giants ExxonMobil, Boeing, Cargill and Emerson Electric took part in the meetings, relaying details about their operational conditions in China.
This is the second round of meetings between the NDRC and American businesses in two weeks. The first was a round table discussion held with more than 60 US multinationals on how they could tap new business opportunities after China vowed to further open up and encourage foreign investment.
The meetings signal a shift to focus to promoting economic growth, said Zhang Zhiwei, president and chief economist at Pinpoint Asset Management.
The State Council announced last week
20 new measures
to loosen coronavirus curbs with the hope of minimising economic and social impacts.
They included easing restrictions for inbound travellers to China, such as reducing quarantine time from seven to five days.
"If one looks at recent policy actions, a fair amount of the 20 measures were intended to facilitate international business travel," he said.
The meeting came after President Xi Jinping and US counterpart Joe Biden met on the Indonesian island Bali on Monday ahead of the Group of 20 summit.
During their three-hour conversation, Biden said the US will continue to compete vigorously with China, including by aligning efforts with allies and encouraging more investment at home.
But the two countries must work together on transnational issues such as climate change, global food security, as well as macroeconomic policies and trade, according to statements disclosed after the meeting.
China and the US share mutual interests in a difficult economic moment, with the global economy at risk of recession, said Lawrence Summers, a Harvard professor and former US Treasury secretary.
He said that despite inevitable competition, cooperation could happen in areas such as the management of global demand and maintaining the flow of capital worldwide, as well as assuring that the world is ready when the next pandemic comes.
"We need to recognise that we do not gain from the impoverishment and enraging of the other country," he said at the Caixin Summit in Beijing on Thursday.
"[The US ] does not gain from a weak or an economically failing China, just as China does not gain from the kind of economic environment that a profound failure in the US economy would bring."
He said the
Xi-Biden meeting
signalled a mutual commitment to contain rivalry before it became too confrontational, and ultimately dangerous.
"There was a recognition that fundamental differences were a reason to have more communication, not a reason to have less," he said.
Confidence among foreign businesses has been chilled by China's restrictive zero-Covid policy, economic and regulatory challenges and volatile travel restrictions, in addition to worsening bilateral ties amid rising geopolitical tensions.
The twice-a-decade leadership shake-up following the 20th party congress also raised concerns among foreign investors and stoked uncertainties over future economic policies.
China has rolled out a series of measures to reassure foreign investors, and has pledged to encourage foreign capital to flow into the Chinese market – especially into manufacturing sectors, as Beijing continues to prioritise industrial and supply-chain security.