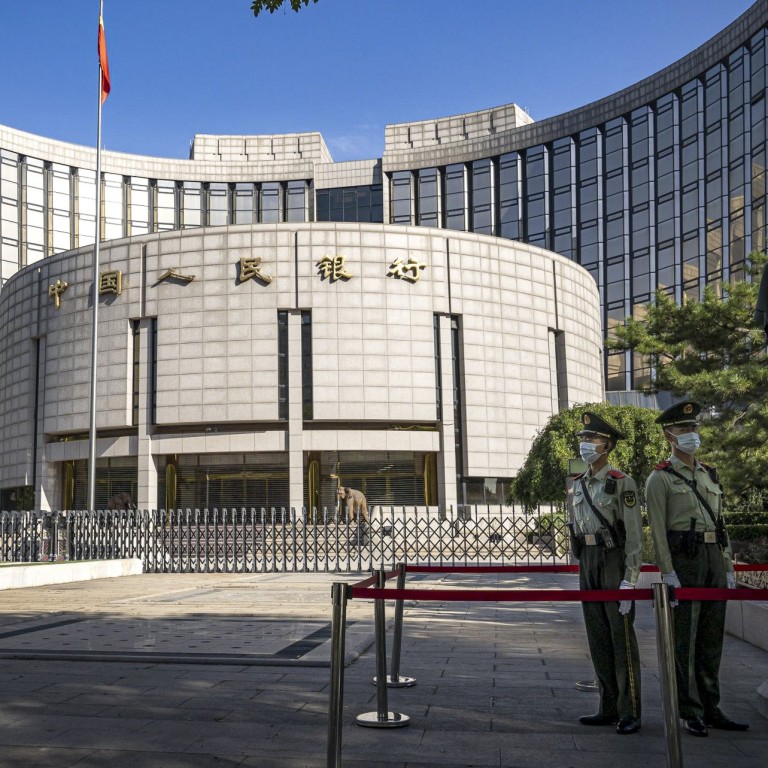 China's weak GDP growth 'cannot continue', Beijing's economic advisers warn at Caixin Summit
Monetary policy adviser says a rocky economic recalibration will magnify existing difficulties and risks, driving China's economy down a slow and distorted path
Liu Shijin points to 'rather difficult' challenge of keeping China's annual GDP growth rate at no less than 4.7 per cent if Beijing intends to reach its 2035 per capital income goals
China "urgently" needs to get its economy back on track to see it grow by at least 5 per cent next year, according to government advisers who appear to be increasingly concerned amid a property market crisis and Beijing's strict zero-Covid policy.
The world's second-largest economy has failed to reach its growth potential since Covid-19 took hold nearly three years ago, and "this situation cannot continue", said Liu Shijin, a member of the Monetary Policy Committee of the People's Bank of China.
"The urgent priority now is to get the macro economy back on a normal track," Liu said, speaking on Friday at the 13th Caixin Summit in Beijing. He also warned of how a long-term sluggish economy, under the weight of stringent coronavirus-control measures, can lower market expectations, damage productivity and result in lost economic-growth mechanisms.
As Beijing refines its zero-Covid policy while easing property market curbs – and given this year's relatively weak economic comparison base – policymakers should aim to achieve a two-year average gross domestic (GDP) growth rate of around 5 per cent for 2022 and 2023, according to Liu, who is also deputy director of the Economic Affairs Committee of the National Committee of the Chinese People's Political Consultative Conference, the country's top political advisory body.
Beijing had set a GDP growth goal of "around 5.5 per cent" at the beginning of the year, but
most analysts expect it to fall short
as China navigates a period of economic transition that is slowing down short-term growth.
Liu said this rocky transition will magnify existing difficulties and risks, driving the economy down a slow and distorted path. Overall growth may even become stagnated, he warned.
A weak economy also hurts China's labour force, productivity and exchange rate, Liu noted. And even if the economy rebounds when the pandemic is over, some of the losses, including in the supply chain and employment, would be "irreparable", as strict and uncertain policies have curbed market expectations.
"We have seen some cities that had a short-term rebound after a lockdown or a quiet period, but the growth rate soon dropped again," Liu said.
According to Liu's calculations, China's GDP per capita at this stage is equivalent to the level of Japan in 1975 or Germany in 1971.
If Beijing wants to fulfil its vow at the
20th party congress
to "reach the per capita income level of a medium-developed country by 2035", Liu said it must keep China's annual GDP growth rate at no less than 4.7 per cent, taking into account inflation and exchange-rate movements – a "rather difficult" challenge.
Yang Weimin, a senior economic official with the Chinese People's Political Consultative Conference, also called on Friday for effective steps by the government to address the issue.
"Economic growth this year is not in a reasonable range, and the biggest current risk to economic development is that the growth rate is too low," Yang said at the summit.
Not keeping its GDP growth within a reasonable range would have significant implications for China's subsequent development, according to Yang, adding that the trend "must be reversed".
China's economy grew by
3.9 per cent
in the third quarter, year on year, up from the
0.4 per cent
growth in the second quarter.
Economic growth in the first three quarters of the year stood at 3 per cent, missing market expectations.
The International Monetary Fund also cut China's GDP growth forecast to 3.2 per cent in 2022 and 4.4 per cent in 2023 in its latest World Economic Outlook – a far cry from the 8.1 per cent expansion seen in 2021.