Aviation
Get more with myNEWS
A personalised news feed of stories that matter to you
Learn more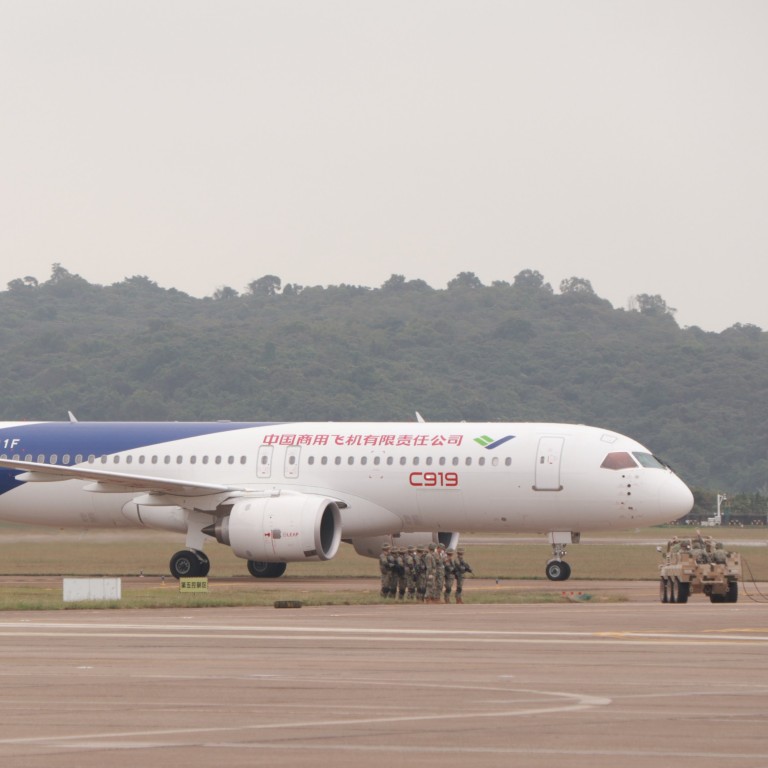 China's C919 passenger jet to start commercial operation 'as soon as possible' in first half of 2023
China's first home-grown passenger jet is expected to be delivered to China Eastern Airlines by the end this year after receiving a 'type certificate' in September
The narrow-body C919 single-aisle passenger jet is then expected to be put into commercial operation in the first half of 2023
China's first home-grown passenger jet is expected to be delivered by the end this year before being put into commercial operation "as soon as possible" in the first half of 2023, according to China Eastern Airlines, despite a slow recovery in the coronavirus-hit domestic aviation market.
The narrow-body C919 single-aisle passenger jet, which has been designed to compete with Boeing's 737 and Airbus' A320, received a "type certificate" issued by the Civil Aviation Administration of China (CAAC)
in September after 14 years of development.
Chinese passenger jet manufacturer Commercial Aircraft Corporation of China (Comac) has previously said it planned to deliver the first C919 to the Shanghai-based China Eastern Airlines airline by the end of this year after it ordered four in May at a cost of US$99 million each.
"The first C919 is expected to be delivered by the end of this year and put into commercial operation as soon as possible in the first half of next year after meeting the requirements of the CAAC," Wang Jian, China Eastern Airlines' board secretary, said in a call with investors about the company's third quarter results on Monday.
"The remaining orders will be delivered in the next year or two based on the supplier's production and delivery plan."
Airlines, though, are still reeling from heavy losses from the disruptions caused by the coronavirus, with China Eastern Airlines reporting a net loss of 28.12 billion yuan (US$4 billion) in the third quarter, down by 244 per cent from a net loss of 8.16 billion yuan in the same quarter last year.
Air China and China Southern Airlines have also seen their losses widen, with China Southern Airlines reporting a net loss of 17.59 billion yuan in the third quarter, down by 187 per cent from a net loss of 6.12 billion yuan in the same quarter last year.
Huang Bin, Air China's board secretary, told investors on Monday that virus outbreaks have continued to affect demand for air travel in the fourth quarter, but that "more precise" control measures to reduce the impact of disruptions are expected.
"It is expected that the fourth quarter of this year to next year will be a stage where the domestic civil aviation passenger transport market recovers amid fluctuations and gradually releases demand," Wang said.
He added that international routes will recover "slightly with increases in capacity and favourable policies".
The so-called circuit breakers for inbound flights, which meant that all flights operating on the same route would be suspended for at least two weeks if five or more positive cases were found, was also cancelled.
Arrivals, though, still need to quarantine for five days followed by three days of isolation at home as part of China's strict zero-Covid policy which also still mandates lockdowns and mass testing.
"Comparing planned capacity to the same week in 2019 highlights that both North and Southeast Asia remains at least 30 per cent below 2019's 'normal' levels," UK-based global travel data provider OAG said in a blog post last week.
"China's zero-covid strategy is a major factor, but not the only issue – aircraft availability remains challenging for many airlines, and with the necessary parts required in short supply, it may be some time before capacity recovers back to the market averages."