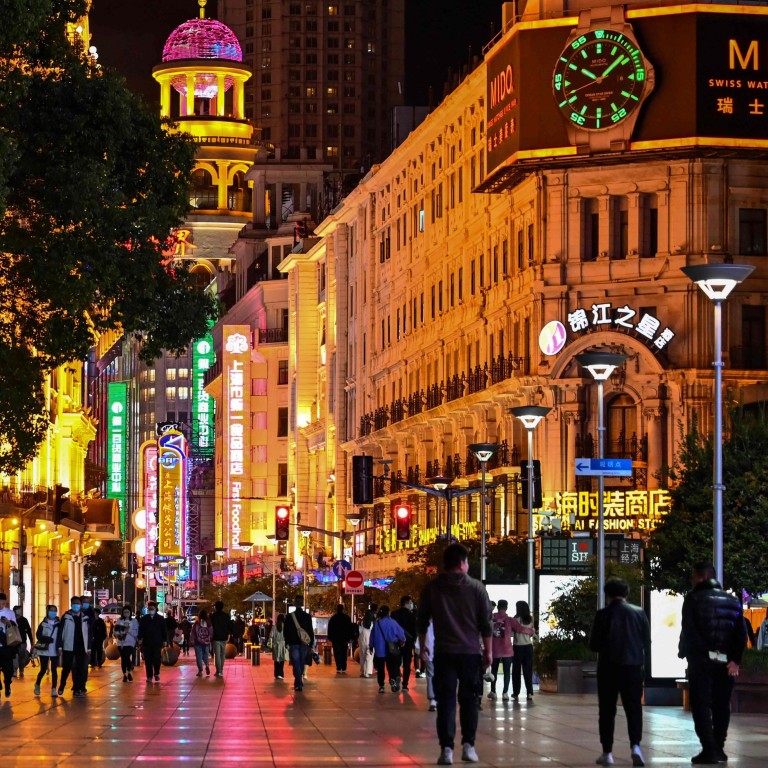 China must brace for 'big blow' after lifting of zero-Covid policy, economist warns
Policymakers' attempts to boost China's economy while it remains constrained by the disruptive zero-Covid policy are deemed 'powerless'
Consensus is that lockdowns, mass screenings and other controls will remain in place for a few more months, but then real economic recovery could still be curtailed by rising infections
China's economic growth next year appears to entirely hinge on a potential exit from its zero-Covid policy, and even if such a shift occurs, more pain is inevitable before the real recovery, according to economists.
Even as stringent lockdowns, mass screenings and quarantine controls – hallmarks of zero-Covid – continue to weigh on people's livelihoods while depleting local governments' finances, most economists do not expect China to fully reopen until after the completion of its political reshuffling in March.
"In the face of the zero-Covid policy, all of the other policies [to boost the economy] are powerless," said Lu Ting, chief China economist at Nomura, who projects a 4.3 per cent growth rate for the Chinese economy in 2023.
But Lu cautioned against blindly expecting a rapid economic recovery even if China does fully reopen towards the end of the first quarter.
"When the infection number quickly soars, it will be a big blow to the healthcare system and the whole society," Lu warned. "Large-scale infections will have a negative impact across consumption, production and logistics."
He added that the biggest benefit that will be brought by a reopening – a recovery of consumption, especially in the services sector – might then only occur in the third or fourth quarter of next year.
Economists from Goldman Sachs have placed a 60 per cent subjective probability on China reopening in the second quarter, with a 30 per cent chance for an earlier exit.
"The Chinese economy is likely to display a distinct 'two halves' next year, as the initial stage of China's reopening may be negative to growth, with Covid cases surging and population mobility temporarily declining – similar to the reopening experiences of several other East Asian economies," they said in a report last week.
They anticipate that investment will stay strong in the first half of the year, while consumption and services will become the main economic drivers in the second half, contributing to a 4.5 per cent growth in China's gross domestic product in 2023.
Zhang Zhiwei, chief economist at Pinpoint Asset Management, said that while the consensus among analysts is that China's economy will be weaker in the first half of next year before normalising in the second half, uncertainties continue to loom large.
"If [the exit from zero-Covid] is relatively slow, or the policy goes back and forth, there is a huge question mark over whether an economic recovery will be achieved in the second half," Zhang said.
However, local-level governments' implementation of the 20 new easing measures announced by the State Council has been disappointing, casting further doubt on a real reopening any time soon, according to Chen Zhiwu, a chair professor of finance at the University of Hong Kong.
In Shijiazhuang, the capital of Hebei province, an initial scaling back of mass testing and lockdowns lasted just a week before being reversed on Sunday, when the city ordered all residents to stay at home for five days, starting from Monday.
"Now it's very clear the markets have been wrong in applying that positive, rosy interpretation," Chen said. "For the last few days, local government actions have shown that it's not exactly like what many people thought.
"If this goes on for four more months, it will dampen the market expectations and leave more people disappointed. That kind of setback would be much more entrenched."
While analysts expect consumption to be the brightest spot of economic growth in 2023 once China reopens and endures a peak in infections, some say the boost expected from the release of pent-up demand could be underwhelming.
"Because after about three-and-a-half to four years of zero-Covid, the impact on households is huge, and their consumption power and purchasing power have also been largely weakened," Nomura's Lu said.
The extent and sustainability of consumption recovery hinge on potential improvements in the labour market, household income and consumer confidence, according to the Goldman Sachs report.
Meanwhile, the role of exports as an economic engine for China over the past two years could be diminished in 2023 amid dwindling external demand, geopolitical tensions and the recovery of manufacturing sectors in other countries.
Analysts also say that the property sector, which had been China's most important economic engine in the past two decades, may continue to decline if not stagnate next year, though it may be less of a drag compared with 2021.
Authorities have rolled out a series of policies this month to support the property sector, but these policies can only stabilise the market a little bit in the short term – they cannot reverse the long-term downward trend, according to Chen.
Home sales will not recover before the whole country exits from the shadow of the coronavirus, Lu said.
"We have lots of measures to support the property sector, and normally they should be very effective. But now zero-Covid has largely offset the effect," he added.
Guo Shuqing, party secretary of the People's Bank of China, contends that China's real estate crisis has been hyped up by overseas media, and that China's economy has "strong resilience, great potential and large room for manoeuvring".
"In fact, [China] is still at the peak of urbanisation and in the initial stage of rural revitalisation, and the investment in fixed assets of the whole society has great potential for growth," Guo, who is also chairman of China Banking and Insurance Regulatory Commission, said in a speech at the influential Financial Street Forum on Monday.