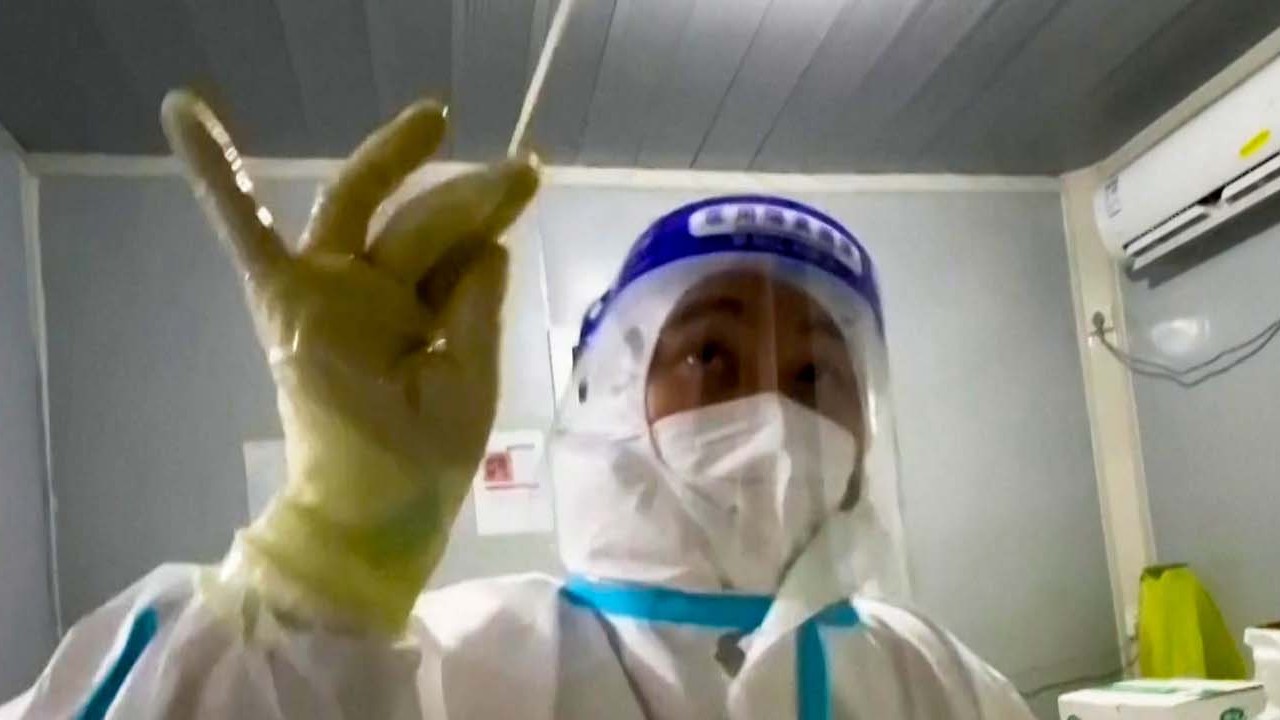 02:13
Over one-fifth of China's total GDP under lockdown amid record Covid surge, new report finds
Over one-fifth of China's total GDP under lockdown amid record Covid surge, new report finds
China to dispatch economic inspectors to ensure Beijing's policies are 'fully implemented', as warnings mount
Premier Li Keqiang stresses importance of an economically strong fourth quarter to help get China's full-year growth back to a 'reasonable range'
But with no mention at State Council meeting of the worsening outbreak situation, analysts continue to ask how economic growth can be achieved amid widespread lockdowns and mobility restrictions
Beijing is doubling down on its efforts to boost infrastructure and equipment renovation, while also relaxing property financing, in an apparent bid to offset the mounting pressure caused by
record-high
coronavirus infections amid an unwavering zero-Covid policy.
The State Council will dispatch inspection teams before the end of November to enhance the local-level implementations of economic-stabilisation policies, given that the fourth quarter is "key to economic recovery" and "very important" for the full-year growth, outgoing Premier Li Keqiang said on Wednesday at the weekly executive meeting of China's cabinet.
The decision comes at a time when the world's second-largest economy is facing a new round of virus disruptions – daily infections have already jumped to more than 31,000 across the country – and these hurdles could impede its recovery path.
"Some measures haven't been fully implemented, given the different situations of regions. We must continue to push for local enforcement," Li said, expressing hope for bringing economic growth back to a "reasonable range".
"We must try to deliver a good outcome," he said.
Li, who will end his 10-year tenure as premier in March, insisted that a previously released stabilisation package is taking effect and has big potential.
His prescriptions to cure China's economic woes include the rapid appropriation of funds to quicken the construction of key projects; a 200-billion-yuan (US$28 billion) central bank relending to ensure the delivery of homes to buyers; more bond financing of private developers and mortgage support; and a possible cut of the
reserve requirement ratio
for commercial banks to help maintain market liquidity.
Chang Huili, a macro analyst with Huatai Securities, said the authorities may soon cut the ratio by 25 or 50 basis points, releasing 550 billion yuan or 1.1 trillion yuan worth of liquidity.
"It's more of an intention for loosening, rather than having a significant boost," she said. "The economic rebound will largely rely on the abating of Covid disruptions and the property cycle."
As Wednesday's cabinet meeting did not mention the outbreak situation – one of key factors haunting the national economy – many analysts raised the big question of how policymakers can deliver growth when some economically important cities, including Beijing, Guangzhou, Chengdu, Chongqing and Zhengzhou, are dealing with a variety of lockdown and mobility restrictions.
Sheana Yue, a China economist at Capital Economics, said high-frequency data and proxy indicators – such as traffic volume, electricity consumption and car sales – suggest that containment efforts nationwide continue to weigh heavily on services activities. And she warned that the economic impact that could potentially be as big as Shanghai's six months ago.
Lockdowns throughout China's financial and economic hub in April and May helped plunge the second-quarter national gross domestic product growth rate to just
0.4 per cent
, from
4.8 per cent
in the first quarter.
"Recent policy support won't stem the housing downturn, global demand is set to cool further, and weak credit demand is constraining the [People's Bank of China]'s ability to provide policy support," she said.
The amount of floor space sold from January-October fell by 22.3 per cent from a year earlier, compared with 22.2 per cent in the first nine months, according to government data.
And property investment dropped by 8.8 per cent in the first 10 months, down from a fall of 8 per cent in January-September.
"The current economic weakness will extend for several more months," Yue added.
In its annual
Article IV assessment report
released on Wednesday, the International Monetary Fund identified coronavirus disruptions, the property crisis and weakened external demand as three immediate risks facing China's economy.
The Washington-based organisation, which expects China's gross domestic product to grow by 4.4 per cent in 2023 on a gradual reopening in the year's second half, called for a recalibration of Beijing's virus-control policy and also proposed interest rate cuts and fiscal support for vulnerable households to boost the economy.
The premier's unprecedented move to convene a virtual meeting
with 100,000 central and local cadres
in late May has been widely viewed as vital for China to double down on its pandemic controls while curbing the one-size-fits-all approach to such controls at local levels.
The meeting, coupled with an investment boost and several relending programmes released in the summer, helped lift headline growth to
3.9 per cent
in the third quarter.
"The zero-Covid policy is having a significant impact on business confidence and consumption trends," said Andrew Fennell, head of Fitch Ratings' Greater China sovereigns division.
"Many elements of this policy will remain into 2023."