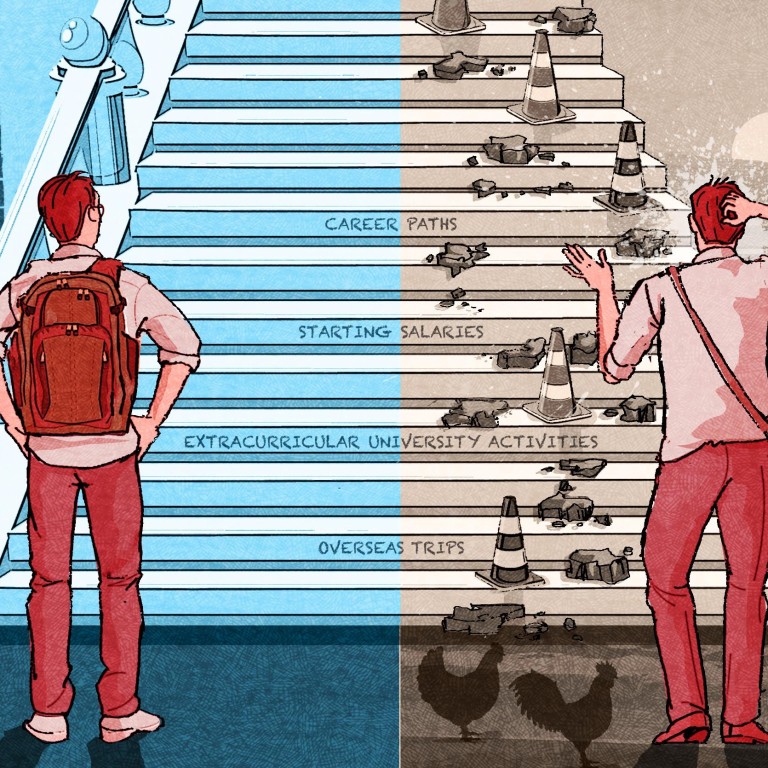 China's rural students face upwards mobility battle as class obstacles limit chance to leap forward
Students from rural areas often struggle to afford additional costs at university, including overseas trips and extracurricular activities
This can lead to students from rural backgrounds not reaching the same level or starting salaries as their urban counterparts
Xinjiang-native Ma quickly discovered her choice of studying Hungarian at university was not only tough academically, but also financially – two factors which would weigh on her chances to gain employment in China's increasingly competitive job market.
A 21-year-old Ma was unfamiliar with the central European language when she made the decision from her home in a small county in China's northwest in 2018 ahead of her move to a university in Beijing.
"In my [third] year, all the other students in my class, except me, studied abroad for a year, I couldn't afford this trip and my grades didn't meet the requirements for the scholarship [to pay for the trip]," said Ma, now 24, who initially took out a loan to be able to study in Beijing.
Her lack of overseas experience could weaken her competitiveness in the job market when she graduates in June with
around 11.58 million others in China
as coronavirus controls and the economic downturn have led to shrinking employment opportunities and made upward social mobility harder for rural students from humble families.
Research has found that students from rural areas in China often struggle to afford additional costs at university, including overseas trips and extracurricular activities, which can mean they do not reach the same level or starting salaries as their urban counterparts.
Those coronavirus prevention measures have also now prevented her from returning to Beijing to continue her studies and potentially take up an internship having returned home for her summer holiday.
"Even if I wanted to take an internship off-campus, I couldn't actually afford the rent and my family couldn't help," added Ma, who did not want to be fully identified due to the sensitivity of the issue.
"We have a saying that 'the children of farmers can only be farmers', I thought it was ridiculous as a kid, but now I think it expresses the difficulty of class mobility in a simple and crude way.
"I'm not picky about jobs, I just need to support myself. As long as I lower my expectations, I'm sure there will be a job that does not even require a degree."
Having spoken to students from four elite universities as part of his research, rural education and social mobility specialist Ailei Xie found that while most students from rural backgrounds find jobs, they do not not reach the same level or starting salaries as their urban counterparts and feel less stable in their roles.
"Students from rural backgrounds are less familiar with the employment culture of elite universities, they usually prepare for jobs late and also lack clear employment goals and systematic planning," said Xie, who is an associate professor at Guangzhou University.
Xie found, across several research projects, that rural students are less socially engaged in university than their urban counterparts, undermining their human capital skills, including communication, collaboration and leadership – all of which are crucial when seeking employment.
But the youth unemployment figures potentially omit some rural students as the survey generally focuses on urban areas, meaning students living in or returning to rural regions are likely to be missed out.
Previous studies despite the lack of consistent official data, though, have suggested unemployment among rural students is high.
The Social Blue Book released by the Chinese Academy of Social Sciences (CASS) in late 2013 showed the unemployment rate for rural students was 30.5 per cent, compared with 12.28 per cent for urban students.
By 2019, the proportion of bachelor's degree graduates from rural families who had found employment in poor areas was 23.8 per cent and 21.1 per cent for rural vocational graduates, according to another undergraduate employment blue paper published by CASS.
Gansu province-native Wu Chengye is one of the lucky rural students to have found a job in the midst of the fierce competition having graduated from an elite university in Shanghai last year.
After a large number of résumés went unanswered, he sought a recommendation from a professor and eventually looked for the security offered by a state-owned company.
"For me, when choosing jobs, the first consideration is whether the company can provide free meals and accommodation since this will at least reduce a lot of our worries," Wu said.
Zhang Hao, a 24-year-old from rural Sichuan, went one better, and after graduating from Fudan University in Shanghai, he obtained a local hukou household registration document, which offers robust social security and better schooling opportunities for his children.
"I believe there are quite a few ways for rural students to make the class leap, including college entrance exams, that can help raise social status and wealth," Zhang said, who joined a leading internet company in Beijing last year.
Zhang holds the widely held belief that a degree can change the fate of an entire household, especially for the poorer regions.
But rural students are now seeing their chance of obtaining a place at an elite university shrink.
In the 1970s, 50 per cent of first-year students at elite universities were from rural areas, a figure which dropped to around 14 per cent by 2011, according to an academic paper published by Kun Yan and Lingli Wu, who are both researchers from the Institute of Education at Tsinghua University.
Another CASS study showed rural students from poor regions have a higher chance of studying at vocational schools that offer more practical or technical skills but are less favoured due to their lower average salaries, rather than elite universities.
"Urban middle-class families are investing more in their children's education in terms of cultural and social capital, while families of rural students are rarely able to make these systematic investments," Xie added.
After nearly a decade of research, Xie found it is now becoming more difficult for rural students to achieve upwards class mobility, a situation that exists globally as social inequality grows.
According to "The Global Social Mobility Report 2020" released by World Economy Forum, few economies have the right conditions to foster social mobility and consequently, income inequalities have become entrenched globally.
Despite high-quality education in urban centres, China still ranks 45th among the 82 countries surveyed for the social mobility index, which is largely attributable to its wide disparities in education quality across regions, according to the World Economy Forum.
Xie also said rural students are more likely to opt to stay in county, town and rural areas for their first job after graduating, while urban students opt to work in cities.
"I know my rural status won't be directly on my CV, but it still has an indirect impact, for example through my household income," said 22-year-old Bulgen, who will graduate from Xinjiang University next year.
"I still have to accept the reality of not being able to live in a big city."
Bulgen has given up her dream of working in a provincial television station to take a public sector job in her home county, having struggled to find an internship in the provincial capital of Urumqi as she was unable to afford the rent and had to live at a friend's house.
"As someone from the countryside, it's too difficult to survive in the big city, I have rent to pay and living expenses to consider, and the salary is not high enough at the beginning," added Bulgen, who did not want to be fully identified due to the sensitivity of the issue.
"I felt it would be difficult to find a job, and I couldn't survive if I did, so I thought I'd just go back home."
However, even without the stranglehold of financial issues, the problem of coming from a rural background can still affect some students from wealthy families.
After completing her undergraduate degree in psychology at an elite university in Shanghai, Huang Yu is now studying in Switzerland at the University of Zurich, but her wealthy family background and extensive educational experience still do not help with her low self-esteem.
"In the current context, anything tainted with the label of rural, town, countryside or mountainous area brings a hint of coloured-spectacles for others to see," said the 23-year-old.
"The fact of being a rural student is like an evil inside my mind making me feel I lag behind my urban classmates, which brings me internal conflict and torment within myself and I have no confidence to compete with them."
Huang believes the life experiences enjoyed by urban students gives them more confidence and courage to compete, with some rural students finding it difficult to compete due to their backgrounds.
Academics, including Xie, have acknowledged that rural students are less engaged in campus and social activities at elite universities, which can lead to poor academic performance and conservative career choices.
"My urban classmates have taken pottery classes, French classes, and my roommate in Shanghai has been on holiday trips to Australia and America since primary school – none of this has happened to me," Huang added.
"I think the social class has become very solidified already, and more often it's not by virtue of their individual skills at work to make an upper-class leap, but it involves social networks and information gaps."