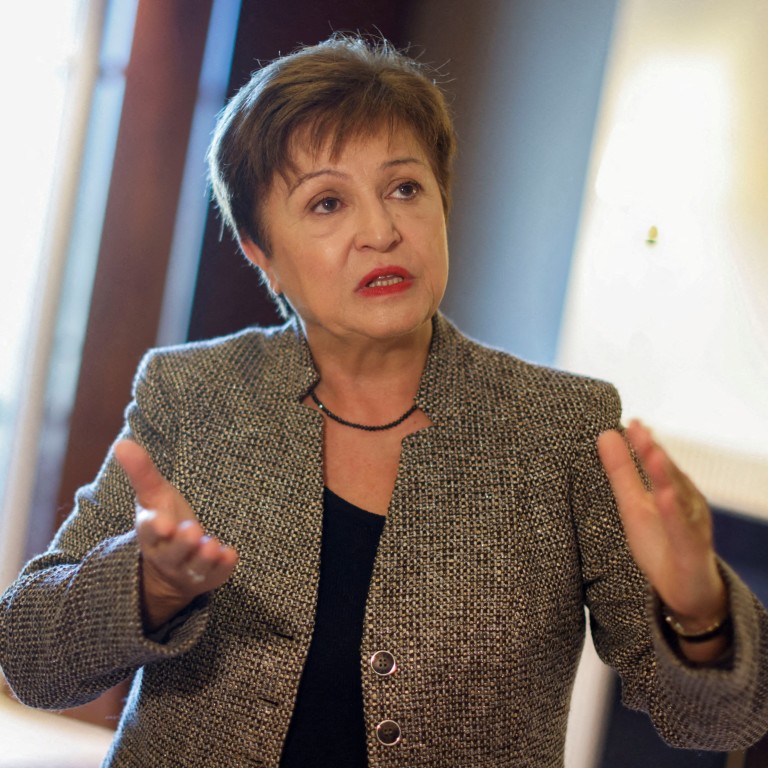 China's economic recovery dependent on 'calibrating' coronavirus strategy, IMF says
IMF managing director Kristalina Georgieva says China is being held back by Covid-19 lockdowns and challenges in the real estate sector
The top IMF economist added that China has a leading role to play in preventing further fragmentation of the global economy
As global growth slows down, calibrating coronavirus containment measures will be critical for recovery of the world's second largest economy, said the head of the International Monetary Fund (IMF) on Friday.
IMF managing director Kristalina Georgieva said the government should take more action to safeguard financial stability.
"Activity in China is held back by ongoing Covid-19 lockdowns and challenges in the real estate sector," she said at the International Financial Forum in Guangzhou via video link.
The IMF expects the world economy to grow 2.7 per cent next year, but there is a 25 per cent probability that growth will fall below 2 per cent, while at least one third of the global economy is expected to be in recession.
Georgieva and World Bank president David Malpass told the Reuters NEXT conference in New York on Thursday they will travel to Beijing next week to join a meeting with heads of other international institutions and Chinese authorities to discuss the country's approach to debt relief for poorer countries, coronavirus policies, the property sector and other economic issues.
But in China, where inflation has remained subdued, there is more room for accommodative monetary policy, Georgieva said.
People's Bank of China governor Yi Gang said on Friday that China's inflation is expected to stay in a moderate range next year.
"China's current inflation rate is around 2 per cent, thanks to stable energy prices and bumper harvest of grain," Yi said at a seminar co-hosted by Thailand's central bank and the Bank for International Settlements.
Georgieva said China could reignite consumption-led growth with more fiscal support to vulnerable households and strengthening social safety nets.
Zhang Zhiwei, chief economist at Pinpoint Asset Management, said it is not yet clear whether China will introduce more expansionary policy to give the economy support next year.
"Now we cannot see clearly where the money will come from. Whether there will be a relatively large fiscal deficit and more government bonds will be issued, this is a big question mark," Zhang said.
Georgieva also said that China has a leading role to play to prevent further fragmentation of the world economy.
"Splitting the world into blocs that stop trading with each other would surely knock off trillions of global [gross domestic product]," she said.
"The world simply cannot afford fragmentation."
Addressing food insecurity, debt crises and climate change are the key sectors for global collaboration, she said, and it was important China was involved.
To reduce the risks of debt crises, large creditors like China, together with the private sector, have a responsibility to help ease the burden, she said.
"The Group of 20 Common Framework has made progress with Chad and Zambia, but it must become faster and more predictable," said Georgieva.
The two African countries, along with Ethiopia, are seeking debt restructuring under the Group of 20 initiative.
Western countries have accused China, the world's largest sovereign creditor, of delaying efforts to restructure the loans of some indebted countries.
China has argued that high-interest loans from private Western lenders account for most of the burden on countries in Africa, thus they should also engage more in such a process.