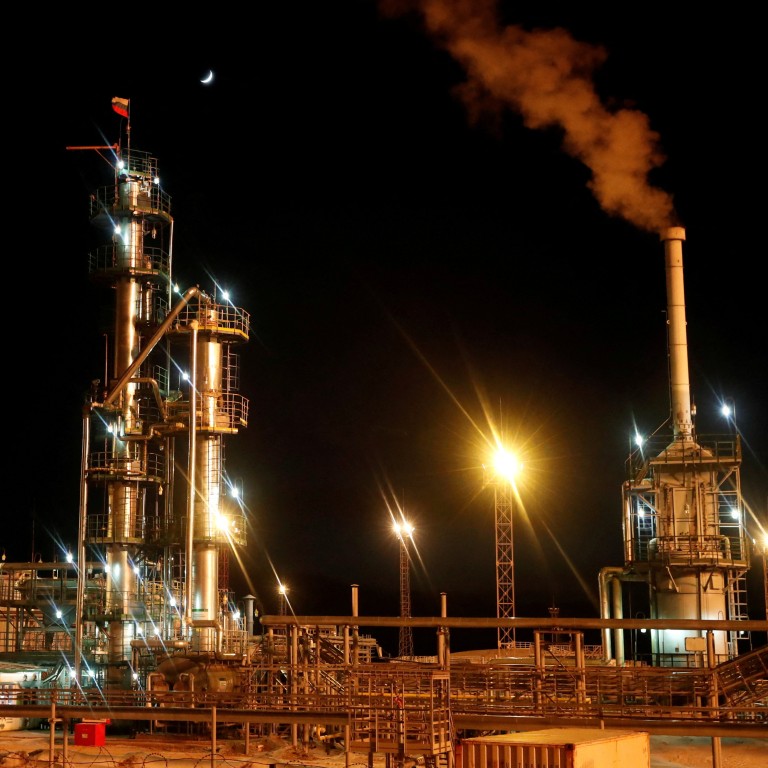 US-led price cap on Russian crude oil could see more of it shipped to energy-hungry China
Volatile energy prices have moved energy security higher on Beijing's agenda, and policymakers are looking to consolidate trade with Russia
Even with the US$60/barrel cap, Russia still makes around US$20 per barrel, according to an energy researcher who says this incentivises the country to keep supplying global markets
The Russian oil price cap coalition between the European Union, Group of 7 (G7) nations and Australia could accelerate crude shipments to China and other Asian countries while sowing uncertainties over global oil output and price volatility, according to analysts.
Additionally,
the cap
of US$60 per barrel, which took effect on Monday, is likely to ease China's concerns of secondary sanctions while encouraging the world's second-largest economy to buy more cheap energy from its northern neighbour, they said.
Beijing, which has insisted on
consolidating energy trade
with Russia, has long been criticised by some Western countries for providing a lifeline to the embattled Kremlin, and China must strike a balance between meeting its energy demands and maintaining relations with its major export destinations.
"In theory, China would be able to import Russian oil in bulk once the price-cap mechanism is met," said Wang Yongzhong, a senior energy researcher with the Chinese Academy of Social Sciences. "Lower costs are certainly good for domestic importers."
Given China's status as the world's largest crude oil buyer – importing more than 70 per cent of its requirement annually – energy security has been high on Beijing's agenda, particularly as international prices became volatile following coronavirus disruptions and the Ukraine war.
Customs data showed that China bought 513 million metric tonnes of crude oil last year, compared with its domestic output of 199 million metric tonnes.
Russia is China's second-largest import source, selling it 79.6 million metric tonnes in 2021, compared with 87.6 million metric tonnes
from Saudi Arabia
.
The European Council said the price cap aims to limit price surges and drastically reduce the revenue that Russia earns from oil, with a periodic review planned for possible adjustments.
Russia's seaborne exports to other countries have also been affected, as well as the related provision of technical help, brokering services and financial help. Petroleum products will also be included from early February.
Kang Wu, head of global demand and Asia analytics at S&P Global Commodity Insights, said the global oil market has been preparing for this for months.
"China and other Asian countries will be able to continue importing Russian crudes as long as services of shipping insurance are not provided by any company based in the EU or G7," he said.
Huang Yongzhang, deputy president of China National Petroleum, said at a forum last week that exports of Russian crude to China via pipelines totalled 33.3 million metric tonnes in the first 10 months of 2022, or around half of the total Russian supply during the period.
The cap will also give more bargaining power to existing buyers, according to Everbright Securities analyst Zhao Naidi.
Urals oil futures, a benchmark for Russian oil settlement, plunged by 8 per cent to around US$63 per barrel on Friday.
A Kremlin spokesman was quoted by Russian news agency TASS as saying that the country would not accept the cap but would prepare for it.
The US Treasury Department insisted that the US$60/barrel cap was "set high enough to maintain a clear economic incentive for Russia to continue selling oil on global markets".
"Reducing the volume of sales would not be in Russia's economic interest, especially because doing so would mean reducing sales to key emerging markets, including Russian allies," the department said in a press release on Friday.
Wang estimated that, even with the price cap, Russia still makes a profit of around US$20 per barrel, which, from a "pragmatic" viewpoint, would encourage it to continue supplying to the global markets.
"Now the Russia-Ukraine conflict is a less important factor in international prices," he said.
On Sunday, the Organisation of the Petroleum Exporting Countries – the Saudi-led group that controls production, supplies and prices in the global market – decided to
maintain output
, but it reiterated its readiness to support the balance of the oil market and its stability, if necessary.