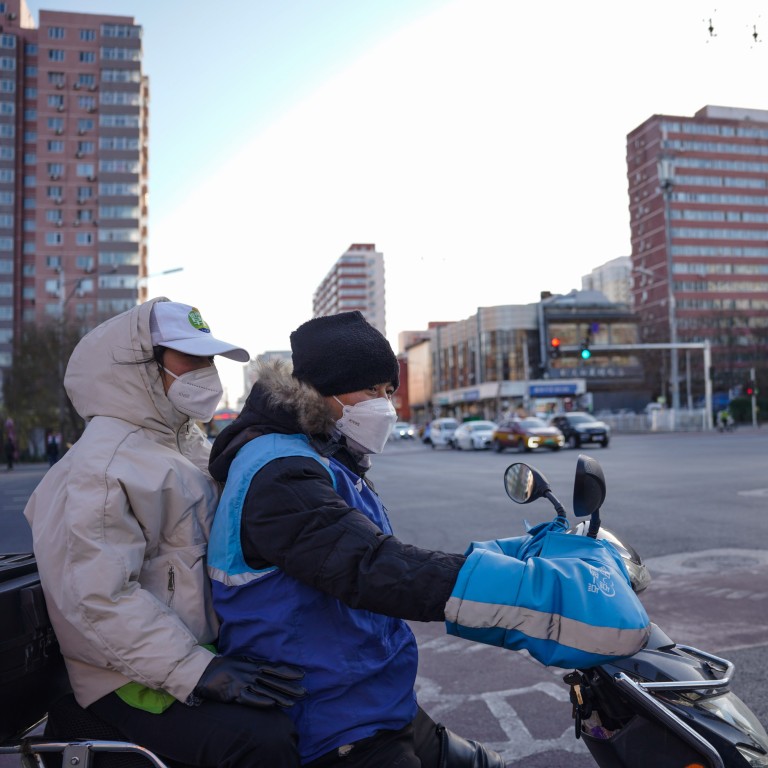 China Covid: capital Beijing unveils 12-point plan to 'prop up' economy
Beijing has released a 12-point guideline that aims to 'maximally reduce' Covid-19's effect on socio-economic development and the economy
The measures range from cutting operational costs for companies to stabilising supply chains, as well as supporting employment and tax breaks
Beijing is rolling out support measures to relieve strain on the city's economy as the Chinese capital grapples with surging coronavirus cases and disruption to business.
The measures range from cutting operational costs for companies to stabilising supply chains and supporting employment.
The city released a 12-point plan on Tuesday that aims to "maximally reduce Covid's effect on socio-economic development, help the market solve difficulties, [and] prop up the economy".
Beijing, which has a population of nearly 22 million people, has been plagued by a high number of cases, while restaurants, shopping centres and entertainment venues have only reopened recently as
virus curbs have been eased.
Under the plan, authorities are trying to jump start the economy through tax cuts and loan repayment extensions for small- and medium-sized enterprises. Deadlines for social security payments will also be delayed.
Purchases of new energy vehicles have been exempted from taxes, while companies buying new equipment and investing in research and development will get tax breaks too.
Financial support will be given to investment projects that focus on technological innovation, advanced manufacturing and the modern service industry.
Low interest rates and late fee exemptions are being offered to micro and small companies and loans have been extended for under-pressure real estate enterprises.
Supply chains will be stabilised by limiting lockdowns to ensure normal business operations, transport and logistics.
Companies hiring recent graduates or unemployed youth aged 16 to 24 will get a one-time cash reward of 1,500 yuan (US$215) from the Beijing Municipal Human Resources and Social Security Bureau.
The pandemic badly hurt revenue and limited growth in new contracts for China Urban-Rural Holdings Group, which engages in infrastructure construction, according to vice-regional manager Wang Zhifeng
"Because of the pandemic, our businesses couldn't continue expanding and many projects were shut down," he said.
"Our subsidiary company responded to the government's call and supported the battle against Covid with manpower and equipment, which directly affected our revenues."
The new support measures could help improve the business environment, he said.
However, that view is not shared by some small business owners – especially in the
hospitality sector
– who do not want to borrow more money amid growing infections and uncertainties.
"The biggest issue now is the lack of customers, at this stage it's already pretty impressive for restaurants to hold up for this long, the lockdown has been ongoing for too long, people are not making money, and they don't want to spend," said Wang Yanxiao, the owner of a barbecue restaurant in Beijing.
He said he used to make 40,000 yuan a day, but now he makes a tenth of that on a good day.
"It takes us two to four months to get the business going again after every time we were forced to close, it costs too much time and money," he said.
"Now my plan is to do it as long as I can and be done when I can't survive any more. A lot of the restaurants have already been closed."
Beijing residents' per capita consumption expenditure dropped by 0.3 per cent to 31,671 yuan in the first three quarters of 2022, while total profits of the city's industrial enterprises plunged by 43.3 per cent to 164.18 billion yuan, official data showed.
In the first 10 months, Beijing saw a 4.8 per cent drop in its total retail sales of social consumer goods.
In the first three quarters, profits of medium- to large-sized enterprises were slashed by 46.2 per cent compared to the same period last year.
The southwestern city of Chongqing also issued an announcement on Tuesday offering financial support to struggling companies.