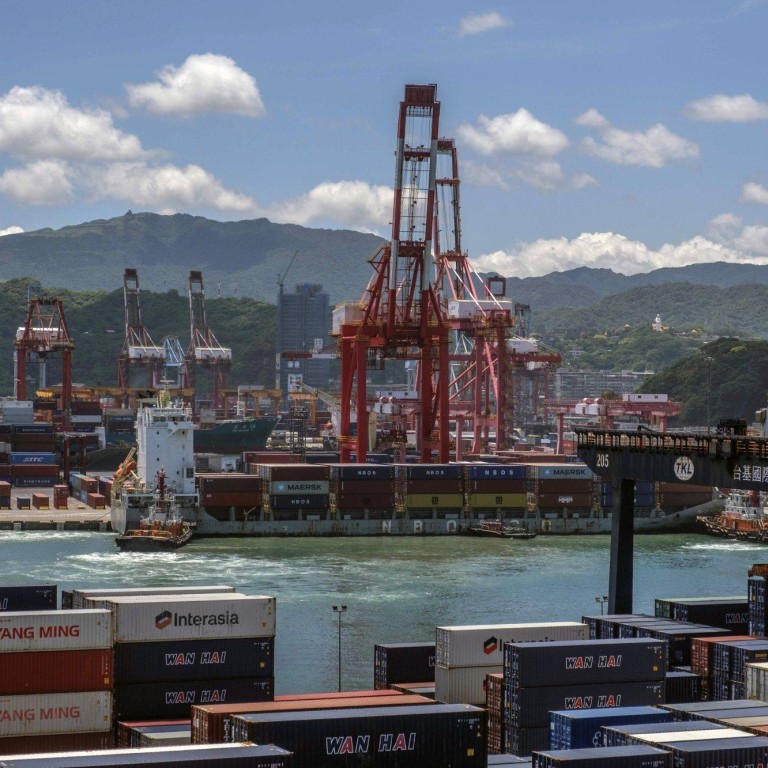 Mainland China targets Taiwan with booze ban as import rejections top 2,400 since last October
Kinmen Kaoliang Liquor and seven other exporters of Taiwanese alcohol have been banned from the mainland by Beijing
Mainland China's customs authority has rejected 2,409 applications to import food and beverages of all types since October last year
A prized brand of hard liquor has been added to a fast-growing list of Taiwanese products that mainland China is barring from its giant market, officials said, accentuating fears the island's exports are increasingly at risk of political retribution from Beijing.
The maker of Kinmen Kaoliang, a sorghum-based liquor that is the staple export from the Taiwan-controlled islands of Quemoy, also known as Kinmen, said on its website on Saturday that the strong, ornately bottled drink popular among Chinese consumers has been temporarily suspended from entering the mainland.
Kinmen Kaoliang Liquor and seven other exporters of Taiwanese alcohol have been banned from the mainland by Beijing, Taiwanese officials told a news conference in Taipei on Sunday. Another is the government-run Taiwan Tobacco & Liquor, which bottles beer for export.
Mainland's China's General Administration of Customs has rejected 2,409 applications to import food and beverages of all types since October last year, Taiwanese authorities said in a statement on Saturday. Just 792 have received approval.
Exports from other parts of the world have been approved much faster by the mainland, the cabinet said.
"China should clearly offer specific reasons for Taiwanese companies that have had registrations rejected and cancel unfair discriminatory practices toward Taiwan," the statement said.
Huang Kwei-bo, an associate professor of diplomacy at National Chengchi University in Taipei, said some in Taiwan believed Beijing was being tougher toward it than other exporting economies.
Taiwan's Council of Agriculture said on Sunday mainland customs has suspended shipments of
four types of seafood
, including squid and Pacific saury. It said the suspensions affect 105 Taiwanese exporters.
Chinese customs officials introduced new regulations on food imports last year and documentation filed by Taiwanese exporters in April has not been approved, according to officials in Taipei.
Rejected exporters are told their documentation does not meet standards but not why, the cabinet said. Officials in Taipei have asked mainland customs for more information but received no reply.
Kaoliang liquor anchors the economy of Quemoy, a group of tiny islets near the mainland coast with a population of 127,700. A company marketing specialist declined to estimate the value of mainland-bound liquor.
"Kinmen Kaoliang is the No 1 industry and the largest number of upstream, downstream companies working with it," said Joanna Lei, former Taiwan lawmaker and ex-chairwoman of the liquor company. "Without Kinmen Kaoliang, the local economy and local society will suddenly dwindle."
Suspension of the beer and liquor shipments is expected to cost Taiwanese exporters US$32.57 million, government-funded Central News Agency in Taiwan said.
China's General Administration of Customs in Beijing did not answer a request for comment on Monday.
Taiwan's exports of natural sand, citrus fruits and two types of seafood to mainland China were banned after US House speaker Nancy Pelosi visited Taipei in August, triggering unprecedented
military exercises
surrounding the island.
Beijing sees self-ruled Taiwan as a breakaway province to be reunited with the mainland, by force if needed.
Countries that have diplomatic ties with Beijing, including the US, acknowledge the existence of the one-China principle that holds Taiwan is a part of China, but may not explicitly agree with it. Washington does not take a position on the status of Taiwan, but opposes any attempt to take the island by force.
Mainland officials have taken a "new" approach to Taiwan since Pelosi's trip, Lei said.
Last year, seven major economies including Japan, Britain and the United States urged China to pause the changes to customs rules because they could risk upsetting global supply chains.
Taiwan's premier Su Tseng-chang said on Saturday he was mulling whether to file a case with the World Trade Organization about the suspended Taiwanese exports.
Rejected applicants have been offered government stimulus including help with promoting products overseas and backing for small-business loan applications, officials told the news conference.
Kinmen Kaoliang was previously allowed to register its brand name and a special category of flavour in the mainland, Lei said. Those allowances put the distillery ahead of foreign competitors, she said.
Taiwan lawmaker Chen Yu-chen said on Monday she planned to fly to Xiamen, a city in the mainland's southeast near Kinmen, to "communicate" with officials there about what she described as a "temporary prohibition" of Kinmen Kaoliang liquor.
"We really can't wait and just not get results," Chen's legislative office said in a news release. "She expects that this meeting and consultation can help resolve all manner of Kinmen's economic development problems."
The liquor company said on its website that it has enough "safety" inventory in Xiamen to head off any negative impact for now.