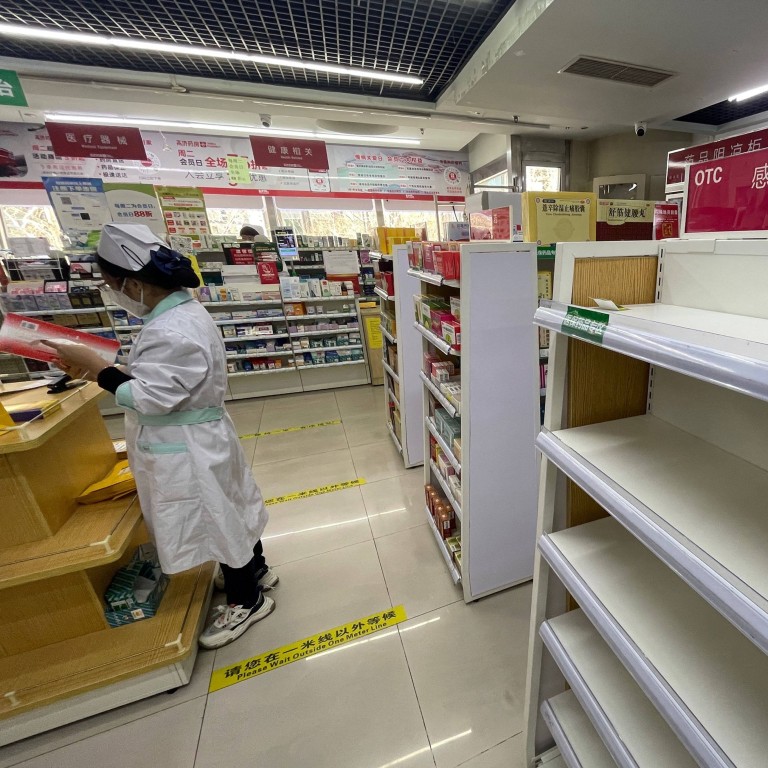 As China's coronavirus infections spike, Beijing sees food, medicine shortages
A sudden surge in Covid infections has stoked public anxiety and created huge demand for medical supplies and food delivery in the capital Beijing
But pharmacies are running short on medicines and delivery drivers are falling sick, meaning many residents are struggling to purchase daily necessities
As coronavirus cases surge in Beijing, buying essential medical supplies has become increasingly difficult. Just ask Amy Liu, who began feeling sick on Sunday.
"It's quite ridiculous. I can't find any thermometers for humans on the delivery apps," the student said. "The only one I could find was for veterinary work."
Liu said she eventually paid 87 yuan (US$12.50) to have a thermometer delivered from a friend's home. But the situation does not bode well if the outbreak is prolonged.
Following a sudden shift away from zero-Covid last week, Beijing has seen a rush of Covid-19 infections and illness. On Sunday, 22,000 patients visited the city's fever clinics, 16 times more than a week earlier, said Li Ang, spokesperson for the Beijing Municipal Health Commission on Monday.
The rising number of patients has stoked public anxiety and created huge demand for medical supplies. The problem: there is just not enough to go around.
"Last week, pharmacies were almost out of Western drugs," Liu said, "It was equally difficult to buy medicine online. You can hardly find Covid-related medications in online stores, and delivery takes much longer than before."
The government was addressing the issue by mapping shortages, deploying more stock and organising e-commerce platforms to buy medicines from overseas, said Wang Houting, deputy director of Beijing Municipal Medical Products Administration on Monday.
After intervention by the Beijing city government, some Covid-related medicines that had been once sold out, such as Lianhua Qingwen - a traditional Chinese medicine used for treating cold symptoms - are available again, Liu said. But drugs aimed at reducing fevers is still hard to come by.
Another Beijing resident Zhou Chenming said people were panicking as the number of infections rose.
"Experts say the virus is more detrimental to people with basic diseases … so people are stocking up on various medications," he said. "This is why not only Covid-related medicines were out of stock last week."
In addition to buying medicines, grocery shopping is proving another challenge for people in the Chinese capital.
Because in-store shopping comes with higher risk of infection, most people have turned to online grocery platforms, but there are not enough delivery drivers to fill orders.
"I ordered yesterday morning, but no delivery person picked it up until nine in the evening," Liu said.
Delivery drivers – who are on the front line of virus outbreaks – are some of the first to fall sick.
"Some communities now are organising group purchases to deal with the lack of retail capacity," Zhou said.
It is a similar story in other parts of the country. Yu Shuaijie, who lives in Wuhan – the initial epicentre of the pandemic in 2020 – said deliveries to his neighbourhood had almost ground to a halt due to driver infections.
"Supermarkets are running normally and people can still buy food from them," Yu said. "But for people who don't want to go outside in case of infection, the shortage in delivery can be a problem."
Important medical supplies, like fever reducers, painkillers and especially rapid antigen test kits are still hard to buy in Wuhan.
Zhou Jian, deputy general of consumer products at the Ministry of Industry and Information Technology, said on Wednesday that the temporary shortage in testing kits was a result of low inventory in pharmacies due to low demand previously.
"With the continuous release of production capacity, medical supplies will rapidly increase and be able to meet the needs of the people," he said.
The Beijing Municipal Commerce Bureau said earlier this month it was supporting e-commerce platforms to supplement delivery capacity by expanding recruitment, setting up bonuses for drivers and employing "shared labour".
Right now, though, that is of little relief to Beijing residents struggling to acquire medical and daily necessities.
"I don't have many choices," Liu said. "I try my best to buy what I can right now."