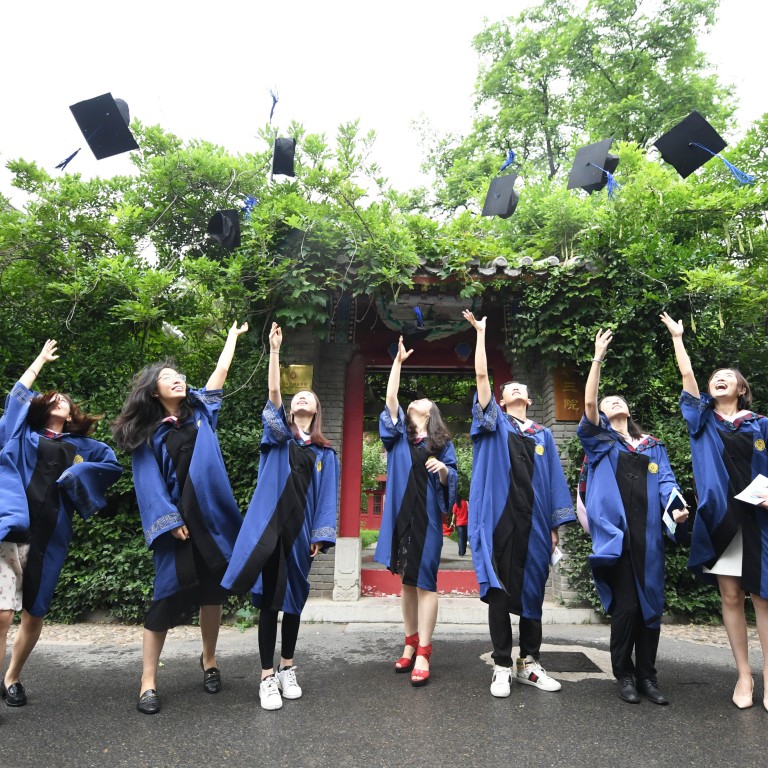 China's technology, research talent pool large, but 'not strong enough', lags behind US
China is projected to produce over 77,000 STEM PhD graduates per year by 2025, compared to around 40,000 in the US
But despite the large talent pool, China Europe International Business School president and professor of management Wang Hong says it is still 'not strong enough'
China is facing a daunting challenge to consolidate its talent pool as it still lags behind the United States significantly in core technology and basic research, according to a Chinese economist.
"China leads the world in the number of science, technology, engineering, and mathematics (STEM) graduates, because of our large population," said Wang Hong, president and professor of management at the Shanghai-based China Europe International Business School.
"By 2025,
China's talent pool
is expected to reach twice that of the US. But we should see the problem that 'the talent is large in number but not strong enough' still exists in key technology and basic research areas."
China is projected to produce over 77,000 STEM PhD graduates per year by 2025, compared to around 40,000 in the US, according to a report by the Centre for Security and Emerging Technology, a think tank based at Georgetown University.
But despite the large talent pool, Wang said there is still a considerable gap between China and the US in artificial intelligence and new materials talent, as well as the ability to convert basic research into direct productivity and high-end manufacturing.
China lacks mid- to high-end talent in artificial intelligence, which is equivalent to only 20 per cent of the US, added Wang, who has also pursued postdoctoral studies in applied economics at Fudan University.
According to a report released earlier this year by the Institute of China's Science, Technology and Education Policy at Zhejiang University, China is facing a talent shortage in artificial intelligence of more than 5 million people, a figure which is estimated to double by 2025.
In addition to the lack of talent in specific industries, the innovative, high-level, integrated and industrial talent is very limited in China, according to Wang.
From 2012 to 2022, China's ranking on the Global Innovation Index has seen a dramatic rise from 34 to 11, while China also sits at the top of the upper-middle income group.
However, China is still facing many "bottleneck problems" in achieving high-quality innovation, Wang added.
China has become the world's largest consumer of industrial robots for eight consecutive years, said Wang, but the core technology used by its robotics industry is still made by the likes of Japan and Germany.
It also faces a challenge to attract and retain talent, with a report from the Washington-based Centre for Strategic and International Studies showing that around 10 per cent of surveyed international scientists are open to moving to China compared to nearly 60 per cent for the US.
China has stressed the importance of technology, talent, and innovation for its development. It has said that it will continue to increase its self-reliance and strength in science and technology and rely on talent to pioneer and propel development.
China's total investment in research and development reached 2.8 trillion yuan (US$401 billion) in 2021, up by 14.6 per cent from the previous year, ranking second in the world, according to the National Bureau of Statistics.
"To make breakthroughs, it is necessary to speed up building the strength of the country's strategic talent," Wang said at a forum hosted by news portal Sina on Thursday.
"We must strengthen international exchanges of global talent and do everything possible to bring in top scientists and talent of various skills."