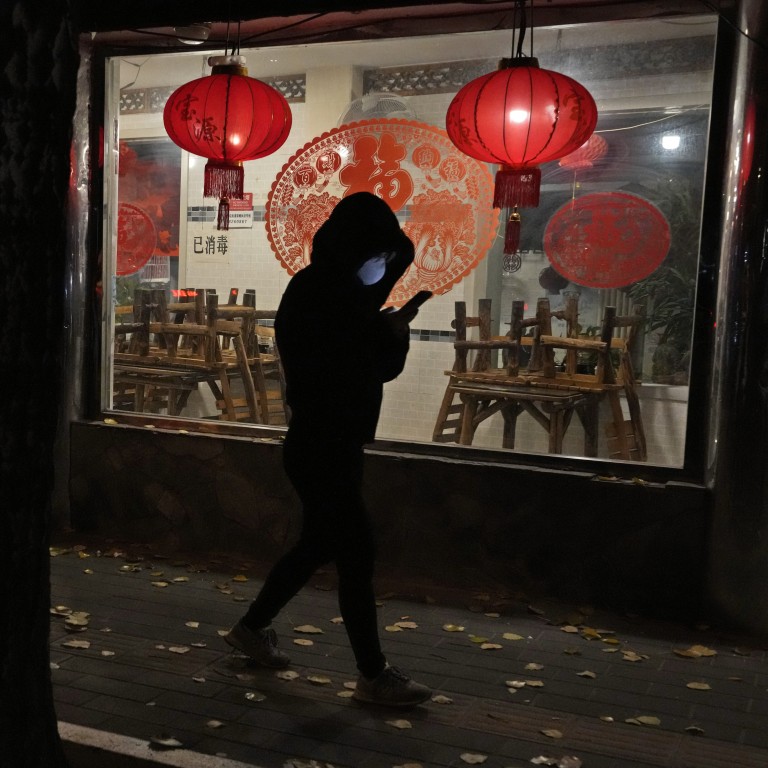 China's Covid surge ravages restaurants as workers fall ill and diners continue to stay home
The country may be moving on from zero-Covid, but China's dine-in crowds have yet to return as infections spread unabated
Restaurateurs, wait staff and delivery workers remain hopeful that the economic hits will eventually stop coming, but China's rocky transition to living with the virus is leaving a bad taste in their mouths
One after another, Chen Fei and her co-workers at a Beijing restaurant contracted Covid-19 as it began its rapid and unchecked spread through the country this month. With no one left to work, the restaurant was forced to close for eight days.
But in these economically challenging times, a week with no income can feel like an eternity for those living pay cheque to pay cheque.
So, when the restaurant finally reopened last week, Chen and her colleagues eagerly anticipated that business would quickly return to normal. After all, the country had just eased its long-held zero-Covid restrictions, and people were once again free to move about the capital.
If we open, they will come, the staff thought.
But almost no one has.
"There were already so few customers coming before, as dining-in in Beijing required a negative nucleic acid test within 48 hours," Chen said. "Now, there are nearly no dine-in customers."
As a close-contact sector, China's food-service industry has been battered and bruised by repeated outbreaks and subsequent lockdowns over the past three years. And even after the nation's sudden shift away from the disruptive zero-Covid policy, surging infection numbers mean that the pain isn't over yet, as restaurants struggle to do business in what has been a rocky transition to living with the coronavirus.
On Monday, Xu Hejian, a spokesman for the Beijing municipal government, urged restaurants in all districts to resume dine-in services. Many shopping malls in Beijing also announced that patrons no longer needed to show a negative test result.
But such directives and announcements have come as little comfort to restaurant owners and employees across the city.
"Now, we generally have one or two tables of customers a day," lamented a waiter surnamed Li at another Beijing restaurant. "Sometimes there are no customers all day."
Li recalled how her restaurant used to be full during peak dining hours, with customers queuing for tables.
And at yet another restaurant, owned by Xue Lang, turnover has dropped by at least two-thirds because so few people are dining out as the outbreak situation has intensified.
"The several reported deaths increased people's fears," Xue said. "People now avoid going outside at all … never mind dining in restaurants."
Beijing has reported seven Covid-related deaths in the current wave, with two on Sunday and five on Monday. China's health officials have narrowed the definition of what constitutes death from the coronavirus, with only deaths from respiratory failure counted in the official toll.
Similar scenes are playing out at restaurants across the country.
Roughly 1,000km (620 miles) away from the capital, in the city of Wuhan – where the
coronavirus was first reported
three years ago – restaurant proprietor Alber Gu is eager for the dine-in crowds to return.
"After the full lifting of restrictions, my business basically relies on take-out," he said. "Turnover is 20 per cent less than it was before" the easing of rules.
But for others such as Zoe Jiang, who runs a small breakfast shop in Wuhan, takeaway service is not even an option, as she cannot afford the added costs of packaging and platform fees.
Meanwhile, the challenges facing restaurants go beyond the steep drop-off in dine-in customers. The recent surge in infections has decimated the availability of delivery workers as they fall ill.
"Nine out of 10 delivery people have been infected," said Xue in Beijing. "Food deliveries are very slow, and customers are unhappy about the long waits.
"Some of them left bad reviews on the takeaway platform. It hurt our business."
Chen, who endured the eight-day restaurant closure, said some customers even cancel orders that take too long, compounding the restaurant's losses.
Clement Bacri, who owns a French restaurant in Beijing, dislikes the idea of offering takeaway, as it could hurt the perception of his food and service.
"French restaurants are all about the dining experience and enjoying the environment," he said. "It has been quite tough [on our business], but as eating is a need … we've managed to survive."
But it's not been easy, and he said his restaurant has had to become more innovative, with new marketing efforts.
According to the data released by Qichacha, a Chinese database for business and enterprise information, a total of 373,000 restaurant-related companies closed during the first half of this year – more than the total closures seen in all of 2020.
"Nearly half of the restaurants on our street closed down," Xue said. "Those of us who survived are just struggling to get by."
The food-service industry is one of the main channels for absorbing employment in China's tertiary sector, according to the National Bureau of Statistics. Figures from the bureau show that, by the end of 2020, the catering industry employed more than 2.5 million people.
But while times have since turned increasingly difficult, Xue and others are trying to stay optimistic.
"The future is still looking good to me," Xue said. "Things will gradually get better as the pandemic passes. There's just nothing else we can do at this stage."
And Jiang, the Wuhan restaurant owner, is also intent on enduring.
"There was a while when I kept thinking about closing the restaurant down," she said. "If I didn't believe things would get better, I wouldn't have stuck it out."
Additional reporting by Luna Sun and Elise Mak