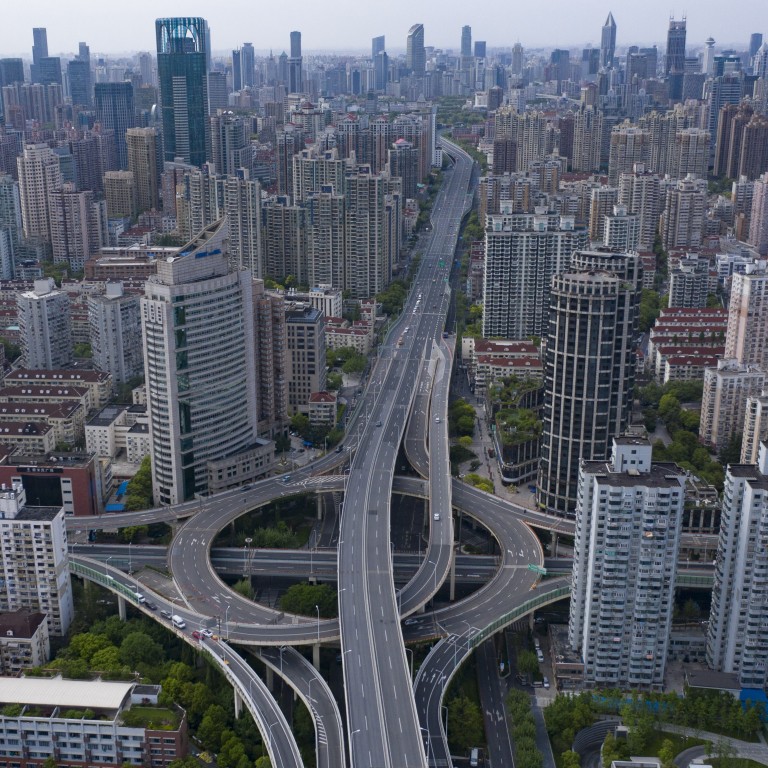 China's debt distress among local governments seen rising in 2023, with hard-to-reach economic targets
Economic recovery, particularly in eastern powerhouse region that includes Shanghai, may not be sufficiently buoyed by taxes and land sales
A prolonged property market downturn has also affected local governments' ability to pay off interest on debt that reached record highs this year
With questions mounting as to whether China's policymakers will be able to continue supporting economic growth by spending more, some analysts say financial distress could rise next year even in the nation's affluent eastern region that includes Shanghai.
That powerhouse region, which has been a driving force behind China's economic growth over the past few decades, was hit hard by months-long lockdowns earlier this year.
And while analysts note that Beijing's recent
U-turn in zero-Covid policy
will support economic growth, they also warn that local governments may not see a quick uptick in income from taxes or land sales. Meanwhile, their debt is rising.
"The overall tax revenue in the eastern region is in a sluggish trend. Under the continuous impact of the outbreaks, the economic recovery of the eastern provinces and cities is slow," a note by the Topsperity Securities financial group said last week.
China's international hub, Shanghai, which resorted to widespread lockdowns to stamp out coronavirus infections, plans to tap into its fiscal reserves amid a revenue shortfall, local finance authorities said last month.
The city government has already asked the central government for more money – to the tune of 16.7 billion yuan (US$2.4 billion) – while slashing local spending by 4.3 billion yuan to trim its funding cap.
Shanghai still managed to maintain a fiscal surplus of between January and October of 1.8 billion yuan, but that was its lowest-ever surplus over the same period, according to Topsperity Securities.
From January to September, Shanghai's general public budget revenue was 570.49 billion yuan, down 11.9 per cent from the same period last year. In particular, revenue in the second quarter plunged 48.1 per cent over the same period last year, but then rebounded to an increase of 9.3 per cent in the third quarter.
"From the perspective of annual income, although the income situation has stabilised and recovered since the third quarter, it is still difficult to achieve the expected income target set at the beginning of the year," said Cao Jizhen, director of the Shanghai Municipal Bureau of Finance.
Besides a decline in tax revenue, a prolonged property market downturn has also affected local governments' ability to pay off interest on debt, which has hit record highs this year.
And according to Topsperity Securities, major tax collectors such as Beijing and the provinces of Shandong and Zhejiang also recorded steep tax-revenue declines between January and October this year.
According to information provider Wind, as of December 6, the total issuance of
special-purpose bonds
among all local governments this year reached 5.07 trillion yuan – a record high since 2015, when such bonds were launched as a means for cash-strapped local governments to raise funds, usually for large infrastructure construction projects.
China's manufacturing hub, Guangdong province, led the nation in special-purpose bond issuance this year, raising a total of 493.9 billion yuan, followed by Shandong and Zhejiang.
But as special-purpose bonds proliferate, there has been a rise in the use of land-transfer income to pay off the interest on that off-budget debt.
In 2021, the total interest payment of special-purpose bonds will reach 473.77 billion yuan, an increase of 106 billion yuan over the previous year, Topsperity Securities estimated, making up about 4.3 per cent of local government expenditure.
"The proportion of special-bond interest payments will continue to increase, gradually approaching the red line of 10 per cent [of overall government expenditure]," Topsperity Securities said.
The State Council has previously said that, if annual interest payments on local government debt exceed 10 per cent of their public spending budgets, or if interest payments on special-purpose debt exceed 10 per cent of local government funding budgets, it could trigger a fiscal restructuring. Earlier this year, Hegang, a city in northeast China's Heilongjiang province, became the first local government to undertake fiscal restructuring.
A statement following the two-day conference said that fiscal expenditures should be maintained, and it called for an optimised mix of fiscal deficit, special-purpose bonds and financial subsidies for expenses on interest. It also said that transfer payments from the central government to local governments should be increased.
But analysts are split on whether China can continue to spend as much next year, both at the central-government and local-government levels.
"We believe fiscal expenditure growth could fall sharply in 2023 from 2022, as much of the fiscal support in 2022 was one-off and unsustainable, especially the 2.3 trillion yuan worth of value-added tax credit refunds," Nomura said on a note on Monday. "Government spending has been a major growth driver for 2022, but it may become a drag in 2023. In our view, the risk of a fiscal cliff in 2023 should not be underestimated."
UBS estimated that there may be a small increase in the headline general budget deficit, to 3 per cent of China's gross domestic product (GDP) in 2023 from 2022's 2.8 per cent. But the new quota for special-purpose bonds will rise to about 3.7 trillion to 3.8 trillion yuan in 2023, compared with 3.65 trillion yuan in 2022, the investment bank said in a note last week.
Fitch Ratings also said in a report last week that, while a relaxation in Covid-19 policies and a sustained recovery in the land market could be positive indicators for local governments, land-concession revenue is likely to remain flat, with no material recovery in 2023.
The US rating agency, however, said that large expenditure cuts are not likely in the short term, especially at local government levels, because they will remain under pressure to support growth, which could lead to rising debt.
"A continuation of the countercyclical measures from 2022, including an elevated capital expenditure plan, would likely result in a relatively large deficit, financed by debt," Fitch Ratings said.