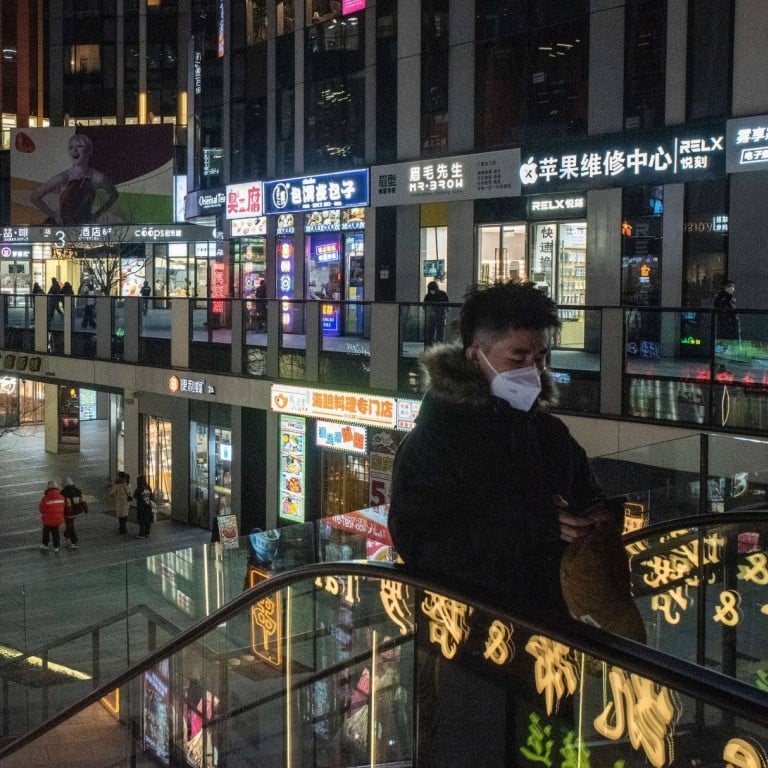 China to boost spending in 2023 economic revival drive, top planner says
Senior economic official Zhao Chenxin says expansion of consumption will be a priority in the push to lift overall demand
Property and internet companies will get support, as will shopping centres
China's top economic planner aims to help boost domestic consumption and woo more foreign investors this year as it seeks to revive
the country's Covid-hit economy
.
In a People's Daily interview published on Sunday, Zhao Chenxin, deputy chairman of the National Development and Reform Commission (NDRC), said authorities would align fiscal, monetary, industrial, technology and social policies to promote growth.
The government would also give support to previously tightly regulated sectors such as
property
and internet companies as part of a wider push to increase consumer spending.
"Inadequate overall demand is the main factor holding back the economy," he said.
"We must make the recovery and expansion of consumption a priority, and use government investment and incentives to
drive up social investment
.
"We will also keep track of economic performance in a timely manner, improve policy reserves, and continuously enrich the policy toolbox to deal with unexpected shocks."
Zhao's comments offer the first glimpse of this year's macroeconomic priorities, which will be laid out formally when the country's new premier and his economic team are sworn in in March.
The NDRC approves construction projects and corporate bonds, and its chairman He Lifeng, is expected to take charge of finance work as a vice-premier in the new cabinet.
Policymakers have been trying to talk up market sentiment in recent months, but the rapid spread of the coronavirus and the pandemic's scars on household and business finances have raised scepticism.
In Sunday's report, Zhao admitted that the foundations for an economic recovery were not solid and the pandemic continued to affect economic operations.
But he said his agency was determined to put consumer spending centre stage.
"We must increase the revenue of urban and rural households. Particular support should be given to low and medium-income families who are more willing to spend but affected more by the pandemic," he said.
To that end, the NDRC will encourage shopping centres to upgrade their facilities with more investment in roads, car parks and charging stations for electric cars.
Internet platforms, which have been hit hard by the government's regulatory campaign in the past two years, will also be encouraged to improve the consumer shopping experience.
Other areas high on the government's support list are housing, new energy vehicles and care for the elderly, according to Zhao.
Consumer spending contributed about two-thirds of economic growth in 2021 but only 41.3 per cent in the first three quarters of last year.
It is seen as fundamental to economic recovery as overseas demand falls and investment hovers at low levels.
Some Chinese economists have called for large-scale use of coupons or even cash subsidies to encourage spending, a move that could be funded with special Treasury bonds or from central government coffers – suggestions the authorities have yet to respond to.
In his New Year's address
, President Xi Jinping said China's gross domestic product for 2022 would surpass 120 trillion yuan (US$17.3 trillion), a number that implies a nominal increase of at least 4.4 per cent.
The real growth rate, however, is widely projected to be around 3 per cent, lower than the government target of around 5.5 per cent.
Zhao said the Chinese authorities would continue to front-load infrastructure construction, promising to optimise central government expenditure, local special purpose bonds and development financing tools.
He said they would make greater efforts to attract foreign capital with its market size, pledging to protect those investors' rights and interests.
Private investors will also be encouraged to take part in major national infrastructure projects and upgrades to "weak links" – areas such as environmental protection that are considered important but underinvested.
"We'll create a stable and predictable macro policy environment," Zhao said.