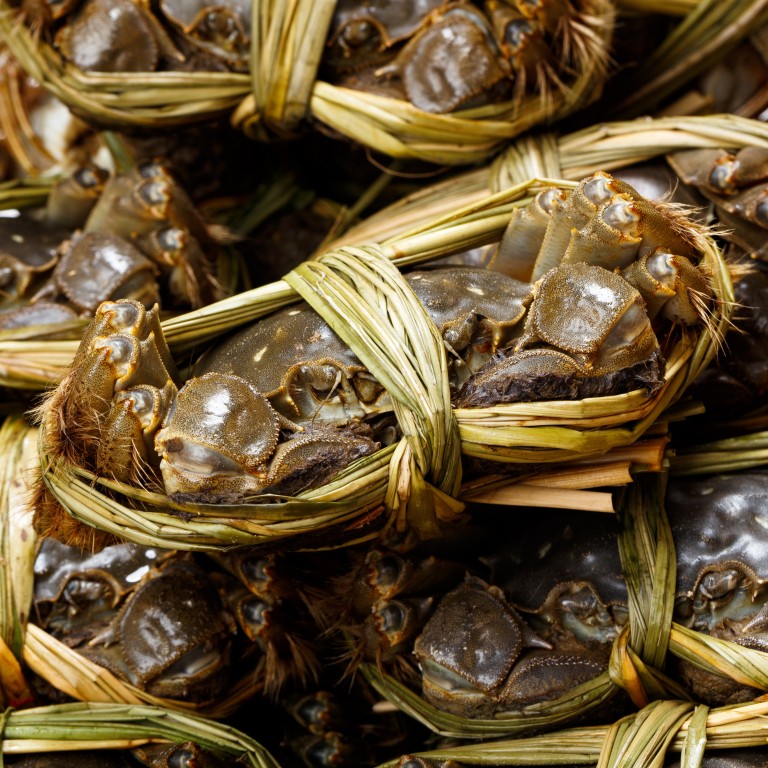 Taiwan rejects tonnes of dioxin-ridden hairy crabs from mainland China ahead of Lunar New Year feasts
Taiwan says it refused entry of the live crabs based on scientific tests, not in retaliation for the mainland suspending some Taiwanese imports last year
The move comes in a major month for corporate and family banquets, and hairy crabs – aka mitten crabs – are traditionally on the menu for the Lunar New Year holiday
Taiwanese health officials have rejected a 6,400kg (14,110-pound) shipment of live crabs from mainland China, citing toxins in the popular seafood – the first time that island authorities have identified a food-security issue with the crabs in the past two years.
The Food and Drug Administration denied entry to a batch of Chinese mitten crabs – commonly known as Shanghai hairy crabs – over what it described in a statement on Tuesday as excess levels of dioxins and dioxin-like chemicals.
Wu Shou-mei, director general of the agency, told local media on Tuesday that the suspension was based on the results of a scientific inspection, denying that it was done in response to the suspension of imports by the mainland last year after an escalation in cross-Strait tensions.
Dioxins occur worldwide as the pollutants build up in the fatty tissue of animals, including shellfish, according to a World Health Organization fact sheet. The WHO says the "highly toxic" dioxins can cause cancer, result in reproductive problems, and harm immune systems if consumed.
The crabs were being sent from an aquaculture farm in Liaoning province to an importer based in suburban Taipei, the statement said. Taiwanese authorities have checked 25 shipments of the medium-sized burrowing crabs since October, a government spokeswoman told the Post on Wednesday.
Fewer crabs from the mainland would make it more difficult for Taiwanese restaurants to obtain them, said Liang Kuo-yuan, retired founder of the Yuanta-Polaris Research Institute, a Taipei-based think tank.
"For live seafood, you depend on the distance being close," Liang said. The Chinese mainland and Taiwan are separated by just a 160km-wide ocean strait. "It's not that easy to find."
January is a major month for company and family banquets, as it marks the Lunar New Year, and hairy crabs are traditionally on the menu.
Restaurants could instead source horsehair crabs from Japan but would have to pay more for the "higher quality", Liang added.
Restaurant operators in Taiwan had not reacted to the blocked shipment of mainland Chinese crabs, according to the secretary of the Taipei Restaurant Association.
The crabs get their name because their furry claws resemble mittens. They are widely consumed throughout East Asia.
Taiwan authorities also found contamination in Indian white rice, Japanese strawberries and mandarin oranges from South Korea, the government spokeswoman said on Wednesday. The crabs have been destroyed or returned to their place of origin, according to law, the Food and Drug Administration said.
In December, the mainland's General Administration of Customs suspended imports of frozen seafood from 105 Taiwanese exporters, sparking suspicion among officials in Taipei of political retaliation.
Chinese customs officials indicated that they wanted more documentation from Taiwanese exporters before greenlighting the seafood, the Taiwan Food and Drug Administration said last month.