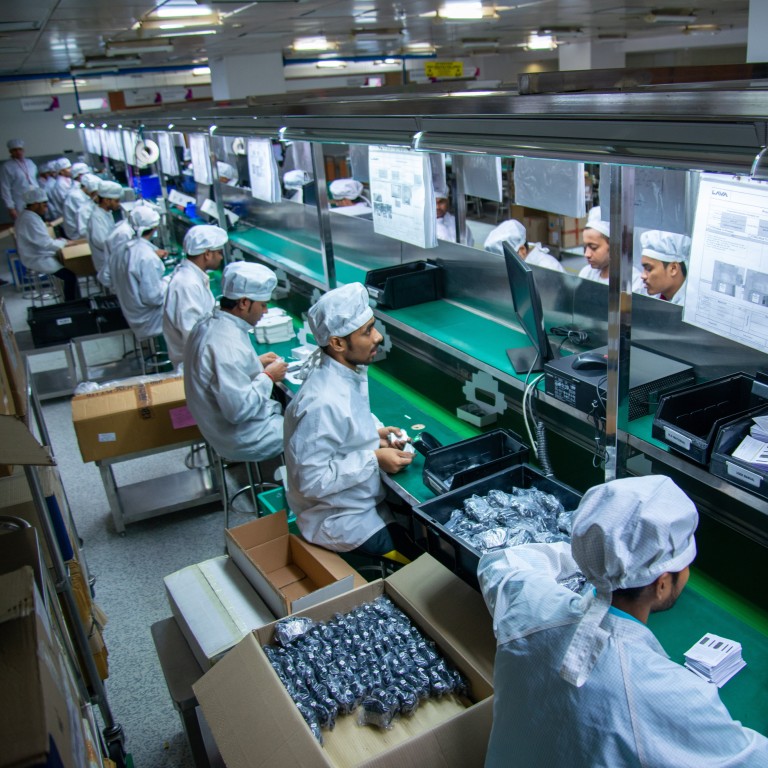 China's 'world factory' moniker, and whether India or others could steal it, remains topic of discourse
Disparaging comments in state media about India's ability to supplant China in manufacturing come as multinationals have increasingly been diversifying supply chains
Poor infrastructure, industrial shortcomings and relatively weak literacy in places such as India are all cited as reasons China will stay competitive
Chinese state media appears to be downplaying concerns that countries such as India could steal China's crown as the so-called
world's factory
in the short term, despite transnational firms diversifying their supply chains away from the world's second-largest economy.
"India, or any other single country in the world, is unlikely to completely replace China's position as 'world factory' in the short term," Shanghai Academy of Social Sciences researcher Hu Zhiyong was quoted as saying by the state-owned Economic Daily on Friday.
"It's even more difficult for India to undertake the difficult task of transferring part of China's industrial chain."
Hu also contended that many multinational companies remain wary of investing in India, partly due to its government's tariffs on foreign-made parts.
His remarks came amid heated debate in China about whether it has been losing its long-held status in
global supply chains
due to disruptions from Covid controls, concerns over policy uncertainties and geopolitical tensions with the US, as well as calls from foreign businesses about reducing their overreliance on the Chinese market.
Hu added that advanced products in many industries are made with components that are produced by the world's most competitive manufacturers.
In addition to the high tariffs on foreign-made components, India's weak infrastructure also increases both the cost and risk of multinational firms' investments, according to Hu.
"India's land-transport logistics costs are about 20 to 30 per cent higher than China's, due to poor road conditions and supporting facilities," he said. "India has frequent power outages that affect industrial production, and its water prices are about three times higher than China's."
The consumer market among India's middle class is also not very big, as their compulsion to consume is not that high, Hu added.
"India's highly skilled workers make up only a small portion of the workforce," he said. "It cannot generate enough economic benefits to achieve the broader structural transformation."
In 2015, the literacy rate for people aged 15 and above in India was only around 72 per cent, according to Hu.
The comparable literacy rate in China rose to more than 97 per cent in 2020 from around 96 per cent in 2010, according to the National Bureau of Statistics.
"The Indian market seems to be more attractive, but the actual situation is different from what is imagined," Hu said.
Over the past three years, China's
stringent zero-Covid policy
amid the pandemic contributed heavily to the nation's weak economic growth.
According to the "World Economic Outlook" report from the International Monetary Fund in October, China's economy was projected to grow by 4.4 per cent this year, compared with 6.1 per cent for India.
Policy uncertainties and disrupted supply chains amid zero-Covid restrictions further complicated China's investment environment that was already feeling the strain of tensions with Western countries, particularly the United States.
Many transnational companies, such as Apple, Samsung and Foxconn, have diversified supply chains to depend less on China.
With cheaper labour and more relaxed coronavirus policies, countries in South and Southeast Asia, including India and Vietnam, have gradually become alternative destinations for firms.
While some Chinese economists have raised concerns that China could be losing its long-held status in global supply chains, many analysts remain confident that China's appeal to multinationals will endure as it continues to upgrade its supply chains.
At an economic forum in May, Liu Yuanchun, president of the Shanghai University of Finance and Economics, said that the rising costs of labour and rent in China's factories are a necessary result of the nation's urbanisation and industrialisation.
And this presents an opportunity for China to raise its level of productivity, its technology and its innovation to reduce unit costs, he added.
"China will see some low-end industries transfer to Southeast Asia and India because its volume is too large," Yao Yang, director of the National School of Development at Peking University, said at a forum held by the school and Citic Press Group in November.
"But the core technological industries will never be transferred out of China."