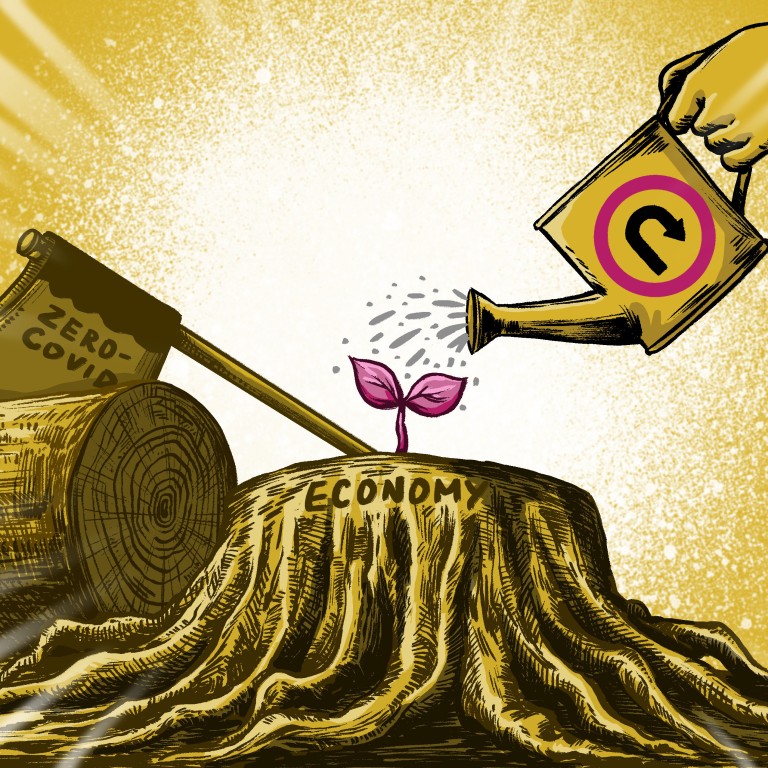 Why China's zero-Covid U-turn has cast a 'long shadow' over Beijing's economic leadership
Beijing's sudden – and chaotic – break from zero-Covid has cost the economy and raised questions about the country's top-down economic model
Scars from three years of coronavirus turmoil are not expected to fade quickly and many of Beijing's cherished development goals are now in question
For three years zero-Covid haunted private businesses, foreign investors and ordinary citizens in China.
"The Covid experience will have political implications that outlast the economics," said George Magnus, a research associate at Oxford University's China Centre. "The whole episode casts long shadows over China's governance system."
The strategy was successful in containing the virus in the first two years, helping China outperform Western economies with an average annual growth rate of 5.1 per cent in 2020-21. It failed, however, when faced with the more contagious but less deadly Omicron variant, which sent the economy into a tailspin.
Economic prosperity and improving living standards, from which the Communist Party has long drawn its legitimacy, have been put on the line.
China Beige Book, a New York-based data and research firm, warned of a "bloodbath" in the fourth quarter, after the country posted unexpectedly low economic growth of 0.4 per cent in the second quarter and the State Council unleashed at-all-cost policy support in subsequent months.
"2022 was a bad year that got progressively worse. Xi three has a rough start," it said in a report last week, referring to Xi's third term.
Some 13.2 million market entities, including 3.5 million companies and 9.6 million self-employed businesses, were deregistered in 2021, government data showed. Another 4.55 million market entities were deregistered in the first half of last year.
The number of flexible workers grew 22.3 per cent year on year to 103 million in 2021, according to official figures.
The official surveyed jobless rate for youth aged 16-24 was above 15 per cent for all of last year, which was higher than the global average of 14.9 per cent estimated by the International Labour Organization.
Local authorities have reported falling revenues from land sales and tax revenue, but their expenditure on healthcare and other pandemic-related costs has kept growing.
"China has an economic question related to Covid that most other countries don't have," said Derek Scissors, a senior fellow of the American Enterprise Institute.
"If health policy is abrupt or unpredictable, China's partners may see it as unreliable, even though in normal times China is the best supply option."
Beijing's stubborn adherence to zero-Covid, despite reopening by the rest of the world, also set "an extremely powerful example" that economic stability could be cast aside with no warning or justification, he added.
A gruelling two-month long lockdown of Shanghai last year shook the confidence of foreign companies, especially in global shipping and car making. The city is home to the world's second largest port and the Chinese partner of both General Motors and Volkswagen, as well as Tesla's super factory.
China's zero-Covid strategy has done more than anything to undermine the country's reputation for predictability and efficiency; the problem now for Beijing is how to go about restoring it.
Chinese economists and state researchers say economic growth of above 5 per cent this year is vital to maintain social stability and lift market confidence.
Last year was the first time since 1994 that China failed to reach its annual growth target. In 2020, during the initial outbreak of the coronavirus pandemic, Beijing dropped its target.
The World Bank estimates China's 2022 growth slowed to 2.7 per cent due to Covid lockdowns but will recover to 4.3 per cent this year.
The country needs annualised economic growth of at least 4.8 per cent until 2035 to reach Xi's vision of building a modern socialist nation, according to analysts. The economic gap between China and the US, which has been narrowing since 2007, may have gone backwards last year, too.
"China has now chosen to achieve herd immunity as soon as possible. The good news is that it will lead to a faster recovery," said Larry Hu, chief China economist of Macquarie Capital.
"There will surely be a rebound, but it is uncertain if it is able to reach the level of pre-Covid years."
Beijing's exit from zero-Covid came during an awkward transitional period, with newly selected Party officials still months away from taking their respective government positions.
Wang Huiyao, president of the Beijing-based Centre for China and Globalisation, said the pivot from zero-Covid was more a case of Beijing embracing a global trend than caving to economic pressure.
"The whole world is reopening, given the incidence rate of severe cases and mortality from the Omicron variant have been lowered significantly," said Wang, who is also a former counsellor to the State Council.
"China is no exception in witnessing a short-term spike of infections, but the situation has largely stabilised. It will no longer be a big issue."
Wang said China's belated reopening was down to its huge population size and government caution, but said there would be a rebound of consumption and investment.
"China's economic growth could be doubled to 6 per cent this year," he said. "It will be a very good year. Particularly, the border reopening and international exchanges could tap the investment of multinationals that has been curtailed in the past three years."
The first wave of infections has peaked in major cities such as Beijing and Shanghai, with road traffic and subway ridership starting to bounce back. But nation-wide infections will not reach their highest point for up to two months, according to analysts, including Hu.
The scars from three years of coronavirus turmoil are not expected to fade quickly, either. Individuals are reluctant to spend because of debt and income uncertainty, while businesses are hesitant to invest amid losses and weak confidence.
If a lesson is to be drawn from three years of zero-Covid, Magnus said it should be the need for a more resilient and sustainable economic development model.
"This would require a strategy favouring private firms, entrepreneurs, migrant workers, and citizens and at the expense – because someone has to pay – of the public sector, local governments and an outsize real estate sector," he said.