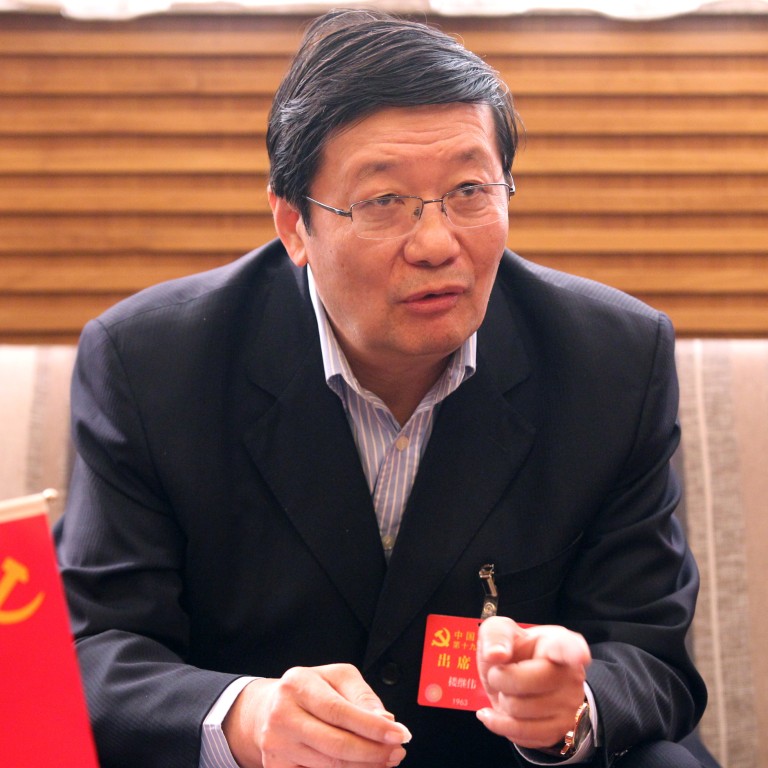 China's urban-rural 'dual economic structure' fueling inequality, says ex-finance minister
China must address its two-speed economy in which cities are much more prosperous than the countryside, says Lou Jiwei
Lou's call for reform of urban-rural dual economy to achieve 'common prosperity' differs from a conventional tax-based approach
China must tackle the yawning economic divide between cities and the countryside if it wants to combat income inequality and deliver on its "common prosperity" promises, outspoken former finance minister Lou Jiwei has said.
Lou Jiwei, who is now a senior political adviser to the central government, said policymakers need to bring a reformist mindset to land, welfare and tax, while easing market concern that the wealthy will be targeted to narrow the wealth gap.
"We do have a rather big gap in income distribution," Lou told an international conference organised by the National University of Singapore's East Asian Institute on Wednesday.
China's "dual economic structure" was the biggest reason for the gap, he said, referring to different land management and welfare systems in rural and urban areas.
"If the dual structure can be improved significantly, this would lower the Gini coefficient to 0.4," he said, without providing a time frame.
The country's Gini coefficient, which measures income distribution across a populace, was 0.466 in 2021, lower than 0.491 in 2008, showing improvement but still severe inequality. It was roughly the level of the United States, but far worse than Japan and major European nations.
Lou, a core member of China's pro-reform camp, helped design the current fiscal and tax system in 1994, and contributed to the revision of the budget law that imposed hard constraints on local government spending and borrowing from 2015.
His call for reform of the urban-rural dual economy as a way to achieve "common prosperity" differs from conventional thought, which relies on higher taxes on the wealthy.
The suggestion also comes amid fragile market confidence after the three years of coronavirus-related shocks and regulatory campaigns against Big Tech companies and property developers – two sectors that dominate China's rich list.
President Xi Jinping's report to the
20th party congress
in October last year signalled more robust regulation to narrow the wealth gap under "common prosperity".
His comments stoked speculation the government could impose a Robin Hood-style tax to take from the rich to compensate the poor, although Beijing has strongly denied it.
While there are no immediate signs that rural land will be allowed to be traded or capitalised, Lou said Beijing should accelerate urbanisation and allow migrant workers to earn more by working in cities.
The annual disposable income of urban households was 2.5 times that of rural families in 2021, according to data from the National Bureau of Statistics.
More than 63.9 per cent of the Chinese population lived in cities or towns in 2020, but only 45.4 per cent had urban hukou, or the residence permit to enjoy urban welfare.
Many of China's 292.5 million migrant workers do not have access to the same public services – ranging from medical help to education – that city residents do.
Beijing has a deep toolbox to adjust excessively high incomes. In August 2021, Xi said improvements would be made to personal income tax and capital gains, while property tax pilots and consumption taxes would be rolled out.
Lou said there was still room to finesse personal income tax, even though the government raised the tax threshold and introduced personal deduction items in 2019. The current seven-tier progressive system has the top rate set at 45 per cent, higher than 37 per cent in the US.
"The progressive system mainly targets high salary earners, rather than the wealthy people," he said.
Meanwhile, he hinted that reforms of property tax, which is vital to local government revenue and adjusted income distribution, could stall in the short term because of Beijing's support for the struggling property market and broader economy.
Housing accounts for 59.1 per cent of Chinese households' assets, according to a survey by the People's Bank of China in early 2020, about 28.5 percentage points higher than US households.
"Both the property market and the national economy are in the downturn," he said.
"However, property tax is the most suitable type for the local tax system. Its pilot should be expanded as soon as the economy recovers."