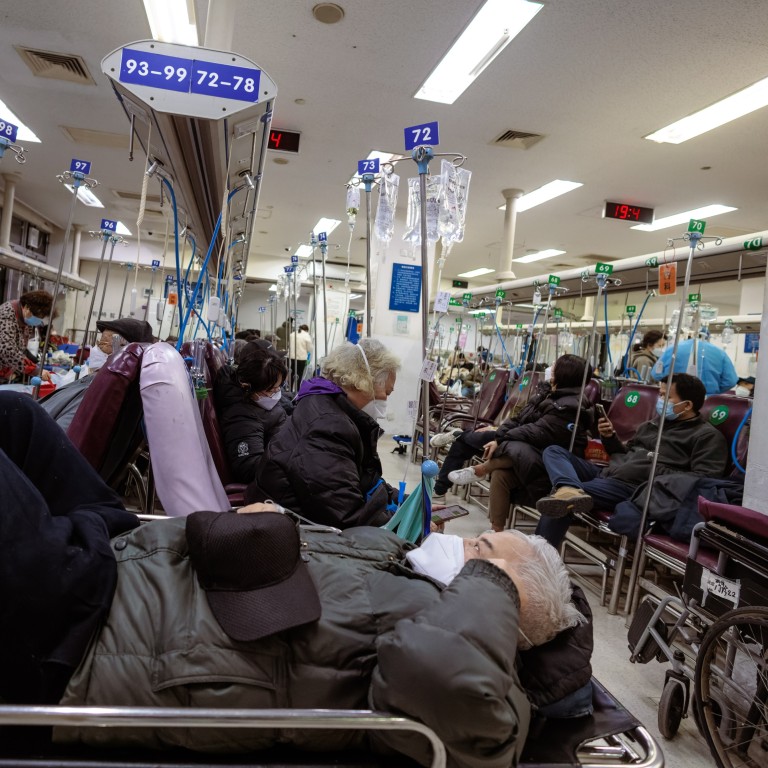 As Covid rages, China says 'funding issues' won't stand in the way of medical treatment
Ministry of Finance says more money is being made available, particularly for rural areas where resources are exceedingly stretched thin by coronavirus outbreaks
Widespread outbreaks amid China's reopening have overwhelmed hospitals and morgues, while many pharmacies are out of fever and pain medication
China is vowing to spend more money to help prevent and control the rampant spread of Covid-19, with the Ministry of Finance telling local governments to transfer more funds to rural and poor areas.
A ministry statement on Monday said that the funding should mainly be used for treatment, work allowances for medical staff, vaccinations and improving medical treatment capabilities.
China will also support the use of local government bonds and the issuance of special local government bonds to build qualified healthcare facilities, in a bid to meet the medical needs of the public, it said.
Additionally, the coordination of first aid resources in the countryside should also be improved, to help ensure that medical resources are available for patients with severe conditions.
The country will also set up channels that give local governments better and cheaper access to critical medical supplies, with the statement saying that "Covid prevention and controls must not be affected by funding issues".
After nearly three years, the sudden relaxation of strict zero-Covid restrictions exposed most of
China's 1.4 billion people
to the virus for the first time, leaving hospitals and morgues overwhelmed and many pharmacies stripped of fever and pain medication, with healthcare concerns mounting.
The Ministry of Finance statement also came after China this month adjusted its
national health insurance scheme
– with enhanced coverage for Covid-19 patients – aiming to help reimburse the general public for expenses related to hospitalisation.
With the adjustment, hospital expenses will be partly covered by medical insurance, with some reimbursements coming through financial subsidies by local governments. The central government will then subsidise 60 per cent of the local governments' incurred expenses.
The arrangement covers patients from when they are admitted to hospital and will last until March 31, according to the National Healthcare Security Administration.
Many of China's local governments have come under increased financial pressure as a result of the soaring costs of combating Covid-19, compounding their struggles as they have been contending with declining revenue amid weak land sales, high fiscal deficits, and rising debt and liabilities.
"Spending by regional and local governments will likely remain high as they aim to contain the coronavirus-related fallout and stabilise economic growth," Moody's said in a report last week. "But expenditure growth may slow over the year.
"While coronavirus-testing expenditures will decline sharply, regional and local governments may spend more on ramping up healthcare resources to facilitate the broad reopening and cope with the coronavirus resurgence."
The US rating agency also expects a further expansion in transfer payments from the central government, on top of the 18 per cent budgeted increase in 2022, to help relieve the growing financial burdens facing some regional governments.