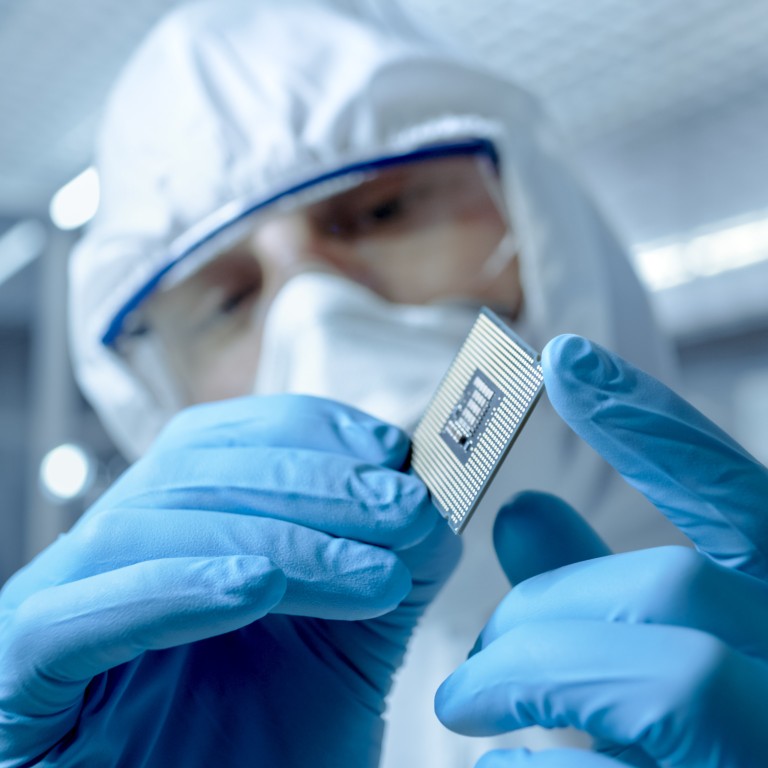 China leads global patent race but needs 'breakthrough' to close gap with West in AI, chips
In 2021, China filed 1.59 million patent applications, more than double the number of the United States, the World Intellectual Property Organization says
But according to experts the country has produced 'few original innovations' in areas like artificial intelligence and semiconductors compared to the US and Europe
China's patent-intensive industry, a key engine of economic growth and technological advancement, produces more intellectual property than any country in the world, but its contribution to the economy still lags behind the US and Europe, according to official figures and analysts.
Patent-intensive industries have above average density and scale of patents, which are used to establish ownership of inventions and ideas.
The added value of China's patent-intensive industry was 14.3 trillion yuan (US$2.1 trillion) in 2021, up 17.9 per cent from the previous year.
The industry accounts for 12.4 per cent of China's gross domestic product (GDP) and employs 6.5 per cent of the workforce, making it an important sector for "stable growth and employment", Ge Shu, a senior official at the China National Intellectual Property Administration (CNIPA), said last week.
However, compared with the United States and European Union (EU), the "development potential of patent-intensive industry in China is still very large", Ge said.
Citing reports in the US and EU last year, he said the value added of patent-intensive industry in the US accounted for 24 per cent of GDP and 13 per cent of employment, twice China's level.
The sector accounted for 17.4 per cent of GDP and 11 per cent of job creation in the EU.
China aims to bolster the GDP contribution of patent-intensive industry to 13 per cent by 2025.
In 2021, China filed 1.59 million patent applications, more than double the number filed by the US, according to the World Intellectual Property Organization.
Equipment manufacturing, such as aviation, spacecraft, car and rail, as well as the telecoms sectors are mainly supported by patents.
"Although we have already made progress in terms of quantity and quality, there are relatively few original innovations that can burst out from basic research or cutting-edge technology," said Li Qing, executive director of the Beijing-based Global Talent Institute.
"We have more application-level innovations."
Li said China was competitive in development of applications that met relatively basic needs, such as image and voice recognition.
"However …. the gap in artificial intelligence and chips [between other major economies] requires many breakthroughs in basic research," Li said
The overall development gap between the US and EU is narrowing, but "we cannot be blindly optimistic, because the gap in core technology is still obvious".
As China pursues more high-quality development through
technology and innovation
, the government increasingly views intellectual property as a strategic resource.
China-based telecoms giant Huawei Technologies recorded 7,630 invention patents in 2021, the most in the country, according to a report by the Intellectual Property Development and Research Centre of CNIPA in December.
But US export controls on semiconductor chips have put Chinese tech giants in a bind, which has added urgency to China's mission to beef up innovation and talent.
"China has a shortage of talent, particularly high-level and global talent," said Wang Huiyao, president at the Centre for China and Globalisation, a Beijing-based think tank. "It needs to attract more global talent and cooperate with other countries."
To compete with major economies like the US and EU in terms of innovation, Wang said China needed to look at not just Chinese returning home "but those from different races and from anywhere in the world".
China is rolling out a raft of measures to
attract overseas talent
by making it more convenient for them to work in the country, the Ministry of Commerce and Ministry of Science and Technology said in a joint statement published by the State Council on Wednesday.