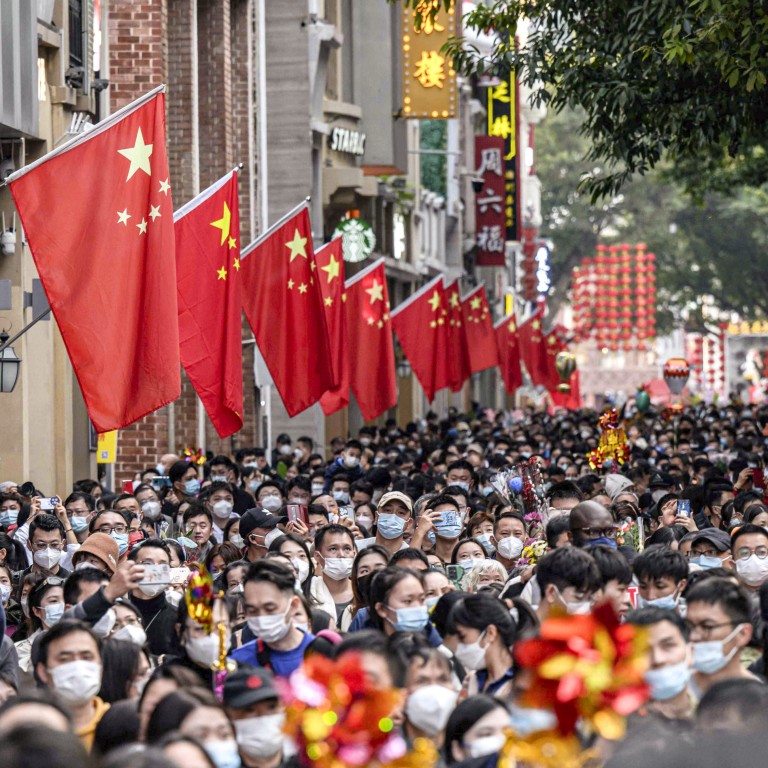 China urged to ensure 'predictable' policies as regional economic engines unveil pro-investment measures to kick-start growth
Several regional economic powerhouses have pledged to help Covid-battered businesses through tax breaks and incentives for overseas capital
The policies show China is not only trying to restore its economy, but prevent the risk of being isolated by US sanctions, economist says
Local governments in China have unveiled a raft of new policies aimed at attracting foreign investment and talent to kick start economic growth, but businesses and economists say it may take some time before results are seen.
Since last week, regional economic powerhouses, such as Shanghai, Zhejiang, Jiangsu and
Guangdong
, have pledged or introduced measures to help coronavirus-battered businesses through tax breaks and incentives for overseas capital.
Chinese authorities are desperate to turn around the economy, which expanded by just
3 per cent last year
– the second lowest growth figure in four decades.
Zhejiang province in eastern China sent a letter in both English and Mandarin to foreign companies at the end of last week, announcing it would do its best to welcome foreign capital into the province, although no specific details were given.
"In 2023, Zhejiang will attract global investment and cooperation with exceeding resolve, extraordinary measures, and great effort," the letter said.
Shanghai's Pudong district launched a new plan to attract talent with subsidies last weekend, aiming to lure academics, postdoctoral researchers and top international scientific and tech talent. The focus will be on biomedicine, semiconductor chip manufacturing and integrated circuits.
Shanghai's provincial-level government has also introduced 32 measures to alleviate difficulties experienced by companies, boost consumer confidence and attract investment, while promising to create a first-class international business environment.
On January 18, the eastern province of Jiangsu announced 42 initiatives, including tax relief for small businesses in the restaurant, retail and tourism sectors, as well as the establishment of a 10 billion yuan (US$1.47 billion) special fund for loans targeted at small-and medium-sized enterprises.
To attract more foreign investment, the province will set aside 700 million yuan so that businesses can attend important trade exhibitions overseas. The local government will reimburse outbound exhibitors up to 80 per cent of their costs and invite foreign executives to carry out investment negotiations.
"With China now having moved away from its zero-Covid policy, European businesses are beginning to see some light at the end of the tunnel," the European Union Chamber of Commerce in China told the Post in a statement.
The chamber said the first wave of infections after reopening would impact China's economic performance in the first quarter, while the country's
fading demographic dividend
, property crisis, debt problems and growing geopolitical tensions could also affect foreign investment.
It called on China to implement consistent, business-friendly policies to ensure a "predictable and reliable" investment destination.
"Creating a business environment that treats foreign and Chinese companies equally, and which is underpinned by rule of law, will be crucial to ensuring long-term, sustainable economic growth," it said.
Ding Shuang, chief Greater China economist at Standard Chartered Bank, said the support policies by local governments were a signal of China's reopening on all fronts, which aims to be pro-economic and pro-business.
The action showed China was not only trying to restore its economy, but prevent the risk of being isolated from global supply chains following US sanctions, Ding said.
"We need more time to fix market confidence, but people need to earn a living, so even when confidence is not regained, people still need to make some basic investments that sustain market's upgrade," Ding said.
"With the gradual reopening, consumer demand in the service sector will rebound significantly in the short term and if industrial production can maintain better growth in the coming period, China could achieve [gross domestic product] growth of 3.5 and 7.0 [per cent] respectively in the first two quarters," Ding said.
Consumer and investment confidence has been hard hit by China's heavy handed zero-Covid policy, leading to new policies requiring a period of caution in the market, according to Larry Hu, chief China economist of Macquarie Capital.
"These measures are a policy feedback loop and things are just starting now," Hu said. "The restoration of market confidence is a gradual process and it will take some time."