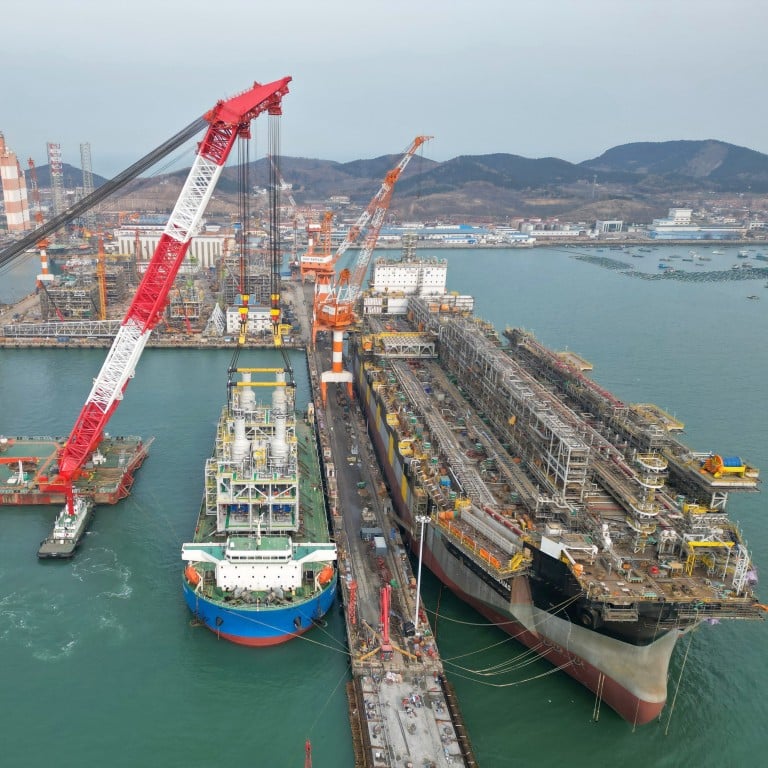 China's shipbuilding dominance endures, but global orders down sharply in January
South Korea, once the darling of the world's shipbuilding industry, is now in a distant second place despite maintaining technological edge with highly coveted LNG carriers
Downturn in shipbuilding demand last month continues a trend from last year as global economy remains strained
China received more than half of the world's new shipbuilding workload in January, far outpacing second-ranked South Korea, while total global orders decreased by more than half, year on year.
According to the monthly report by Clarkson Research, a British shipbuilding- and shipping-market analysis company, China received 40 orders amounting to 1.12 million compensated gross tonnage (CGT), which is an industry indicator of the amount of work required to build any given ship.
In comparison, Korea received 12 orders amounting to 640,000 CGT, or 33 per cent of the global total. China's share accounted for 57 per cent of the world's CGT total.
The entire shipbuilding industry saw a sharp drop in new orders last month as a result of the slowing global economy and high interest rates. Overall shipbuilding orders for January stood at 72, for a total of 1.96 million CGT that was down 63 per cent from a year prior, and down 22 per cent from December.
The downturn in demand continued a trend that started last year. The global shipbuilding industry saw a 22 per cent decrease in overall orders in 2022, after a sharp increase in 2021 that resulted from delayed demand caused by the pandemic.
2022's orders for container ships dipped by 42 per cent, those for tankers fell by 52 per cent, and demand for bulk carriers dropped 57 per cent. The overall decrease in orders last year meant fewer for shipbuilders in both China and Korea, who saw respective drops of 20.5 and 8.9 per cent.
Still, orders for liquefied natural gas (LNG) carriers bucked the general trend by reaching their highest total ever as demand for LNG increased during the Ukrainian war as the West sanctioned Russia. Global LNG carrier orders amounted to 14.52 million CGT in 2022, up 131 per cent from 2021, according to the Korean trade ministry.
The Clarkson report also said that, by the end of January, the global shipbuilding order backlog stood at 109.13 million CGT, down by 770,000 CGT from the end of December.
Of the January backlog total, China's share accounted for around 45 per cent at 49.19 million CGT, and Korea accounted for 34 per cent at 37.58 million CGT. Shipbuilding prices also continued to increase in January.
China has ranked first in the global shipbuilding industry for the past two years. Korea had been in the top spot from 2018-20, owing to its pre-eminent position in building LNG carriers.
Korea still holds the dominant position in the LNG carrier market. According to the country's Ministry of Trade, Industry and Energy, Korean shipbuilders received 70 per cent of the total 14.52 million CGT worth of LNG carrier orders in 2022.
The country's 12 shipbuilding orders in January, received by Korea Shipbuilding & Offshore Engineering, a subsidiary of the Hyundai Group, are all methanol-powered ships that require advanced shipbuilding technologies.
Industry analysts have previously pointed out that maintaining technological dominance will be pivotal for Korea's shipbuilders as they continue to compete with their Chinese counterparts.