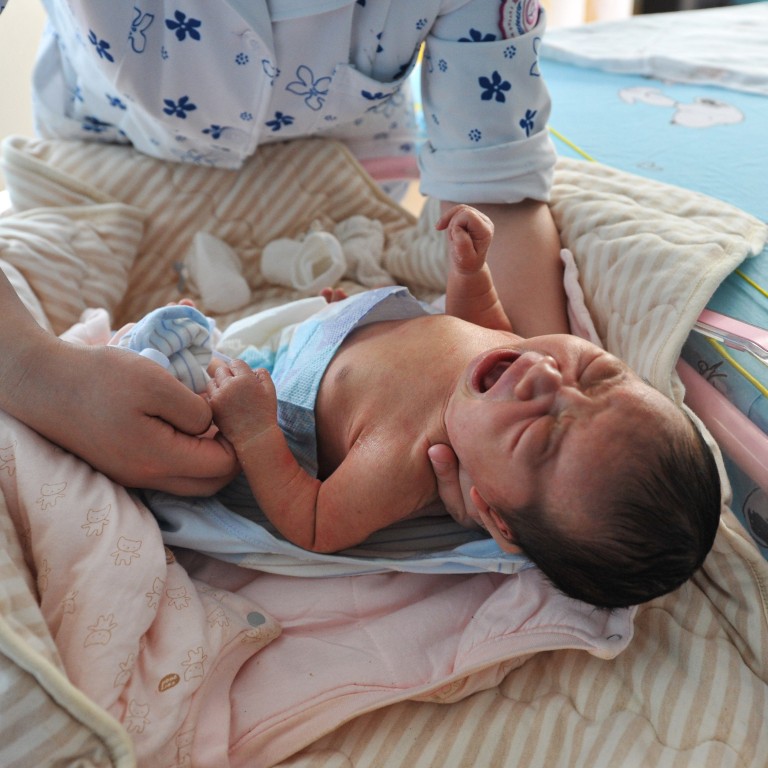 China's demographic debacle means authorities must act now, learn from other countries, senior health official urges
Urgent steps must be taken to prevent China's population from 'spiralling out of control', says director of department overseeing population and family development
Countries such as South Korea and Japan waited too long and did not intervene enough, he warns
Local governments across China should take a page from other countries' efforts to boost fertility rates, while also pushing for more supportive birth measures to lower child-rearing costs, a senior Chinese health official said as the nation appears precariously perched on a demographic tipping point.
"Oftentimes, when population issues emerge, it's already passed the optimal time to solve them … and we need to expedite the push for pronatalist measures during this important window of opportunity [before 2025]," said Yang Wenzhuang, a director with the National Health Commission (NHC), in an op-ed for the latest issue of the commission's monthly Population and Health magazine.
Yang, who is in charge of the Department of Population Monitoring and Family Development, noted how the population problems that developed countries have faced – along with their response – serve as a good reference as China copes with
its own demographic changes
.
"Studies show that, when European countries rolled out pronatalist measures, the fertility rates were already below 1.5 [births per woman], and they only started to rebound slowly after about 10 years," he wrote. "The main reason births remained low in Japan and South Korea was the delayed and weak intervention."
Yang also urged governments at all levels in China not to miss the opportunity during the current five-year planning period (2021-25) to quicken the pace of research and initiation of measures to prevent the population from "spiralling out of control".
"Local governments should be encouraged to actively explore and daringly innovate ways to lower the costs of childbirth, child-rearing and education," he said, adding that the high costs remain the fundamental deterrent to families' willingness to have children, while the inability to take care of children – as well as women's concerns about the potential negative impacts on their career – are also major contributing factors to the low birth rates.
Policymakers should work closely with demographers to monitor population trends, he said.
Last year, the national birth rate fell to a record low of 6.77 for every 1,000 people as Chinese mothers had only 9.56 million babies – the nation's lowest total in modern history, and the first time the figure dipped below 10 million.
After China announced that its deaths outnumbered births last year for the first time since 1961, leading to a population decline of about 850,000 people, Sichuan's Zigong city rolled out a mid- to long-term plan for its population development in a bid to tackle pressing issues such as plunging birth rates and a deepening ageing crisis.
"By 2030, the [city's] total fertility rate will have stabilised around 1.4, with the total population stabilising around 2.4 million people," says a plan published by the Zigong government last week. "People aged 15 to 59 will have accounted for around 58 per cent of the population, while the average life expectancy will have risen to 79 years."
The city said it will provide more affordable childcare services while also rolling out additional supportive housing measures for multi-children families.
According to official statistics, people aged above 60 accounted for more than 27 per cent of the population in the city in 2020 – the fourth-highest percentage in the country. The city also vowed to build more service centres for seniors, while exploring different systems in both urban and rural areas that meet the needs of older people.
In the wake of the national population decline, a number of other local governments have revealed details of their own demographic changes.
Five provinces and a major city have revealed their demographic statistics for last year. All of them – the provinces of Guizhou, Guangxi, Qinghai, Jiangxi and Gansu, along with Chongqing municipality – reported declines in the number of newborns.
Notably, although deaths outnumbered births in these places, Jiangxi, Guangxi, Gansu and Chongqing reported growth in total residents last year, thanks to an influx of labourers.
Chinese economist Ren Zeping also proposed last week on social media that the legal marriageable ages in China be lowered to 18 years, from the current 22 for men and 20 for women –
the oldest in the world
.
He argued that the relatively old marriageable ages are a remnant of the one-child policy, and thus run contrary to the nation's current pronatalist agenda.