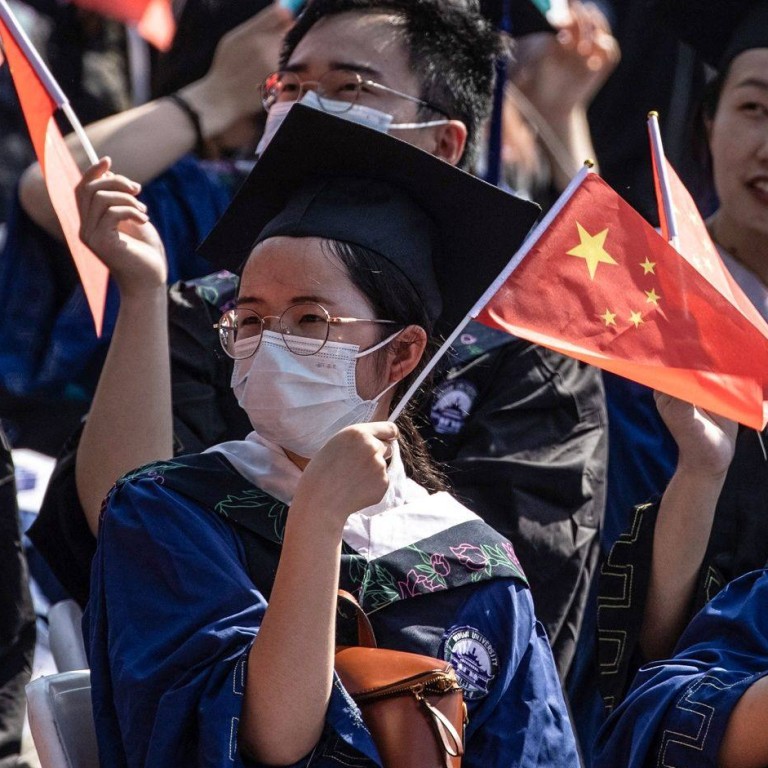 If China gives cash handouts to low-paid graduates, would they spend it?
Some economists say cash allowances for young people would help stimulate the economy and drive consumption – a major priority set forth by Beijing this year
But in a time of economic uncertainties, with high unemployment among fresh graduates, some say they would mostly opt to save the money for a rainy day
It's a debate as old as stimulus handouts themselves – will recipients spend the money or save it for a rainy day? But the question carries extra weight in a country where the unemployment rate among young people is
roughly one out of six
, resulting in a relatively large segment of the population contributing very little to consumption.
Some Chinese economists contend that issuing cash allowances to recent university and vocational school graduates would be an effective means of getting young people to spend in an economically difficult post-Covid environment.
But not all experts are on the same page, and some say that the money could simply go unused for years, hoarded away in a bank account to guard against future risks.
And the resulting debate has become particularly relevant at a time when Beijing has greatly prioritised boosting consumption to stimulate the economy.
"Cash grants are especially important for vocational students who have graduated in recent years, as the employment situation has been tougher due to Covid-19," said Guan Qingyou, president and chief economist of the Reality Institute of Advanced Finance, an independent third-party financial capital research platform.
Conceding that it's a controversial subject, Guan suggested that the government give it a try to stabilise consumption. He was speaking on Wednesday during an online Q&A session hosted by Tencent Finance.
A survey on the job-seeking status of vocational education personnel – released in September by job-recruitment services provider 51job.com – showed that 63.8 per cent of the surveyed graduates expected to earn 5,001-8,000 yuan (US$727-US$1,163) a month, but only 29.3 per cent of the surveyed graduates who had obtained an offer actually earned a salary in this range.
The survey further pointed out that 63.4 per cent of the surveyed graduates earned less than 5,000 yuan. Fewer than 5 per cent said they were earning a monthly salary of over 10,000 yuan.
Ding Yang, 23, has been working in a hardware-manufacturing factory in Shanghai for two years since graduating from Hunan Engineering Polytechnic. Earning 5,000 yuan a month, Ding said he is "barely able to survive" on such a salary in a major city.
Living by himself in Shanghai, Ding's monthly rent is 3,000 yuan, not including utilities. "Housing accounts for most of my salary," he said. "I have hardly saved any money after working for two years."
He added that his job and wages were unstable during the coronavirus pandemic, as factories in Shanghai went through on-and-off lockdowns.
"No income means no social life. My life is simply going between work and home, day in and day out. Very boring," he said.
Mao Yufei, an associate researcher with the China Institute for Employment Research, agreed that allowances could help promote consumption in low-income groups, but "direct cash can also be inflationary and may not necessarily drive consumption because some people will save it against future risks".
Mao added that vocational graduates' employment were not "very seriously impacted" by Covid-19, but the impact has been more structural in nature.
He said there was a relative increase in the demand for labour and relatively good employment for some mechanics, operators, mechanical engineering and other related science and technology majors.
But some specific professions related to catering, tourism and accommodations have seen demand contract, and thus employment has been negatively affected.
Officials in Beijing expect the number of university graduates to reach
11.58 million this year
, or 820,000 more than last year.
And the jobless rate for the 16-24 age group remained at an elevated level of
16.7 per cent in December
, down from 17.1 per cent in November, but still in the one-in-six range for unemployment.
Mao said that a better approach would be to issue consumption vouchers or hand out subsidies. For vocational graduates, who require more transport subsidies, food subsidies and rent subsidies in their job search, giving students targeted subsidies would serve to drive consumption and address their real needs.
But young people such as Ding say they would welcome, and have a great need for, cash allowances – but spending it might have to wait.
"Because my salary is relatively low, I don't have much left every month," he said. "And after having gone through Covid-19, I would like to save a little for a rainy day."