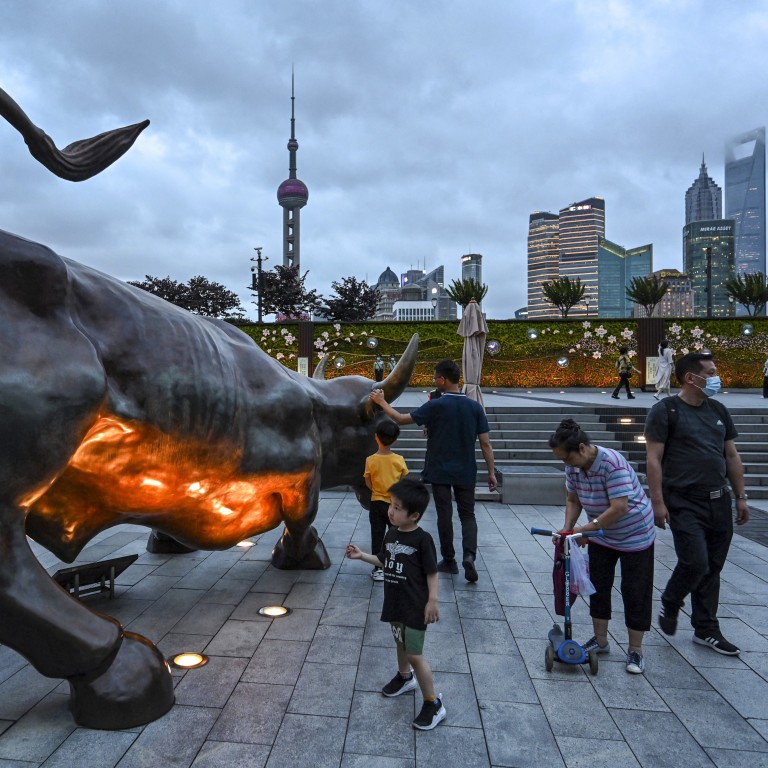 Zero-Covid made China 'less attractive' to foreign talent. Can it restore its image?
Frustration with China's approach to the coronavirus pandemic has driven away expats and frustrated the foreign business community, recruiters say
Bolstering hi-tech talent in particular has become more pressing as China emphasises self-sufficiency amid curbs on technological imports from the US
China's efforts to bolster its abilities in science and engineering are being hampered by frustration among expats about the way the government handled the coronavirus pandemic, recruiters and researchers say.
Shanghai-based Jonathan Edwards, managing director at global recruitment company Antal, said many foreigners in Shanghai have left in recent years, driven away by frustration over China's approach to the coronavirus pandemic.
Shanghai, which is China's international finance hub, was locked down for two months last year after a surge of Covid-19 outbreaks, severely disrupting the lives of 25 million people. Uncertainty around the length of quarantines and lockdowns, as well as the expense of entering China during the pandemic, also caused
resentment in the foreign business community
.
Edwards said demand for foreign talent in China has slowed over the past two years and, given the global economy is weakening, the outlook for the nation's recruitment drive is mixed.
"I think people are waiting to see if this policy is going to stick … the number of flights is still restricted compared to how it was and also the price of flights as well," Edwards said.
"It's not just the case of opening up normally. There's part of a trend of localisation as well – the fact that China doesn't need as many expats as they needed in the past.
"It's less attractive a destination as it used to be because of what happened with Covid."
China abruptly abandoned its hardline zero-Covid policy in December, opening its borders again to foreign travellers and dropping quarantine and testing requirements.
However, the number of flights this month was at just 18 per cent of the level in February 2019, according to travel data provider OAG.
During a Lunar New Year gathering in Beijing last month, Premier Li Keqiang told a group of foreign experts in the fields of manufacturing, energy and environmental protection that the Chinese government welcomed more foreign talent.
Bolstering hi-tech talent in particular has become more pressing as the country
emphasises self-sufficiency
amid curbs on technological imports from the US.
At the meeting, Li also pledged to ensure services for foreign experts in China were equal to that of locals, according to a report by the official Xinhua News Agency.
"China is ready to learn from advanced technologies and management experience, continue extensive international cooperation with other countries, respond to common challenges facing the international community, and safeguard world peace, stability, development and prosperity," Li said.
Despite pledges from China that it is determined to restore business confidence, scepticism remains and foreign firms are taking a
cautious approach
.
Shanghai last month rolled out new measures, including financial support and project subsidies, as part of a recruitment programme that aims to attract about 2,000 skilled foreigners by 2025.
The city wants foreign talent to support development of key industries including artificial intelligence, biological medicine and integrated circuits, as well as fast-growing sectors like the metaverse and green energy.
Yasheng Huang, a professor of global economics and management at the Massachusetts Institute of Technology (MIT) Sloan School of Management, said China has an edge in providing support for research and development in modern science.
"Modern science is extremely expensive and it is both capital and labour intensive," he said. "Compared with other countries with a similar income level, China spends far more on research and development and China has deep talent.
"Scientists require a lot of support, for example, running labs with many research assistants and post-docs,"Huang added, refering to a person professionally conducting research after the completion of their doctoral studies.
"China does have an edge there. But I would argue that the US is stepping up its investments in science and technology and that the edge of China is likely to go down."
China has a strict immigration system and tightly controls work visas, but offers fast track, long-stay visas for "high-end talent" that includes foreigners specialising in areas such as science, art, music and sport.
It has also stepped up funding in areas where the US and Europe might be cutting back, according to an academic from Europe who is currently researching at a university in China.
The academic, who did not want to be named due to the sensitivity of the issue, said China was able to offer sufficient funding in his area of research and provide a good salary – a contrast to higher education institutions in the West.
"It has an environment that is innovative – I think that is true with a lot of higher education institutions in China that there is room for experimentation because nothing is settled yet. [But] that might be cooling down now," said the academic.
The academic acknowledged that China's zero-Covid policy had made life very difficult and he has contemplated leaving, but said he was constrained by the weak job prospects at home.
"When I moved to China, I knew I didn't want to stay here forever but zero-Covid has made leaving a little bit more urgent," the academic said.
Language and cultural barriers remain a problem for foreigners, and China has not made a huge effort to make administrative requirements more convenient for expats either, said the academic.
However, there are also other reasons why China still has an appeal.
"Think about the ways this country is doing well. People often get hung up with freedom of speech and not being able to access Google, which is true," said the academic.
"But I feel perfectly safe wherever I go, where I live, any time of the day … things are also very convenient, and way more advanced compared to where I am from."