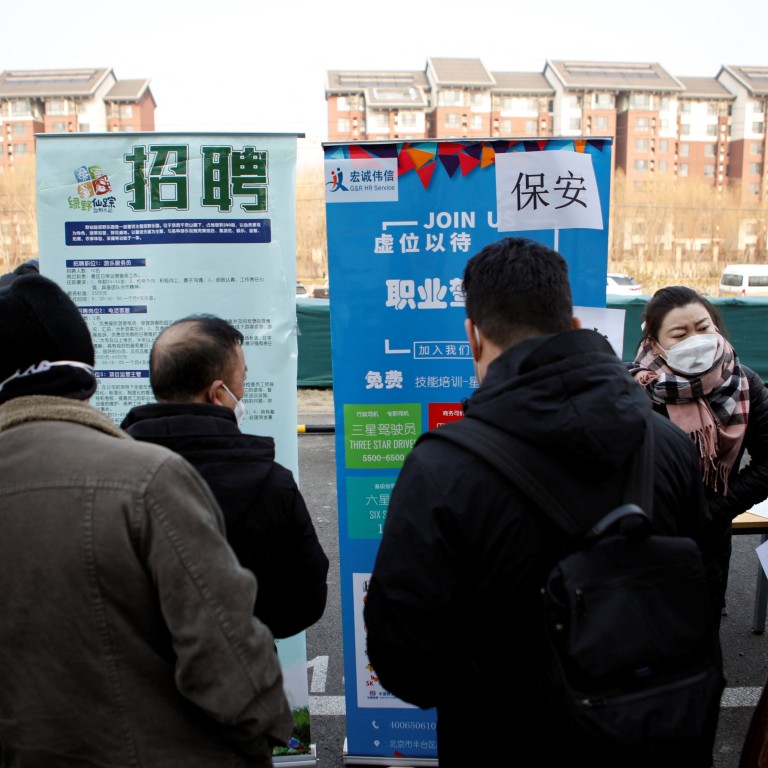 China jobs: white-collar employees increasingly fear firings, while fresh graduates face unimaginable challenges
New report from leading job-recruitment website finds that nearly half of white-collar workers worry they may lose their jobs this year – marking a sharp rise in such fears from last year
Some young employees, typically recent college graduates, are adopting a take-what-I-can-get mentality as uncertainties and outlook turn bleak
Chinese jobseekers across the board are finding their search plagued by uneasy employment prospects and the country's precarious economic recovery – from white-collar workers discreetly looking to jump ship amid job-loss fears, to struggling recent graduates facing unabating difficulties in the job market.
Pretty much everyone is looking at new opportunities, said Veronica Yang, including herself. She currently works at a state-owned internet firm in Beijing.
But she and her friends are also being cautious about making any hasty career moves amid the difficult economic climate.
"With the bleak [economic] environment and the pressure to sustain business, [jobs at] all companies have become very stressful, and meanwhile the benefits have been shrinking," Yang said, adding that some of her friends received pay cuts, while some of their annual bonuses and investment portfolios have been affected.
"Therefore, while 'I don't want to work here any more' is a thought shared by many, none of us really quit – there are fewer desirable job opportunities out there, while changing jobs has become less financially reasonable yet increasingly risky, as the chances of failing to pass the probation period at a new job are growing greater due to higher expectations and demands.
"The consensus is that we need to hang in there under the current difficult environment."
Google, Meta, Microsoft and other tech giants of Silicon Valley have laid off tens of thousands of workers in recent months, and the job cuts have seen no sign of relenting.
With the global economy slowing and external demands dwindling, white-collar workers in China are also being afflicted by the general air of malaise amid widespread uncertainties and instability.
According to a Zhaopin report published last week, 47.3 per cent of white-collar workers in China said they were worried they might lose their jobs in 2023, up from 39.8 last year, while more than 90 per cent of the white-collar workers are thinking about changing jobs, with 63 per cent of them already starting to apply.
Nevertheless, the weeks following the Lunar New Year are usually a busy time for the job market, with both employers and jobseekers making moves.
According to a report published on Tuesday by Zhaopin, a major job-recruitment website, the number of job postings has been climbing in the month following the Spring Festival, which ended in late January.
Last week, the number of open positions was 28 per cent higher than three weeks prior, while the number of resumes delivered by jobseekers rose by 76 per cent.
Comparisons with the same period last year have yet to be made available.
Despite the seemingly bustling hiring season, industry insiders say the number of listings for basic jobs is falling, while the demand for high-end tech talent, in fields such as life sciences and finance, is increasing; and that means the competition has got more gruelling for recent graduates.
Feng Peixin, a team manager at a recruitment agency headquartered in Hong Kong, said his company recently closed its office in Shenzhen, while the headcount in Beijing was also cut by a third, due to the decreasing demand for recruiting and headhunting services.
"It is especially a tough time for the new graduates," Feng added. "Last year we had about 38 full-time employees with eight interns. But the total headcount was cut to 25 this year, without any interns. We also laid off a number of new graduates, including one who was recently made full-time from an intern but didn't pass the probationary period."
Jia Binli, who graduated last summer and has been unsuccessful in finding a job, echoed Feng's observations.
"There've been no good opportunities in the past year," the tourism management major said. "You couldn't imagine the challenges faced by my cohorts. [Companies] almost never want candidates with little to no experience."
In December, China's surveyed unemployment rate for those aged 16 to 24 was 16.7 per cent, slightly eased from its nearly 20 per cent peak from over the summer, but still around a historically high level.
In the meantime, the surveyed unemployment rate for the general urban population was 5.5 per cent.
This year, 11.58 million college students are poised to graduate, breaking the historic record of 10.76 million last year and further compounding the unrelenting obstacles faced by the young jobseekers.
Liu Shengye, a 25-year-old who returned home to Beijing after getting a master's degree from a top university in London last year, has yet to land an ideal offer.
He has applied for around 70 banking and finance jobs since last fall but got only five interviews.
"I think I overestimated myself," Liu said, adding that he has lowered his aim to target branch-banker jobs this spring season, compared with more competitive positions he applied for last year at head offices of banks and security firms.
"I am not confident, it will take [time] for the job market to absorb those who were unemployed in the past two years," he said, adding that he plans to settle as long as he gets an acceptable job offer.