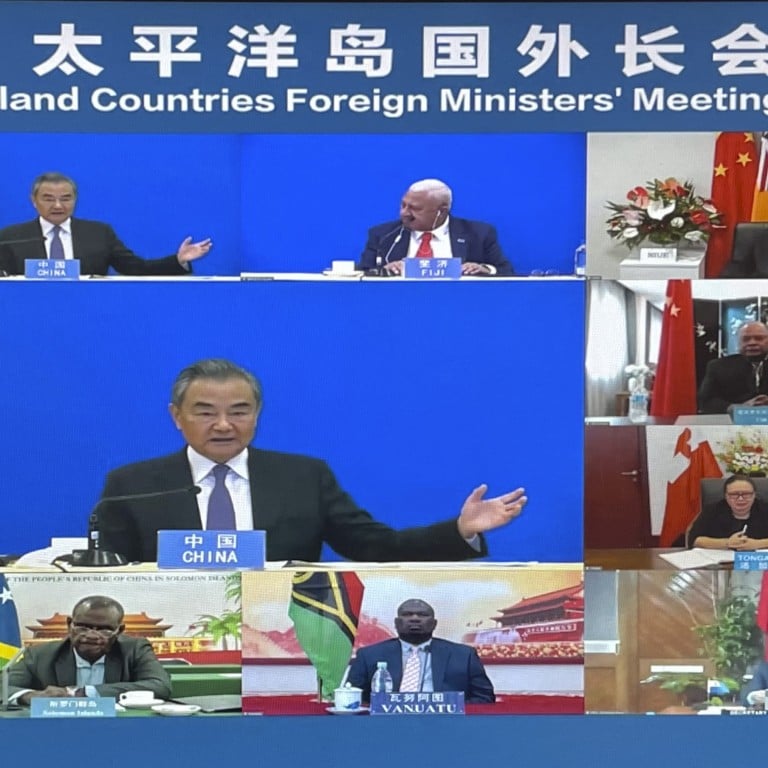 US investment talks challenge China to step up in the South Pacific
US Office of the Trade Representative led an inter-agency delegation this week to the region that has historically aligned with nearby US allies Australia and New Zealand
Analysts say the move shows how Washington believes Beijing has grown closer with South Pacific leaders
The United States intensified its competition with China this week by holding investment talks with South Pacific leaders after Beijing offered a rapid expansion of economic support last year for the vast, traditionally Western-allied region that is keen on obtaining foreign help.
On Monday, deputy assistant US trade representative Colette Morgan led an inter-agency delegation to the US-Pacific Islands Trade and Investment Dialogue for senior leaders, the Office of the US Trade Representative said in a statement on Thursday.
Wang Yi,
China's foreign minister at the time
, had met leaders from 17 South Pacific countries in May and June to sign 52 bilateral deals largely in the trade, tourism and economic development spaces – though he missed his bid for a wider multi-country agreement.
This week's event in the region that has historically aligned with nearby US allies Australia and New Zealand indicates that Washington thinks Beijing has grown closer with South Pacific leaders, according to analysts.
"This kind of strategy in combination with similar efforts by allies and like-minded states can contain or lessen China's influence in the South Pacific," said Fabrizio Bozzato, senior research fellow at the Tokyo-based Sasakawa Peace Foundation's Ocean Policy Research Institute. "This is what the Chinese don't want to see happening in the region."
Before Wang, who is now China's top diplomat, reached the South Pacific in May, Fiji joined the US-led
Indo-Pacific Economic Framework
, a US trade initiative aimed partly at minimising China's foreign influence.
China had inked a
security pact with the Solomon Islands
earlier in the year, and this gave rise to worries by the US, Australia, New Zealand and Japan that a Chinese naval base would follow.
The investment dialogue this week was a "key deliverable" from a Pacific island leadership summit in September, the trade representative's office said in its statement.
"How could this not be of concern to China," said Shi Yinhong, an international relations professor at Renmin University in Beijing, when asked about the investment dialogue. "US-Australia relations are all about China now. But this is a small matter since US-China relations are already so poor."
Eighteen South Pacific countries joined the dialogue to outline "priority areas" for closer US trade, investment and development cooperation, the secretariat for the Pacific Islands Forum, an inter-governmental organisation, said on Tuesday. The nine-agency US delegation outlined how best to help on investment and trade, the secretariat said in a statement.
In the South Pacific, low-lying island countries such as Kiribati and Tuvalu face rising sea levels that could eventually displace populations. Fiji has lost tourism revenue due to the pandemic, and the country's roads lack maintenance while power costs run high.
The high costs of transport and raw materials challenge countries – many of them impoverished – across the ocean that extends from Easter Island to Papua New Guinea.
The US still has territories in the Pacific such as Guam, and has signed Compacts of Free Association with Micronesia, the Marshall Islands and Palau. But since World War II, US administrations have largely ignored the South Pacific, leaving aid and investment to Australia and New Zealand.
Both the US and China, as "major powers", can help, particularly with financial and technical assistance on climate issues and "adaptation infrastructure projects", said Laurence Delina, assistant professor of environment and sustainability at the Hong Kong University of Science and Technology.
But the two powers take different approaches, he said.
"While the US has historically been a major provider of development aid to South Pacific nations, China has increasingly offered infrastructure investments in the region, often tied to its own strategic interests," Delina said. "This can lead to concerns about debt sustainability and political influence."
Huawei Technologies Co. and China Harbour Engineering reached a deal with the Solomon Islands last year to build 161 mobile telecom towers. The state-backed Export-Import Bank of China was due to loan the Solomons 448.9 million yuan (US$65 million) over 20 years at 1 per cent interest.
The US delegation "listened" this week rather than prescribing investments as it saw fit, said Bozzato with the Ocean Policy Research Institute.
The US delegation and island leaders agreed at their meeting to "a number of follow-up items" that will mould discussions before a US-Pacific Islands trade and investment dialogue later this year, the trade representative's office said.