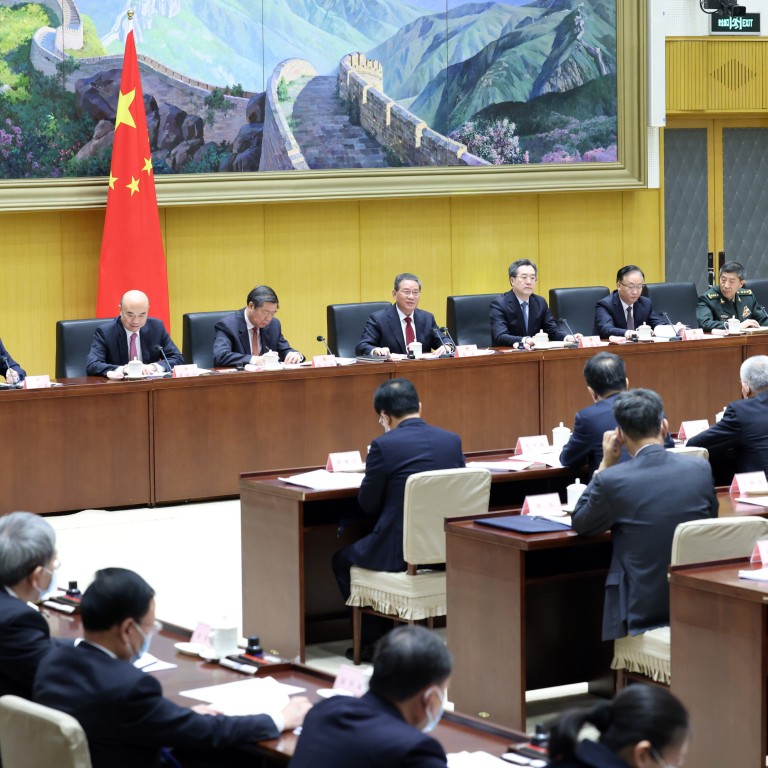 China's State Council's first meeting looks to private sector and foreign investment as part of economic plans
Premier Li Qiang told a meeting of the new cabinet that they should continue to open up the country and further reform state-owned enterprises
The country is aiming for 5 per cent growth in the face of international market turmoil and weak consumption at home
China's new cabinet, the State Council, has vowed to ensure the national economy continues to grow by focusing on precise and targeted policies to tap consumption potential.
It further pledged to focus on the real economy by boosting the
private sector
and stabilising foreign investment amid persistent market doubts over China's growth prospects due to growing external uncertainties, falling overseas orders and still weak consumption.
Markets and analysts are expecting further steps to achieve these goals – such as more spending and support for domestic companies – after the central bank announced a cut in the reserve requirement ratio.
New Premier Li Qiang
said that the State Council will fully implement the decisions of the Communist Party's Central Committee.
"Every one of us must be a good implementer, a man of action, and a go-getter," Li told a cabinet meeting, according to state news agency Xinhua.
He added: "We'll deepen economic reform and opening, plan a new round of state-owned enterprise reform, boost development and the private economy, and stabilise foreign direct investment and foreign trade."
His comments at the State Council's first plenary meeting on Friday provided some insight into the new government's work plan.
The world's second largest economy has been slowing as a result of the impact of the Covid-19 pandemic, the threat of global recession and trade tensions with the United States.
After failing to hit last year's growth target, China's leadership set an annual growth target of around 5 per cent – something Li has admitted will not be easy to achieve.
The new cabinet faces a variety of challenges ahead, including subdued private confidence, international financial turbulence and the risk buried in local government's hidden debt and property downfall.
Private investment grew only 0.8 per cent from a year earlier in the first two months of this year, while the property crisis dragged down the sector's investment by 5.7 per cent in the period, according to the National Bureau of Statistics.
National fiscal revenue dropped 1.2 per cent in January and February, while government land sales revenue, a major source of income for local governments, plunged 29 per cent compared with a year earlier.
The move is expected to inject about 500 billion yuan (US$72.6 billion) of long-term liquidity into the interbank system, channelling more funds for domestic enterprises.
Other tasks on Li's agenda include technological advancement, prevention of systemic risk, boosting investor confidence and grain security.
Zhao Xijun, a finance professor at Renmin University in Beijing, said more supportive measures will be rolled out after the State Council meeting, particularly for private firms.
"The cut in the reserve requirement ratio was a timely measure and it has raised market expectations that more support will arrive," he said, pointing to more liquidity injections, credit support for domestic enterprises and more bond issuance to facilitate local development.
"The local enforcement of central government policies is also likely to accelerate. Market players should grasp the opportunities."
Speaking at the 2023 annual conference of the Global Asset Management Forum in Beijing on Saturday morning, former finance minister Lou Jiwei said that the authorities should optimise ways for foreign firms to participate in Chinese financial markets.
"When time is ripe, China should allow foreign financial institutions to list in the domestic capital market," he suggested.
Xia Xiande, the finance vice-minister, told the same forum that China's budgeted fiscal spending will rise 5.6 per cent this year to help achieve the annual growth target.
Beijing has raised its fiscal deficit ratio to 3 per cent from 2.8 per cent last year, and the government also increased local special-purpose bond quotas by 150 billion yuan.
The Ministry of Finance will guide expenditure in four areas, including domestic demand boost, technological self-reliance, urban-rural coordinated development and support for market entities, Xia said.