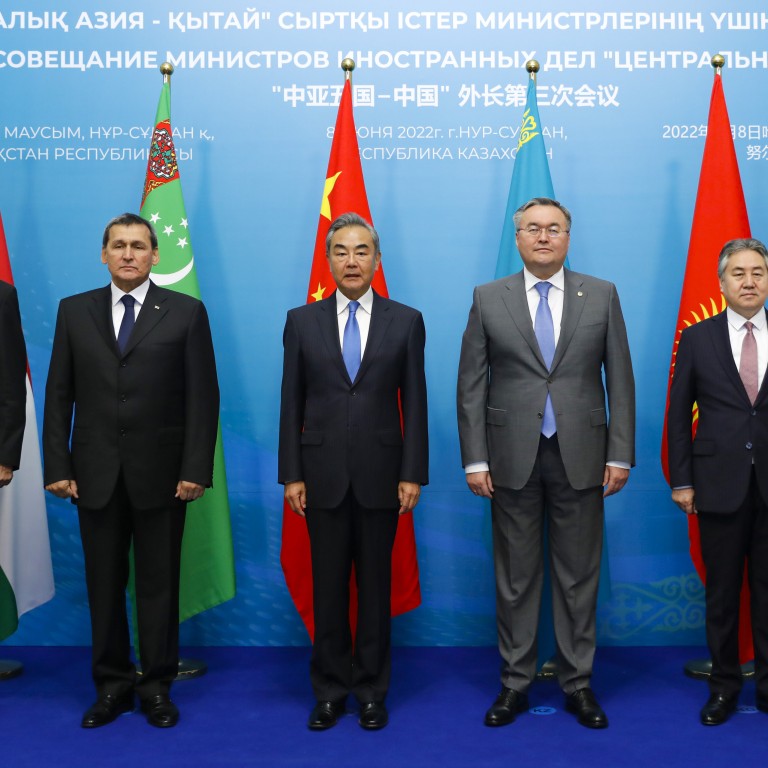 How China's inroads into Central Asia could fill an economic void left by Russia, counter US pressure
Uzbekistan's former foreign minister opens up with the Post about the need for green financing projects and why China is a 'comprehensive strategic partner'
China will host a summit next month with Central Asian countries Kazakhstan, Kyrgyzstan, Tajikistan, Turkmenistan and Uzbekistan
Uzbekistan's attempts to embrace a China-like economic growth model are paving the way for Beijing to build a stronghold in Central Asia and to fill a vacuum left by Russia after Western sanctions.
In a widely anticipated referendum on constitutional reform, to be held on April 30, the most populous Central Asia country will decide whether to extend presidential terms from five to seven years, and whether to provide more protection for investors – including Chinese state-owned firms and private entrepreneurs.
"The constitution has special articles to protect the rights of entrepreneurs. We're a developing economy. That's why protecting the rights of entrepreneurs is a priority for the government," Vladimir Norov, former Uzbekistan foreign minister, told the Post.
His comments came ahead of next month's planned summit of China plus Central Asia's five countries (C+C5) – Kazakhstan, Kyrgyzstan, Tajikistan, Turkmenistan and Uzbekistan – to be held in Xian, Shaanxi province. The mechanism, launched last year, is widely seen as a Beijing-led effort to realise more strategic coordination with Central Asia over issues such as the war in Ukraine and crisis in Afghanistan.
Meanwhile, Chinese authorities plan a grand forum in Beijing later this year to mark the
10th anniversary of the Belt and Road Initiative
, the central government's trade initiative to link dozens of economies in Asia, Europe and Africa into a China-centred trading network
Norov said that his country has received 220,000 proposals from people for constitutional amendments, and about 65 per cent of its articles will be changed.
"Uzbekistan is the heart of Central Asia – the stability and prosperity of the region depends on the situation in Uzbekistan," he said.
On the economic front, the constitutional amendments aim to support fair competition, the protection of private property, and the development of a favourable investment and business climate.
"Central Asia has historically played an important role in connecting China and Europe," said Norov, adding that Europe's imposition of restrictions on Russia's transport of goods "gives some impetus to Central Asia".
The China-Kyrgyzstan-Uzbekistan railway would allow for goods from China to reach Europe several days faster, said Norov, who was also the secretary general of the Shanghai Cooperation Organisation – a Eurasian political, economic, international security and defence organisation – from 2019-21.
He also said that constitutional reforms on the ownership of land are expected to boost demand for investments in transport and infrastructure.
China has stepped up engagement with Central Asia in recent years to counter the US pressure and maintain the stability of western borders.
"Uzbekistan's foreign policy is characterised by a non-aligned approach, meaning that it engages in cooperation with various countries without aligning itself with any particular side," Norov added. "While the United States is considered a strategic partner, China holds the status of a comprehensive strategic partner, in line with Uzbekistan's foreign policy framework."
He said Central Asia aims to maintain a balanced relationship with major powers by adopting a "Central Asia plus" model, including with Japan, South Korea, and Europe.
According to News Central Asia, China's foreign trade turnover with Central Asian countries reached US $70.2 billion in 2022, an increase of 40 per cent from 2021. The value of Chinese investments in Central Asian countries was estimated at US$970 million.
"Given the substantial mineral reserves present in Central Asian countries, China's technological capabilities have become increasingly relevant," Norov said. "In light of this, it is necessary to undertake green financing projects as part of the Belt and Road Initiative."
According to the London-based research platform Land & Climate Review, Central Asia holds 38.6 per cent of global manganese ore reserves, 5.3 per cent of copper and 5.3 per cent of cobalt, which makes the region one of the top 20 global producers of critical materials.
"It is worth noting that China has expressed its intention to develop a green economy and has initiated several projects in this regard, such as addressing water scarcity in mountainous areas and undertaking ice-melting projects in Kazakhstan, like in Xinjiang," Norov said, adding that China's experience is "particularly valuable for Central Asian countries".
Norov noted that the sharing of know-how between China and Central Asia is also important for dealing with desertification and growing rice, and Central Asian countries are interested in China's experience with digital technology – such as blockchains, computing and artificial intelligence – in building smart cities and digitalised transport.