Aviation
Get more with myNEWS
A personalised news feed of stories that matter to you
Learn more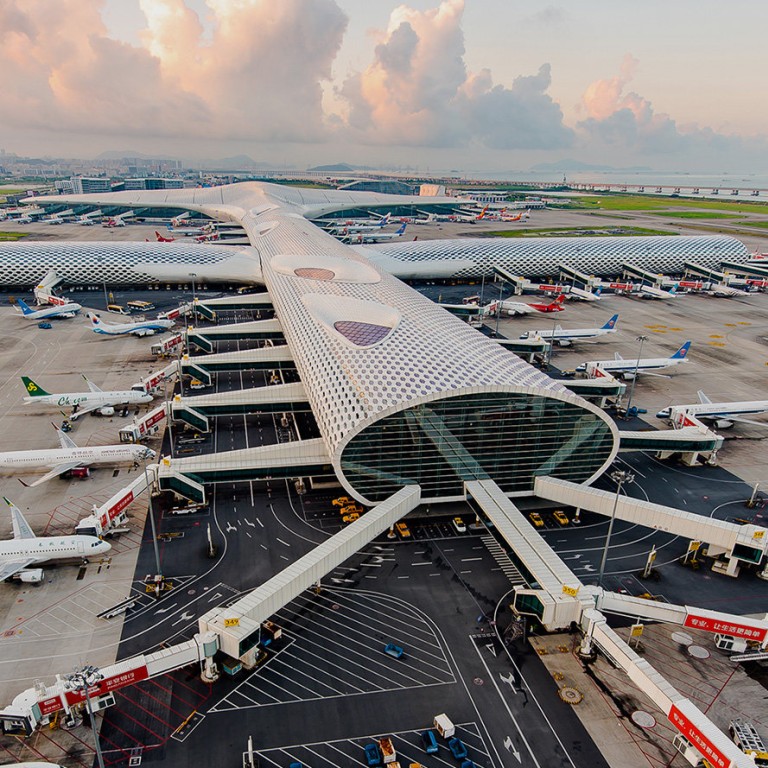 China aviation: is Shenzhen stealing Hong Kong's thunder as a go-to economic and travel hub?
Shenzhen Bao'an International Airport is named the world's most beautiful airport just two months after topping Hong Kong International Airport in Skytrax traveller poll
But passenger traffic, an important indicator of economic activities, is still vastly different between the two international airports
Shenzhen's aviation status appears to be taking off, and its international airport's rising appeal could eventually challenge neighbouring Hong Kong's dominance in the Asia-Pacific region by diverting some passenger traffic from the global travel hub.
While analysts say more efforts are needed to achieve such a lofty goal that would carry with it considerable economic advantages, Shenzhen Bao'an International Airport turned heads this month by being named the world's most beautiful airport, by the World Air Stewardess Association.
The group still found Hong Kong to be the "best airport" overall, but the results came just a couple of months after another poll by air transport research firm Skytrax showed how far Shenzhen has come in a short time, and how rapidly the tech hub is gaining prominence.
Findings from the survey by the UK-based consultancy, released in March, showed that air travellers around the world thought more highly of Bao'an International Airport – placing it 31st on the World's Top-100 Airports list for 2023, compared with 57th in 2022.
Hong Kong placed two spots lower, at 33rd – a sharp fall from 20th a year prior.
Home to the tech giants such as Huawei Technologies and new-energy automaker BYD, Shenzhen has been consolidating its footing as a go-to economic hub in the Greater Bay Area. And this has been in no small part because of the city's growing momentum in both shipping and civil aviation – two sectors in which Hong Kong has long held a regional advantage.
Human traffic is often considered an important indicator of economic activities, as more people bring in more capital and technology while
boosting local consumption
.
During the recent
May Day holiday week
, in which many people travelled between Hong Kong and mainland cities, Bao'an airport saw its daily passenger volume reach 182,500, according to the Transport Bureau of Shenzhen Municipality. That was compared with an average daily flow of 127,200 during the first three months of the year.
And from January to April, Shenzhen had mainland China's second-busiest airport in terms of passenger traffic.
Among people living in Hong Kong who choose to fly out of Shenzhen to destinations across the mainland, travel times, costs and convenience are commonly cited – factors that could divert the flow of passengers and subsequently trigger a shift in economic considerations across the Greater Bay Area.
As a frequent visitor to Hong Kong, 24-year-old Li Feihu said she increasingly flies out of Shenzhen instead of Hong Kong when heading back to her hometown in Anhui province, roughly 1,000km (620 miles) away.
Instead of making the long journey to Hong Kong airport and going through more complex security checks, Li prefers travelling 50 minutes by train to Bao'an.
"It's faster, and the flights are more frequent," she said. "The process of flying back to the mainland is more complicated in Hong Kong, and there are not as many flight options as in Shenzhen."
Flights to domestic cities are also cheaper from Shenzhen than from Hong Kong, making Bao'an more appealing to budget travellers in China's post-Covid reopening.
But for international travel, Hong Kong flights are still more affordable.
"To enhance its competitiveness among global airports, Shenzhen airport must expand its international flights while also facing challenges from [the provincial capital of] Guangzhou in the domestic flight market," said Peng Peng, executive chairman of the Guangdong Society of Reform.
Brian Wong, founding editor of the Oxford Political Review in Hong Kong, noted that "Shenzhen caters to a more mainland-oriented demographic that benefits from its exceptional connectivity throughout the entire country, especially the Greater Bay Area".
"Hong Kong, on the other hand, remains an excellent gateway and entry point for folks travelling to and from China and the rest of the world," Wong said.
Huan Cheng, a 24-year-old mainlander who has lived in Hong Kong for five years, said he has had more choices for mainland flights from Bao'an airport since the border reopened between Hong Kong and Shenzhen.
"But when it comes to overseas flights, I would choose Hong Kong airport without hesitation," Huan said.
The Shenzhen airport has gradually resumed nine international flights to London, Paris and Manila, and has increased the flight volume of 16 routes including Dubai, Seoul, Singapore and Bangkok.
China transported 2.24 million passengers on international flights in the first quarter of this year, or about 12.4 per cent of what it saw during the same period in 2019, according to the Civil Aviation Administration of China.
However, this remains less than what Hong Kong's airport sees in a single month, with 3.1 million passengers in April, according to Hong Kong's Civil Aviation Department.
"The Shenzhen airport has a comprehensive domestic flight network. But Hong Kong remains a cargo-handling and transshipment hub in Asia-Pacific because it has a competitive edge in the international flight network. In terms of IT, safety and traffic control, Hong Kong is relatively strong," said Ambrose Linn, a former member of the Hong Kong Logistics Development Council.
Bao'an airport also boasts continued improvements in terms of its services and business environment. On Wednesday, a joint venture was announced with the state-owned Shenzhen Duty Free Group to jointly operate duty-free shops in its terminals.
Meanwhile, Beijing continues to pin
high hopes on the Greater Bay Area
– comprising Hong Kong, Macau and nine mainland cities, including Guangzhou and Shenzhen – becoming a world-class economic and innovation centre, comparable to the bay areas of San Francisco and Greater Tokyo.
Last year, the Greater Bay Area's economy totalled 13 trillion yuan (US$1.94 trillion), of which Shenzhen accounted for nearly a quarter and Hong Kong nearly 19 per cent, according to the Hong Kong Trade Development Council.
Additional reporting by Kandy Wong