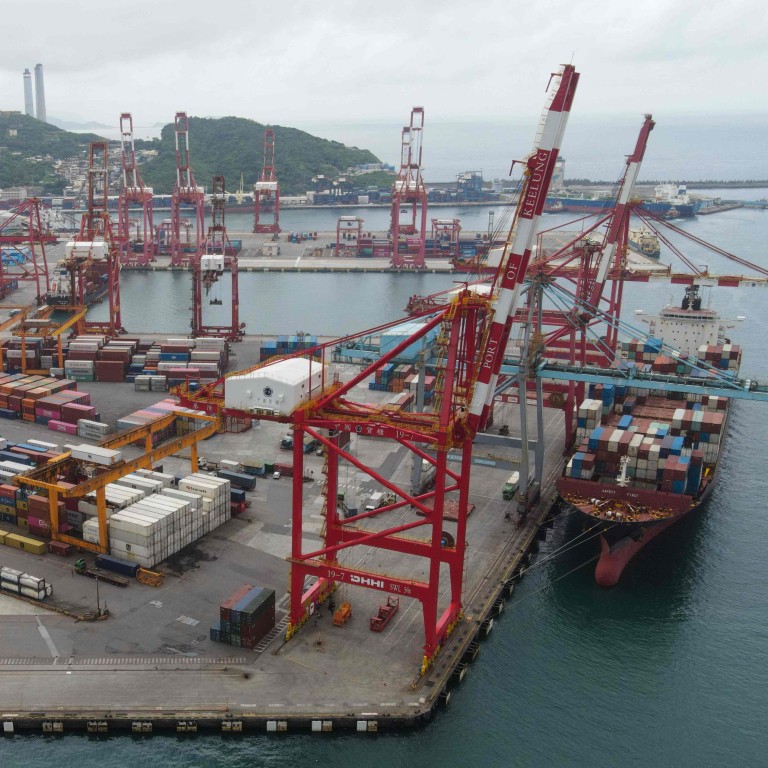 Taiwan's export orders see full year of decline, and foreign investment in tech hub paints woesome outlook
Orders for Taiwanese goods in August fell by 15.7 per cent, year on year, but tech sales are expected to get a boost through the holiday season
Mainland China's daily military flights over the Taiwan Strait also add to concerns about Taiwan as a safe place to invest
Taiwan's exports and foreign investment cannot catch a break, as weakened global demand for consumer electronics continues to suppress demand for hi-tech hardware such as semiconductors.
Orders for Taiwanese goods, including those critically important computer chips, fell in August for a 12th straight month, year on year, the island's Ministry of Economic Affairs said on Wednesday.
And the 15.7 per cent year-on-year decline, which brought the total value of orders to US$46 billion in August, reflected soft demand from abroad, according to analysts.
The ministry also said that the value of approved foreign investments in Taiwan had dropped by 27.58 per cent in the first eight months of the year. Approved capital from abroad over that period totalled US$7.52 billion.
Commitments to buy Taiwan's consumer electronics – the top export category, with US$15.76 billion in August sales – fell by 17.3 per cent, year on year, according to ministry data. Orders for information and communication products decreased 14.6 per cent to US$12.19 billion.
Orders have sunk since late 2022, with consumers winding down their purchases of electronic devices for telework and home study during the pandemic.
But global demand for smart cars and gear optimised for artificial intelligence is giving the world tech sector a lift, market research firm senior research manager Galen Zeng said during an online conference on Wednesday.
And Cheng Kai-an Cheng, a senior industry analyst with the Market Intelligence & Consulting Institute in Taipei, said the global semiconductor market is forecast to be worth US$576 billion in 2024, which he said would be a "significant" 11.8 per cent year-on-year rise over the 2023 estimate.
Tech will see a boost through the year-end holiday shopping season, said Hu Jin-li, a professor with the Institute of Business and Management at National Yang Ming Chiao Tung University in Taipei.
Taiwan's economic affairs ministry aims to budget US$25 million in subsidies for designers of advanced integrated circuits, and NT$5.2 billion is likely to be allocated next year for semiconductor innovation, the government-run Central News Agency reported on September 17.
August export orders to mainland China and Hong Kong, taken together, fell by a relatively mild 2 per cent. Commitments from the US, Taiwan's biggest market in August, dropped by 14.5 per cent to US$15 billion. And Europe's orders plunged by 33.6 per cent.
Outside mainland China, Hu said, "it is more possible that the rest of the world may steadily recover in 2024".
Economies in the European Union, as well as the United States, are forecast to grow by less than 1 per cent this year. China's GDP is on track to grow 4.9 per cent this year, the Asian Development Bank said on Wednesday.
Tech makes up 30 per cent of Taiwan's US$820 billion-plus economy, and the island supplies about 60 per cent of the world's semiconductor chips.
The January-through-August drop in foreign investment reflects worries about worldwide consumer demand and mainland China's military movements, according to analysts.
Inflation in the West and falling prices on the mainland have made foreign investors more cautious this year, because both trends affect demand for manufactured goods, said Darson Chiu, a research ­fellow with the Taiwan Institute of Economic Research in Taipei.
Mainland China's daily military flights over the Taiwan Strait add to concerns about Taiwan as a safe place to invest, said Liang Kuo-yuan, the retired founder of the Taipei-based Yuanta-Polaris Research Institute think tank.
Officials in Beijing see Taiwan as a breakaway territory that should be united with the mainland, by force if needed.
"These flights in the strait will be a factor to be seriously considered, and [investors] will find it annoying," Liang said.