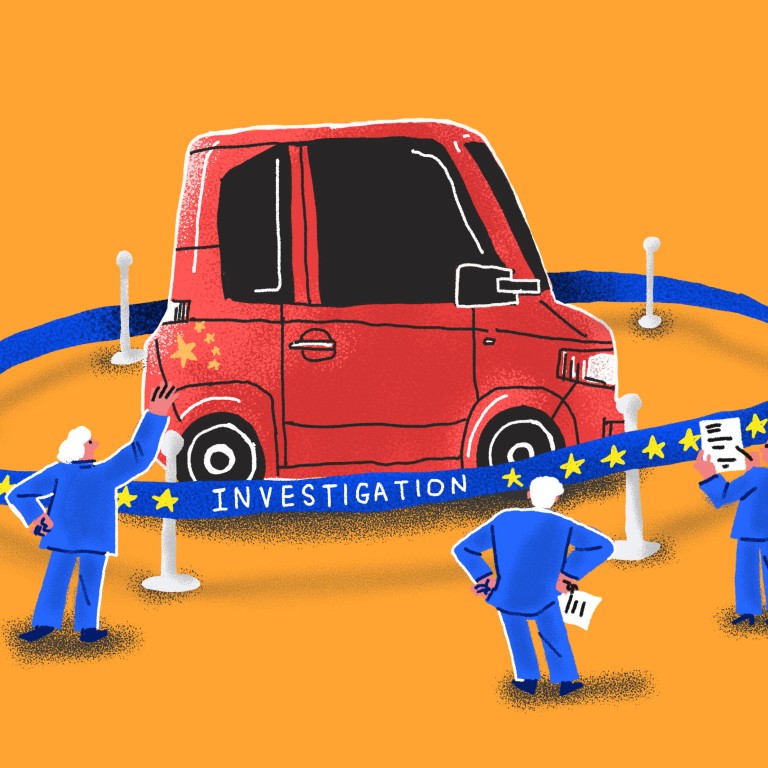 China's EU relations have downshifted, and cheap cars are driving the change
Amid mounting talk in Europe of 'de-risking' from China, coupled with the unstoppable rise of Chinese electric-vehicle makers, German carmakers may be losing their shine
The EU's anti-subsidy probe into Chinese EVs is widely expected to be discussed at length during a high-level economic and trade dialogue on Monday
In the southwest suburb of Liaoning province's Shenyang, the commercial and industrial centre of northeast China, a 3.6km (2.2-mile) avenue boasts the Chinese name for German luxury automaker BMW.
Dubbed Baoma Boulevard, meaning "precious horse", the road's first address accommodates the headquarters of BMW Brilliance, a joint venture between the German brand – which holds a 75 per cent share – and Chinese firm Brilliance Auto. Having sold more than 5 million passenger cars and earned handsome profits in mainland China since its establishment 20 years ago, it has been one of the best examples of a German brand branching out in the world's second-largest economy.
And as Shenyang's biggest taxpayer for the past 17 years, the automaker has become a favoured darling of the local government. During pandemic lockdowns, when other manufacturing plants were ordered to halt production, the factories of BMW Brilliance and those of its suppliers were on a "white list", allowing them to continue operating. And in Dalian, a port city of Liaoning, containers with parts destined for the automaker are always given the highest priority.
In the past two decades, such close engagement between German carmakers – not just BMW – and Chinese partners and governments has deeply shaped Beijing's economic relations with Germany and Europe. But now, amid mounting talk in Europe of "de-risking" from China, coupled with the unstoppable rise of Chinese electric-vehicle (EV) makers, the shine may be wearing off.
"The economic interest used to have a stronger say in the German government. Many economic policies were influenced by the industry and big companies," said Harald Kumpfert, former vice-chairman at the Shenyang branch of the European Union (EU) Chamber of Commerce in China.
"But now it's different," he said, adding that Germany's current government coalition is adjusting its policy towards China, and that includes support for German firms operating in China.
The decision came less than two weeks before a high-level economic and trade dialogue between China and the EU that will take place on Monday in Beijing, and the probe is widely expected to garner considerable discussion.
While von der Leyen's pledge appeared intended to protect EU producers, Kumpfert noted that "German automobile manufacturers have a large stake in the Chinese market, [so] any deterioration in economic relations between China and Germany would be against their interests".
This week, Beijing's special representative for Europe, Wu Hongbo, said the EU's anti-subsidy investigation into Chinese EVs "has aroused widespread concern in China and the international community".
"The bloc confrontation and cold-war mentality are hurting relations between us," Wu said on Thursday at a forum organised by the Centre for China and Globalisation (CCG), a Beijing-based think tank.
German ambassador to China Patricia Flor also commented at the event, saying the two countries' economies were "strongly intertwined", but noting that it was important to "not put the eggs in one basket".
Jens Hildebrandt, executive director at the German Chamber of Commerce in China, said that China may retaliate by increasing import taxes for European cars.
"Any sort of trade barriers and probes will come with a lot of difficulties for all sides," he said. "For German carmakers, China is the key market for the future, so they have a certain reluctance on any sort of trade barriers."
In Shenyang, BMW Brilliance's new EV production site, known as Plant Lydia, was inaugurated last summer, with an investment of 15 billion yuan. In May, a new assembly site for high-voltage batteries began construction, an investment of 10 billion yuan.
"Competition is a real issue, but also innovation and development," Hildebrandt said. "In the past, a lot of technology [from the German automobile industry] has been transferred to China, but now the equation has changed. German carmakers need their Chinese partners to be able to stay in their leading position globally."
"Without sales and profits in China, the new energy transition would also be much more difficult [for the German automobile industry]," he said, adding that the German carmakers' EV production bases in China may also export back to Europe, so additional tariffs may hit them equally hard.
But for French automakers, which have completely lost to German, Japanese and domestic brands in the Chinese market and are less exposed to industrial chains in China, they would benefit the most if additional tariffs are imposed on Chinese EVs, according to analysts.
And such different interests among the member states may divide the EU in the negotiations, they said.
"So now, the EU has posed a problem for itself," said Cui Hongjian, a professor with the Academy of Regional and Global Governance at Beijing Foreign Studies University. "Some countries may benefit from the investigation, but I think there may still be negative impacts on other countries or the EU as a whole."
Cui added that the EU's announcement of the probe days ahead of the high-level bilateral meeting showed that they wanted to make the "first move" and obtain more leverage in further dialogues.
"The probe may be just a beginning," he said. "And both sides may take it as an opportunity to rediscuss lots of other issues."
The EV probe is reminiscent of a trade dispute from a decade ago, when the European Commission launched an anti-dumping and anti-subsidy investigation into solar panels imported from China, prompting Beijing to launch an anti-dumping probe into European wine. In July 2013, the two sides settled the solar-panel dispute through negotiations, avoiding a trade war.
But that can also be seen as a lesson for countries such as Germany, Kumpfert said.
"They may not want the EV industry to become another solar-panel disaster, where a technologically leading industry was knocked out completely by low-cost imports," he said.
And the geopolitical landscape has drastically changed in the past 10 years, with both sides becoming more fixated on security concerns. From the EU's perspective, Russia's invasion of Ukraine, and Beijing's perceived support for Moscow, have highlighted the urgency of "de-risking" from China, but strong economic engagement with China means the process would not be easy, and it could cause a backlash. For China, due to heightening tensions with the US, while it looks to enhance self-reliance, a deteriorating relationship with the EU may be the last thing it wants.
He Weiwen, a senior fellow with the CCG, said that while the political environment has deteriorated compared with 10 years ago, there is no fundamental difference between the solar-panel dispute and the latest EV probe, which are both trade issues.
"EVs are not a sensitive hi-tech issue like semiconductors," he said.
The European Commission said the probe could last up to 13 months, and provisional anti-subsidy duties may be imposed nine months after the investigation launches.
Last year, China ended a 13-year state subsidy scheme for EV purchases, though some local authorities have continued to offer similar allowances for consumers.
While government subsidies may play an important role in the rapid growth of Chinese EV makers, it isn't the only reason for their current leading position, as European producers have been fixated on maintaining their technological edge and market share of conventional automobiles, according to experts from both China and Germany.
"An important factor is that German automobile companies did not foresee the speed and scale of the rise of EVs in China," Kumpfert noted.
But for the EU, probing into the subsidy issue is still fair, and China should not reject the probe, he said.
"The probe is just investigating the facts. And in Europe, we can believe in the legal system," Kumpfert said. "So, if there is no clear evidence here, then they have to stop it. Let the facts speak."
Zha Daojiong, a professor of international political economy with the School of International Studies at Peking University, said the spread of EV adoption in any country has to be based on customer buy-in, as well as the availability of charging facilities, which are supported by the government.
"That's a subsidy in a different form. So, viewed as an industrial policy measure, subsidies themselves are not antithetical," Zha said.
"At the high-level meetings to come, the wise strategy for China would be to seek clarification on specific areas the EU is going to investigate," Zha said. "There's no point in complaining about protectionism."