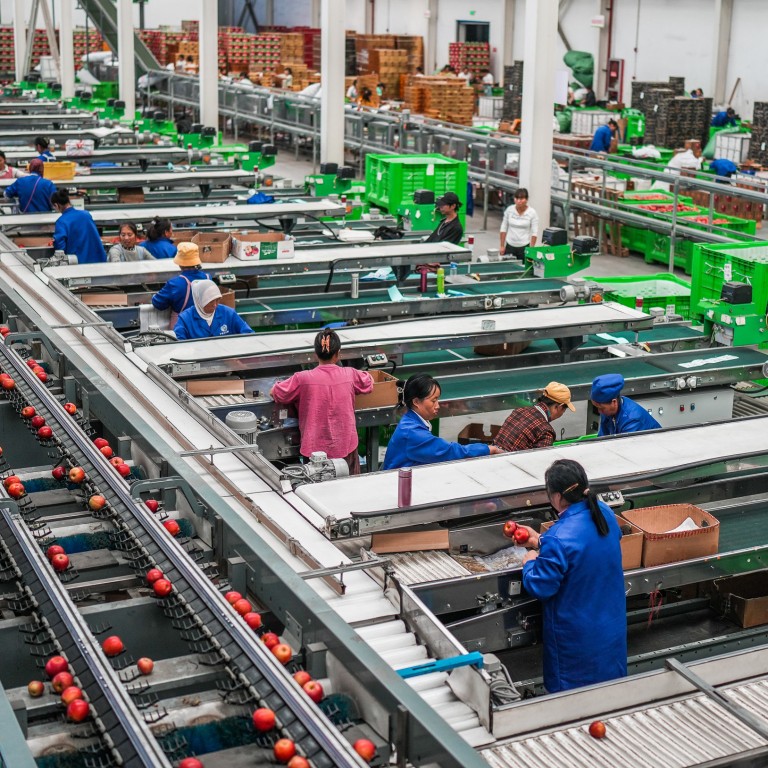 Global Impact: does 'golden week' offer China a chance to show that its economy is back on track?
Global Impact is a weekly curated newsletter featuring a news topic originating in China with a significant macro impact for our newsreaders around the world
In this issue, we look at the state of play within China's economy and at whether the wait for a recovery is finally over
Global Impact is a weekly curated newsletter featuring a news topic originating in China with a significant macro impact for our newsreaders around the world. Sign up
now!
China's economy has become a global concern after a worrying performance since late spring. Nevertheless, talks that China's economy is collapsing may have been exaggerated.
Growth is slowly crawling back after a spate of policies unveiled two months ago. The rebound, however, is uneven and may be facing a bumpy road ahead.
Senior economic officials and state media have
issued stern rebukes against the doomsayers
who suggest that China is in crisis mode, although authorities admit that the country is facing a number of challenges and difficulties.
But more is still needed to bring overall growth back to a resilient and balanced trajectory.
Foreign businesses are also craving a new menu from the Chinese government to regain reopening momentum, urging tangible steps to address unfair competition and the lack of policy clarification in national security and cross-border data transfer regulations.
In particular, it called on Beijing to dial down the push of tech self-reliance to avoid a backlash in the supply chain and to allow more space for policy discussion and feedback from private and foreign players.
Chinese economic officials, though, say there is "every reason" to maintain confidence in China's economy.
Cong Liang, deputy head of the National Development and Reform Commission, said China had weathered the 1997 Asian financial crisis and the 2007-08 global financial crisis and has grown even stronger in their wake.
In the latest move to crack the bottleneck hampering a reliable economic recovery, the State Council once again asked local governments and state-owned enterprises to pay back money owed to private companies.
that it was launching an anti-subsidy probe into China's exports of electric vehicles, as Brussels strives to reduce dependence on Chinese EVs and batteries.
The probe is set to complicate the already fragile bilateral relations. The difference was further displayed in Beijing on Thursday at a forum where Chinese and European diplomats traded barbs on each other's economic strategy.
Wu Hongbo, Beijing's special representative to Europe, said foreign diplomats should understand China properly and refrain from overstretching national security issues targeting China.
European diplomats said concerns about over-reliance on China are justified, while China has been adopting the same economic thinking for many years to bolster home-grown champions.
Both sides will hold a senior-level economic dialogue in Beijing early next week, and it will be a test for both sides to manage conflicts when they are struggling with their respective economic woes.
60-Second Catch-up
Deep dives
As China-EU 'de-risking' voices crescendo, why the focus on electric cars?
Amid mounting talk in Europe of 'de-risking' from China, coupled with the unstoppable rise of Chinese electric-vehicle makers, German carmakers may be losing their shine

The EU's anti-subsidy probe into Chinese EVs is widely expected to be discussed at length during a high-level economic and trade dialogue on Monday
In the southwest suburb of Liaoning province's Shenyang, the commercial and industrial centre of northeast China, a 3.6km (2.2-mile) avenue boasts the Chinese name for German luxury automaker BMW.
Dubbed Baoma Boulevard, meaning "precious horse", the road's first address accommodates the headquarters of BMW Brilliance, a joint venture between the German brand – which holds a 75 per cent share – and Chinese firm Brilliance Auto. Having sold more than 5 million passenger cars and earned handsome profits in mainland China since its establishment 20 years ago, it has been one of the best examples of a German brand branching out in the world's second-largest economy.
'Strong recovery still unlikely': 4 takeaways from August's economic data
Some indicators rise, including retail sales and industrial production, showing potential for improvement in coming months

Worsening metrics for property, private sector investment cast doubt on faster recovery absent policy intervention
The National Bureau of Statistics (NBS) released its economic data for August on Friday, showing both bright spots and weak links in China's growth trajectory. Experts said Beijing may introduce more policies to spur activity in the coming months, but a strong recovery is still unlikely.
China's retail sales rose by 4.6 per cent in August, year on year, up from the 2.5 per cent seen in July.
China's hi-tech ambitions under threat from inadequate scientific literacy
Beijing has vowed to rely on a so-called talent dividend to drive innovation and high-quality development, but only 13 per cent are viewed as scientifically literate

China aims to see 15 per cent of its population become scientifically literate by 2025 and increase the ratio to 25 per cent by 2035
Should you wrap a quilt around you to make you sweat when suffering from a fever? Will your skin get darker if you frequently use dark brown soy sauce?
These questions may seem simple, but in China, they have repeatedly become subjects of debate in families, often creating divides.
Middle-class Chinese shun luxury spending amid hazy outlook
Survey of 'rising affluent' Chinese reveals spending patterns reflective of wider trends

Less interest in luxury consumption and entrepreneurship, more focus on safety and sustainability
As an increasingly uncertain economic environment has them feeling the pinch, China's middle class is becoming more conservative and cutting back on high-end purchases, according to the results of an annual survey.
Only 28.6 per cent of more than 4,500 people polled listed luxury spending as a financial goal, down from more than 50 per cent five years ago. The survey, published on Tuesday, was jointly conducted by Shanghai Jiao Tong University's Shanghai Advanced Institute of Finance (SAIF) and financial services provider Charles Schwab.
US middle class feels it is 'dying' while China's has its own problems
China has seen a significant increase in the size and influence of its middle class, but an ageing population is set to hinder its growth

In the US, its middle class has fallen from 61 per cent of the population in 1971 to 50 per cent last year amid flat wage growth and a drop in university enrolments
On one side, the American middle class is shrinking as wages stagnate, and on the other, China's key segment of society is suffering weak expansion amid an uneven economic recovery. Either way, post-pandemic problems are hurting the rank and file.
China has seen a significant increase in the size and influence of its middle class during the past decades of reform and opening-up, but some policies aimed at private enterprises have in fact been seen to slow its momentum.
China's central bank reassures likes of HSBC, Tesla amid investment exodus
Meeting held to assuage major players as downward trends continue in key metrics

Foreign investment beginning to move elsewhere, with Southeast Asia an increasingly attractive alternative
In the aftermath of a massive sell-off in the A-share market and a spike in investor worries, China's central bank brought in foreign banks and multinational firms for a meeting in which it pledged to "optimise" its policy support.
Companies invited to attend the Monday gathering included JPMorgan, HSBC, Deutsche Bank, Tesla and Schneider, all of which have a large presence in China.
Rout in Chinese bonds is no sign of lasting economic rebound, say analysts
The sell-off was triggered by initial excitement over a slew of government measures aimed at boosting growth

But it does not signal investors' confidence in a long-term economic recovery, market participants say
China's government bonds are undergoing their biggest rout since the scrapping of Covid-19 restrictions.
Global Impact is a weekly curated newsletter featuring a news topic originating in China with a significant macro impact for our newsreaders around the world.