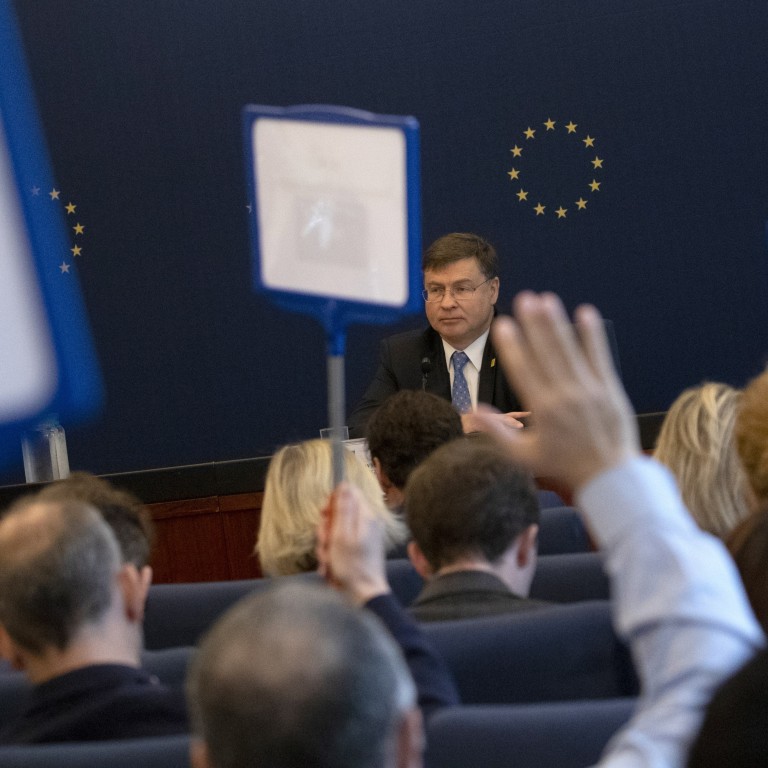 In China-EU trade 'rebalancing', dialogue marks critical step as European firms face 'more political, less predictable' business environment
European Commission trade chief Valdis Dombrovskis wrapped up his four-day China trip on Tuesday with hopes for 'mutually advantageous results' following talks
Agreeing to exchange information and work together, according to one Chinese analyst, shows how both sides recognise that 'there needs to be a limit to de-risking'
If the latest economic and trade talks between China and the European Union are any indication, their relationship still revolves around managing conflicts rather than realising substantial results, according to Chinese academics.
As EU trade chief Valdis Dombrovskis wrapped up his four-day trip to China on Tuesday, he described his engagement with Chinese counterparts as "candid and useful", with the two sides having agreed to create more platforms for communication on a range of economic topics.
"The EU is keen to translate this engagement into mutually advantageous results, without delay," Dombrovskis said at a press briefing in Beijing on Tuesday.
He said "rebalancing" the trade relationship with China was necessary, and he called for "greater transparency, predictability and reciprocity" in China's business operating environment, which he said has become "more political and less predictable" – messages that he repeated throughout his trip, which included stops in Shanghai, Suzhou and Beijing.
Dombrovskis' remarks highlighted much of the sentiment from the 10th China-European Union High-Level Economic and Trade Dialogue on Monday, when he held talks with He Lifeng, the vice-premier overseeing monetary issues and foreign investment.
The China-EU relationship has been shrouded by a range of economic and geopolitical tensions, including the
EU's "de-risking" calls
to reduce supply-chain dependencies, and by China's position of not condemning Russia's war in Ukraine.
Other sticking points compounding bilateral economic relations include the EU's planned anti-subsidy probe into China's soaring exports of electric vehicles, and China's subsequent decision to extend anti-subsidy duties
on potato-starch imports
from the EU for the next five years.
According to statements from the trade talks that were released respectively by the EU and China, the two sides have
agreed to set up
a series of new communication platforms, including an information-exchange platform on export controls and a working group on financial regulations.
Both sides also agreed to resume their Macroeconomic and Economic and Financial Dialogues – the last of which was held in 2016 – in the coming months, and they will further discuss setting up a "China-EU transparency mechanism of supply chains for raw materials", which will be based on "the importance of transparent and predictable supply chains".
On improving market access and trade, the two sides were also willing to restart discussions on alcoholic-beverage exports. While the EU's statement included the issue of access to the Chinese market for European businesses on "medical devices", the Chinese statement mentioned only discussions in areas concerning agri-exports, cosmetics and baby milk formula.
In a statement issued on Tuesday evening, the EU Chamber of Commerce in China said that it welcomed China's commitment "to investigate issues that have created market access barriers for European companies in China", and "hopes to see tangible steps being taken to address them".
"In this light, the agreement to ensure easier cross-border flows of non-personal data was seen as a real positive," the statement said. "However, if investors do not see commitments being delivered in an efficient and timely manner, there is the risk of a new round of 'promise fatigue' occurring."
Cui Hongjian, a professor with the Academy of Regional and Global Governance at Beijing Foreign Studies University, said that progress made from the dialogue should be assessed "differently from in the past" and should not be expected to result in "immediate substantial results".
"These dialogues used to be common," Cui explained. "But under the current circumstances, with so many external uncertainties and factors affecting the relationship, the most important outcome was to reaffirm the value of having dialogues, to see that both sides are searching for stability and to seek resilience in the relationship
"In that sense, [the latest dialogue] would be considered constructive."
The fact that both sides showed a willingness to exchange information on supply-chain issues, in Cui's eyes, was a positive step, as it directly recognised that "there needs to be a limit to de-risking".
Wang Yiwei, a Renmin University professor who specialises in Europe studies, said the dialogue offered a good opportunity for both sides to stabilise relations.
"The EU appeared to be urgently looking for ways to work with China, despite their scepticisms on certain issues, and also the US' impact," Wang said, adding that both China and the EU should recognise the shared economic challenges they face as a result of the global downturn and interest rate hikes by Washington.
"China also needs to see this as good timing," he said of finding common ground with the EU. "Missing this chance could lead us down a path of further spiralling relations."
Elvire Fabry, senior research fellow at the Jacques Delors Institute in Paris, described the trade talks as "a cooperative hand extended by Europe to China", but "with the assertiveness of someone ready to play self-defence".
"There is ground for cooperation if it is well understood in Beijing that the European de-risking strategy is still in the making, and that Chinese initiatives … will determine the degree of cooperation or distrust and closure of the European market," she added.