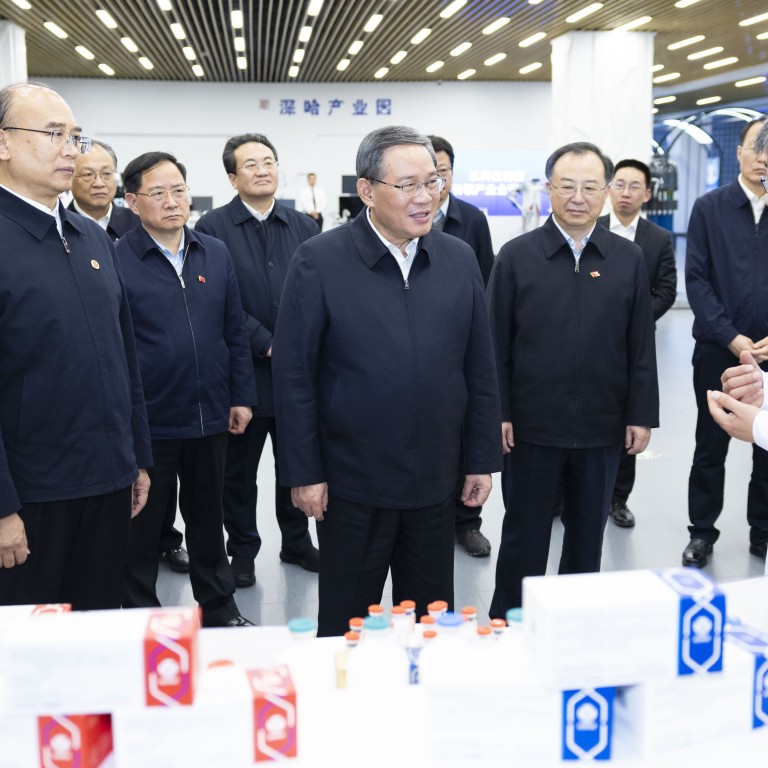 Chinese premier, on tour of rust belt, hammers home three themes: self-reliance, security and SOEs
Li Qiang, China's premier, has emphasised domestic innovation and the importance of state enterprises on his tour of the industrial northeast
Choices of stops, comments indicate sharp focus on autonomous development, advanced manufacturing
To aid in China's efforts to overcome constraints on its economic development and advance up the global value chain, Premier Li Qiang has called on companies in the country's northeastern rust belt to play an active role.
On a three-day tour to Heilongjiang and Jilin provinces, which started Tuesday and was reported on by state outlet Xinhua, Li made reference to three recurring themes in his comments: innovation, smart production, and a stronger role for state-owned enterprises (SOEs).
"Amid profound changes domestically and internationally, SOEs need to undertake a supportive role driving scientific and technological innovation, ensuring industrial control and security," Li said during his visit, which spanned 10 sites across the two provinces.
Beijing is made it a priority to convert its once-powerful cluster of state-owned enterprises, shifting centres of heavy industry to advanced manufacturing. This would supercharge the weak local economy while making progress towards technological autonomy, accomplishing two major goals at once.
In this vein, Li visited Harbin Aircraft Industry Group in Heilongjiang's capital – one of the first aircraft companies established in China and a pioneer in the country's development of helicopters.
"We hope the company will focus on breakthroughs in crucial core technologies to become a world-class helicopter company," the premier said.
Li also paid a visit to China's first automotive manufacturer, China FAW Group Corporation, where he examined new-energy vehicles and expressed wishes for the colossal carmaker to drive the country's auto industry through independent research.
Deep in the country's breadbasket – the two provinces, along with neighbouring Liaoning, account for one-fifth of the country's grain output – Li checked out agricultural smart equipment at Heilongjiang's Huida Technology and beef production at Jilin's Haoyue Group, where he encouraged staff to "continue to upgrade the company's value chains and enhance its market competitiveness."
Harbin Institute of Technology, which was put on Washington's sanctions list
three years ago
for alleged ties to China's military, was another stop on the tour. The premier recommended the university address scientific research challenges in crucial areas – a pointed remark, given the university's place on an "entity list" denies students and faculty access to tools considered essential in high-level research.
At a meeting with heads of the region's SOEs, Li asked them to drive the development of local private enterprises as well as those in the micro, small and medium-sized categories.
Li's trip came after a
similar tour
through the region by President Xi Jinping in September. During the earlier trip, Xi urged provinces to "firmly grasp domestic innovation" while stressing that their top priority was to safeguard the country's food supply.
An important engine of economic growth during China's planned economy era, the northeast was a nerve centre for large state-owned enterprises manufacturing industrial stalwarts like steel, automobiles, ships and military equipment. However, it has since grappled with decline and stagnation amid a global shift towards hi-tech industries, akin to Detroit in the US.
On Thursday, the state-backed Economic Daily published a commentary piece asking industrial clusters to draw lessons from the US, Japan and Germany to increase collaboration among enterprises to enhance the industrial chain, bolster supply chain resilience and reinforce national security.
"Some Chinese industrial clusters are still not sufficiently coordinated internally and enterprises do not interact with each other, which hinders the formation of upstream and downstream relationships for enterprises," the publication said.
The piece specifically cited Germany as a positive example in achieving "the promotion of advanced manufacturing towards the middle and high end of the value chain".