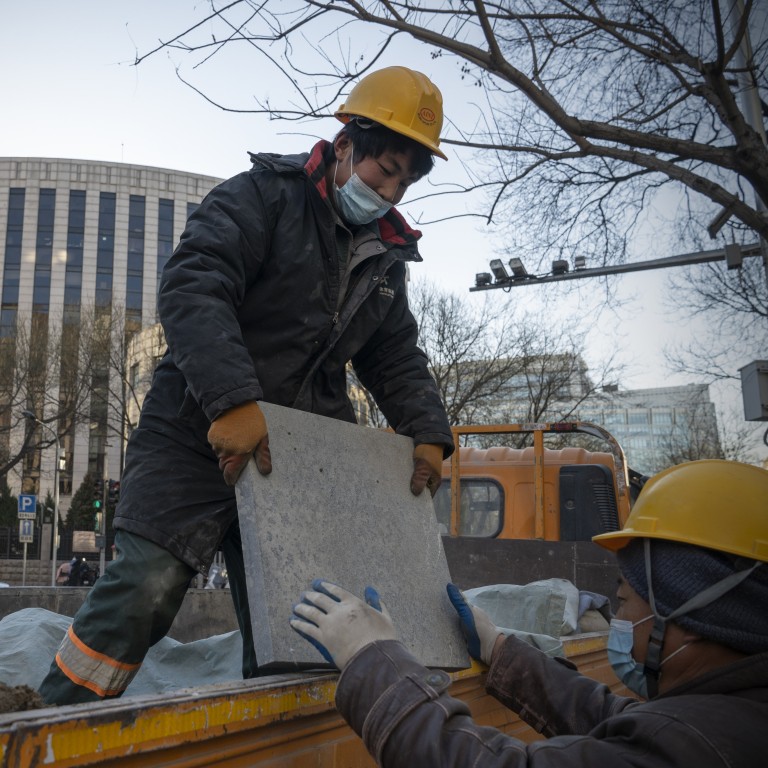 China GDP: 2020 economic growth revised down with Beijing braced for headwinds
China revised down its 2020 gross domestic product (GDP) growth rate to 2.2 per cent year on year, from 2.3 per cent previously
Last year's GDP was also cut by 241.9 billion yuan (US$37.98 billion) from the initial figure published in January to 101.36 trillion yuan (US$15.91 trillion)
China has revised down the size of its economy as well as its growth rate for 2020 with Beijing increasingly worried about mounting headwinds and a further slowdown in economic activities.
Authorities revised down China's 2020 gross domestic product (GDP) growth rate to 2.2 per cent year on year, down from
2.3 per cent previously reported,
the National Bureau of Statistics said on Friday.
Last year's GDP was also cut by 241.9 billion yuan (US$37.98 billion) from the initial figure published in January to 101.36 trillion yuan (US$15.91 trillion).
The routine annual revision creates a lower base and could potentially result in a larger increase in 2021 than initially expected.
China's 2019 GDP growth rate was also revised down from 6.1 per cent
to 6.0 per cent
, the NBS announced at the end of last year.
China's economic recovery has been losing steam in the second half of this year with GDP growth expected to drop below 4 per cent in the fourth quarter of 2021, way down from a
18.3 per cent rise
in the first quarter.
Consumption, one of the pillars for the growth, is still lagging due to lingering coronavirus pandemic control measures, and record numbers of college graduates will also place structural pressure on the job market.
Heng Chen, an associate professor of economics at the University of Hong Kong, believes the coronavirus has created a great deal of uncertainty in the
Chinese economy
, meaning simply comparing the initial figure of 2.3 per cent growth in 2020 reported in January with the revised figure is not straightforward.
"Uncertainty is much more important than other factors," he said.
The coronavirus, local government debt and a sluggish property market have continued to add uncertainties for China's economic recovery, which calls for policies to stabilise growth next year, a report by Tsinghua University said.
Authorities set an economic growth target of
'above 6 per cent' for 2021,
but Beijing has already warned that China is facing a "threefold pressure" and some analysts expect a full-year growth rate of below 5 per cent.
During the annual central economic work conference last week, Beijing warned that
growth is facing threefold pressure
of contracting demand, supply shock and weakening expectations, and called for front-loading infrastructure projects to shore up the economy.
"China's headline growth has peaked in the first half of 2021, and is set to slow in the following quarters due to base effects and policy normalisation. Consumption looks lukewarm, and export growth is likely to fall due to a high base," said Hao Zhou, an economist with Commerzbank.
In response to the ageing problem that is placing additional pressure on the shrinking labour market and reducing factory productivity, China introduced a
three-child policy in June
to minimise the impact that could pull its average economic growth rate down by 1.07 percentage points over 2020-25, according to the
Economic Research Journal
.
As one of only two countries with positive economic growth in 2020, PWC's Global Consumer Insights Research 2021 China report showed that 58 per cent of Chinese consumers said they are optimistic about current economic conditions, a view held by 36 per cent of global consumers.
In July, the International Monetary Fund lowered its global growth forecast for 2021 to from 6.5 per cent to 5.9 per cent.
The World Trade Organization, meanwhile, said the coronavirus is expected to cause the global economy to decline by 13 to 32 per cent, more severe than the global financial crisis of 10 years ago, with double-digit declines in almost all regions.
Additional reporting by Ji Siqi