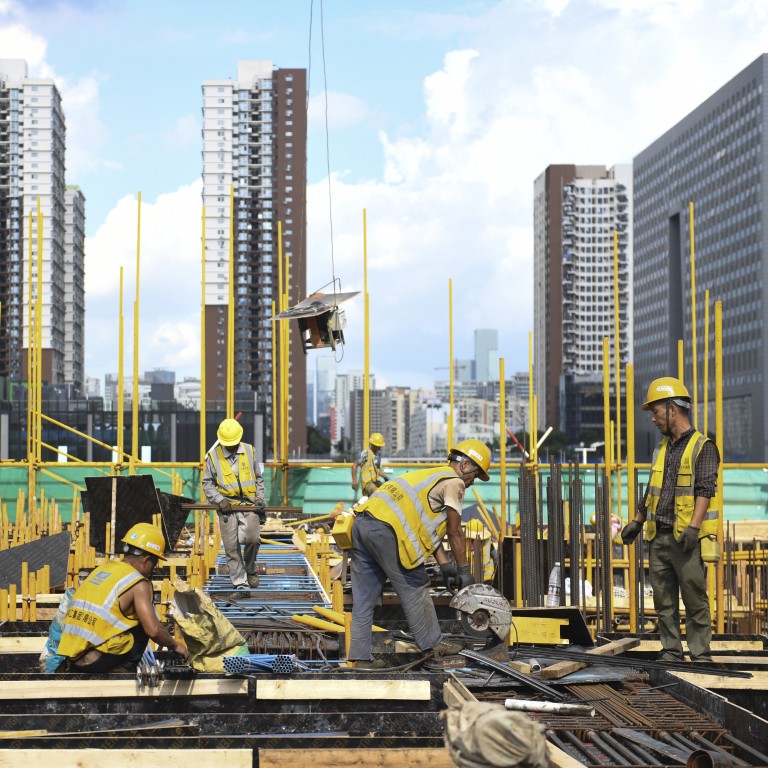 China GDP: economic slowdown underlined in fourth quarter, but 2021 beat growth target
China's economic growth rate rose by 4 per cent in the fourth quarter of 2021, bringing full-year growth to 8.1 per cent.
The People's Bank of China also cut its two major policy rates by 10 basis points, further evidence of Beijing's intention to stabilise the growth in 2022
China's economy slowed in the fourth quarter of last year, prompting the central bank to cut key policy rates for the first time in nearly two years to fend off strong headwinds and uncertainties created by coronavirus outbreaks.
The world's second largest economy grew by 4 per cent in the fourth quarter of last year, slowing from the 4.9 per cent growth in the previous three months, and bringing the full-year growth rate to 8.1 per cent in 2021.
For the full year, China's gross domestic product (GDP) stood at 114.37 trillion yuan (US$18 trillion) from the 101.36 trillion yuan in 2020.
"The GDP growth of 4 per cent year on year in the fourth quarter and 8.1 per cent in 2021 as a whole came in a bit higher than what we've expected, amid a stronger-than-expected industrial production in December," said Tommy Wu, lead China Economist at Oxford Economics.
"Growth slowed further in the fourth quarter, dragged down by a slowdown in real estate, amplified by spillover from Evergrande's problems and defaults by other high-profile property developers, as well as renewed Covid outbreaks which raised restrictions in affected areas and heightened caution nationwide, which especially hurt the demand for services."
It marks a further economic catch-up with the United States, which is estimated by the International Monetary Fund (IMF) to have grown by 6 per cent last year.
Previously, it was believed China was set to become the world's largest economy by around 2030, with former World Bank chief economist Justin Lin suggesting it could be as early as 2028.
The bilateral race will be red hot in 2022, as China's growth is forecast by the IMF to be 5.6 per cent, with the US growth rate expected to be 5.2 per cent.
China has seen Omicron-variant cases spreading to its economic and technology hubs, with Shanghai, Shenzhen and Beijing reporting locally transmitted cases.
"Generally speaking in 2021, China sustained the continuous and steady recovery of the national economy and maintained the leading position in economic growth and epidemic prevention and control in the world with major indicators reaching the expected targets," the NBS said in its statement.
"However, we must be aware that the external environment is more complicated and uncertain, and the domestic economy is
under the triple pressure
of demand contraction, supply shock and weakening expectations."
Before the 2021 economic figures were confirmed on Monday, the People's Bank of China also cut its two major policy rates by 10 basis points, further evidence of Beijing's intention to stabilise the growth in 2022.
The central bank sold 700 billion yuan (US$110 billion) worth of one-year medium-term lending facility at 2.85 per cent on Monday, compared to the previous rate of 2.95 per cent.
The seven-day reverse repurchase rate, a major liquidity injection tool, was also lowered to 2.1 per cent from 2.2 per cent.
It was the first such policy rate cut since April 2020, when China looked to offset the initial impact of the coronavirus.
In other figures released by the NBS on Monday, industrial production, a gauge of activity in the manufacturing, mining and utilities sectors, grew 9.6 per cent last year.
Retail sales, a key measurement of consumer spending in the world's most populous nation, grew by 1.7 per cent in last month compared with a year earlier, down from 3.9 per cent in November. This was below the estimate for a rise of 3.8 per cent in the Bloomberg survey of analysts.
Overall in 2021, retail sales grew by 12.5 per cent.
Fixed-asset investment – a gauge of expenditure on items including infrastructure, property, machinery and equipment – rose by 4.9 per cent last year, compared with a year earlier. This was below the median of the Bloomberg survey, which forecast a rise of 4.8 per cent.
The surveyed jobless rate, an imperfect measurement of unemployment in China, stood at 5.1 per cent in December, up from 5 per cent in November. In 2021, the surveyed jobless rate was 5.1 per cent.
China set a target of creating 11 million new urban jobs, with a surveyed urban unemployment rate of 5.5 per cent, for this year. According to official figures, China created 12.69 million jobs last year.
"Despite the fact that fourth quarter GDP is slightly above expectation, China has reached a point when the government needs to reconsider its 'dynamic zero Covid-19 policies'. This is because the stimulus policies that the government is adopting so far didn't show enough effectiveness mainly due to the weaknesses in the private sector," said Yue Su, principal economist at The Economist Intelligence Unit.
"In 2022, these problems will persist, given technology sector crackdown, carbon emission reduction drive will continue. It will drag private investment and lead to a worse employment situation and income growth. The labour market weaknesses seemed to be underestimated by the government, given its absence in the recent policy documents."