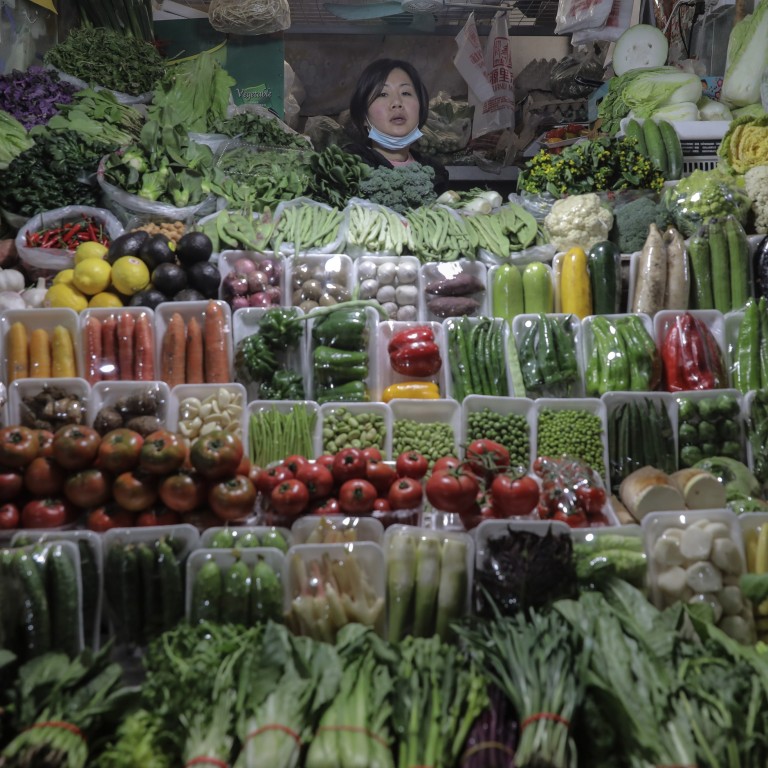 China inflation: Beijing on 'alert' for rising commodity costs despite easing consumer, factory-gate prices
China's official consumer price index (CPI) rose by 0.9 per cent in January from a year earlier, down from 1.5 per cent in December
China's producer price index (PPI) rose by 9.1 per cent in January, down from a rise of 10.3 per cent in December, and to the lowest level since July
China remains on alert to rising commodity prices amid mounting global headwinds despite headline inflation growth softening in January.
Premier Li Keqiang expressed China's confidence in"tackling inflation" earlier this week before Wednesday's data confirmed both consumer and factory-gate price growth slowed last month.
Helped by government measures to control raw material costs, China's official producer price index (PPI), which reflects the prices factories charge wholesalers for products, beat expectations and
rose by 9.1 per cent in January
from a year earlier. This was down from a rise of 10.3 per cent growth in December, while it was also the slowest growth since July.
The official consumer price index (CPI), meanwhile, also beat expectations and rose by 0.9 per cent in January from a year earlier, down from a rise of
1.5 per cent in December.
"We are confident and capable of tackling inflation, but we must stay on alert. Bottlenecks in the services sector could also lead to sectoral inflation," Li told a State Council meeting on Monday in official comments released on Tuesday.
"As consumption remains subdued at present, it is important to take measures as quickly as possible, which is conducive to overall circulation of the national economy."
China's headline readings were in sharp contrast with the United States, where inflation hit a 40-year high of 7.5 per cent last month.
"The CPI inflation gap between China and the US widened to minus 6.6 percentage points year on year in January, the largest negative monthly gap on record since the early 1980s, solidifying the sharp divergence of policy stances between the world's two largest economies," Nomura said on Wednesday.
Senior National Bureau of Statistics statistician Dong Lijuan said that "consumer prices are overall stable" after food prices fell by 3.8 per cent from a year earlier last month, down from a fall of 1.2 per cent in December, driven by a 25.6 per cent fall in the price of meat and a 4.1 per cent fall in the price of fresh vegetables.
"Headline CPI is unlikely to breach 2 per cent for most of this year. Admittedly, fuel prices have risen further in recent weeks. But base effects will continue to weigh on fuel price inflation," said Sheana Yue, China economist at Capital Economics.
"Meanwhile, pork prices continued to fall at the start of February, and the economic slowdown is likely to keep core inflation subdued. As such, inflation concerns are unlikely to hold back the [People's Bank of China] from more policy loosening measures. We anticipate further policy rate cuts before the middle of the year."
China's core consumer inflation rate, excluding volatile food and energy prices, rose by 1.2 per cent in January compared with a year earlier, unchanged from December.
Non-food prices increased by 2 per cent last month, year on year, down from a reading of 2.1 per cent in December.
China, though, remains at risk of surging commodity prices as a major importer of copper, iron ore and fuel.
Last year, China was hit by high commodity prices and had to battle its
worst energy crisis in decades,
prompting Beijing to liberalise pricing in the state-controlled power market.
Dong attributed the slowdown in producer prices last month to cooling prices of both coal and steel that have, due to government efforts, fallen by 3.5 per cent 1.9 per cent, respectively.
Analysts attributed the decline to weaker domestic demand due to coronavirus outbreaks, with a downturn in the property market leading to lower prices in building and chemical materials as well as ferrous metals.
"However, spillovers from higher global commodity prices against the backdrop of increasing geopolitical tensions can still push up PPI in the near term," said Jing Liu
senior economist for Greater China at HSBC.
In recent weeks, China's top economic planner has stepped up supervision of both the thermal coal and iron ore markets in a bid to steady rising prices.
Earlier this month, the National Development and Reform Commission summoned a number of coal producers, urging them to resume supply as soon as possible, and it also asked local authorities to strengthen supervision and keep coal prices within a reasonable range.
On Friday, the economic planner said teams would be dispatched to the Dalian Commodity Exchange and major ports to look into iron ore inventories and trading in spot and futures markets.
It also warned information providers against fabricating prices amid a rapid rise over the past five weeks.
Iron ore prices have already declined from record levels last year amid China's push to curb emissions and ease construction activity in its debt-laden property sector.
Australia's BHP Group said on Tuesday commodity price volatility will continue for some time, although the outlook for demand and pricing remains strong.