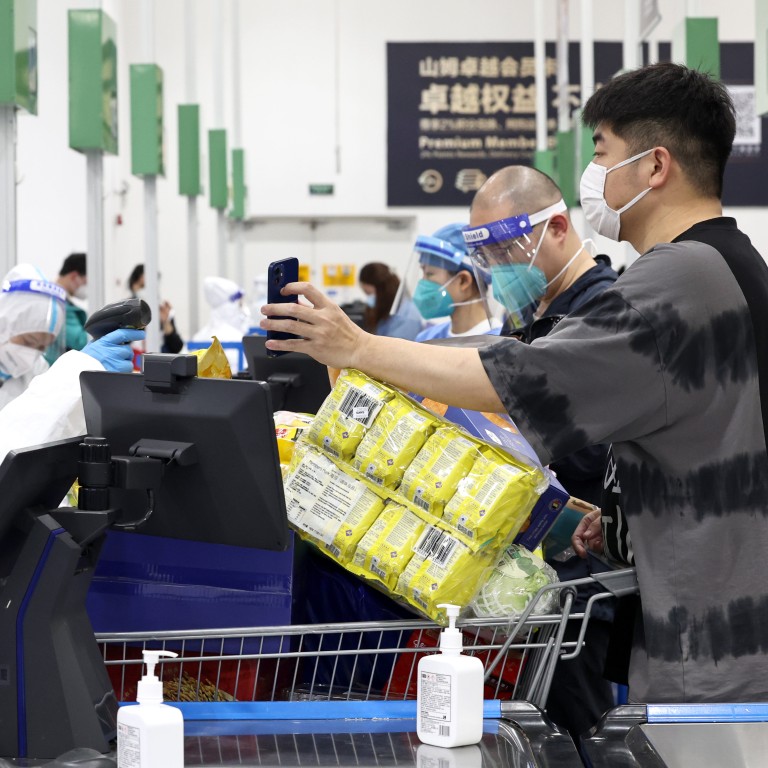 China inflation: Beijing prioritises price stabilisation as stagflation risk increases
China's consumer price index (CPI), a key gauge of inflation, could rise to as much as 2.1 per cent in April from 1.5 per cent in March
US inflation has jumped to a three-decade high, with the World Bank warning of 'the largest commodity shock we've experienced since the 1970s'
Rising imported inflation concerns have jumped higher on China's agenda as the world's biggest buyer of commodities is feeling the impact of the increasing price of crude oil, grains and many raw materials amid the prolonged Russia-Ukraine war.
A weakening yuan and the potential for a rise in the price of pork, a key meat on Chinese tables, have also forced policymakers to prioritise price stabilisation as they seek to avoid the risk of stagflation when economic growth stagnates but inflation rises.
China's consumer price index (CPI), a key gauge of inflation, could rise to as much as 2.1 per cent in April from
1.5 per cent in March,
according to some analysts.
But others feel the government's target of "around 3 per cent" for the year could even be challenged as early as September.
"China still faces the risk of a rebound of structural inflation pressure," said Pingan Securities' chief economist Zhong Zhengsheng on Friday.
"The recent yuan depreciation could also fuel imported inflation."
China will release its CPI for April on Wednesday, with the expectations of analysts in a Bloomberg survey predicting 1.9 per cent growth.
The benchmark Brent crude has jumped by 60.8 per cent from a year ago to US$110 per barrel on Thursday, and is expected to rise further as the United States and the European Union are considering an oil embargo on Russia, which provided China with over 15 per cent of its total supply in 2020.
The World Bank warned late last month that energy prices could rise by more than 50 per cent this year, while non-energy prices, including agriculture and metals, are projected to grow by almost 20 per cent, in what it called "the largest commodity shock we've experienced since the 1970s".
China's March CPI was already the highest since November, while the producer price index grew – reflecting the prices that factories charge wholesalers for products – grew by 8.3 per cent in March, slowing slightly from 8.8 per cent growth a month earlier.
Pork, which is believed to account for around 2 per cent of the CPI basket of goods, dropped by 41.4 per cent year on year in March.
But the average price of pork in 22 provinces has risen by 10 per cent recently, according to data from Wind Info.
"The pork upcycle is expected to appear in the second half of this year. It, together with domestic economic recovery, may greatly lift the price level," said Chasing Securities' economist Wu Chaoming.
Two weeks ago, central bank governor Yi Gang also explicitly said that stabilising price levels was one of the top priorities to consider when making monetary decisions this year.
China should, according to Pingan Securities' Zhong, increase energy and grain imports and improve relations with major trading partners, while he also called for more efforts to improve logistics, supply chains and domestic production.
"There might be a window for China-US trade relations [to be improved] … If China and the US agree to remove their [retaliatory] tariffs, it will help partly ease the pressure of imported inflation," he added.
Earlier this week, the US trade office told American businesses that it had begun a statutory process that could ultimately end up
removing tariffs on Chinese good
s at a time the Biden administration itself is facing urgent pressure to halt rising inflation, which has jumped to a three-decade high.
"The prevailing high US inflation is owing to its own policy missteps. How can it be solved by pointing a finger at China or politicise economic issues?" said a commentary in the People's Daily, the Communist Party's mouthpiece, on Friday.
"The US should enhance coordination with concerning parties to reduce the negative policy spillover, rather than seeking a scapegoat."
US Trade Representative Katherine Tai said on Thursday her agency's review of punitive tariffs on Chinese goods will be a "robust" consultative process that will collect a wide range of industry comments and assess potential economic impacts.
Tai, speaking to reporters in Ottawa with Canada Trade Minister Mary Ng, said decisions about tariffs would not be made "in a vacuum".
Tai pledged to "focus on how important this process is and how important it is for us to hear from all of our stakeholders across the economy".
Recent comments by deputy national security adviser Daleep Singh and Treasury Secretary Janet Yellen about the deflationary impact of tariff reductions sparked speculation the administration was thinking about changing course.
Additional reporting by Reuters