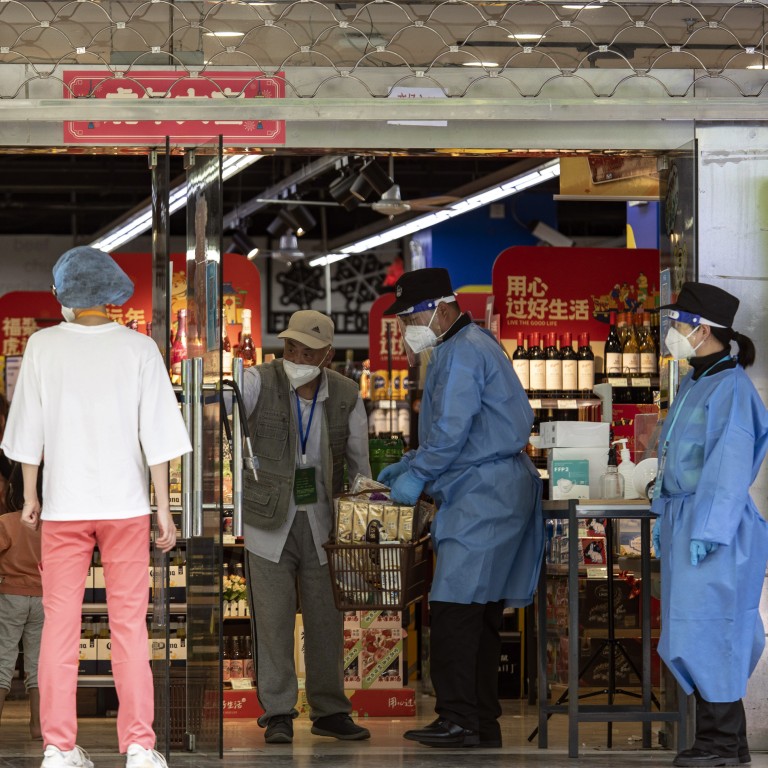 China's consumer sentiment hits record low, pessimistic outlook adds to calls for consumption stimulus policy
China's consumer confidence index slumped to 86.7 in April from 113.2 in March, hitting the weakest level since the data was first available in 1991
Premier Li Keqiang last week poured cold water on growing calls for Beijing to issue direct payments to stimulate domestic consumer demand, as seen in the US
China's consumer sentiment has fallen to a historic low amid the tight zero-Covid controls, adding fuel to the debate over whether Beijing will offer direct cash handouts to aid the faltering economy.
The country's consumer confidence index slumped to 86.7 in April from 113.2 in March, according to multiple domestic economic databases citing the latest figures from the National Bureau of Statistics.
It represents a fall below the watershed mark of 100 that separates optimism and pessimism, hitting the weakest level since the data was first available in 1991. The drop of 26.5 from March to April is also the sharpest on record.
The subindices measuring consumer satisfaction with the current economic situation and their expectations for the future also sharply declined to a record low in April.
He said that any such scheme would prove to be too big in a country of 1.4 billion people, also pointing out that regional development was too unbalanced for the central government to issue direct stimulus payments to all consumers.
"If you hand out cash, people will immediately recognise the government is giving them money and be confident to consume, so that everyone's confidence will go up, so will consumption and demand," said Yao Yang, dean of Peking University's National School of Development, during a virtual forum on Tuesday.
Yao acknowledged Li's comments as being sensible, but said that Beijing could still approve regional authorities to issue local government bonds to provide cash handouts, while also deciding the size of the payments.
"The central government [should] introduce a policy, and I think there is no obstacle in it," added Yao, who is a high-profile advocate of cash subsidies in China.
"When the epidemic is gradually and obviously weakening, it is the right time to introduce a consumption stimulus policy," added Yao.
China's retail sales
fell by 11.1 per cent in April
from a year earlier due to the various restrictions across the country that have also continued to hit consumption, with the reading the lowest since the 15.8 per cent drop seen in March 2020.
Consumption was mentioned in the
33-point-plan unveiled
by China's State Council, aimed at propping up the faltering economy, but proposals focused on supply-side issues rather than advocating cash handouts and consumption vouchers.
The plan was first announced last week, with further
details of the stimulus package
emerging on Tuesday, covering fiscal and monetary policies, investment and consumption, food and energy security, supply chain stability and people's livelihoods.
"Many governments are worried about after handing out [money] this year, what should they do about next year," Liu Yuanchun, the newly appointed president of Shanghai University of Finance and Economics, also said at the forum on Tuesday.
He added that an "unfairness problem may be more troublesome than the problem of underconsumption" if the value of any potential subsidies varied between regions and industries.
Liu added that issuing consumption vouchers might prompt residents to save the same value of their own money, while pointing out that direct cash handouts could also lead to a sharp fall in spending in the future after an initial surge, with a similar trend seen in the US.
"If relying too much on investment to expand domestic demand and there were no large-scale exports, it will certainly turn into an economic disease of insufficient consumption," he added.
A number of provinces and cities have rolled out discount coupon-style consumer vouchers, but they will have a limited impact due to various associated restrictions, according to analysts.